Fanroad (May 1986)
Jump to navigation
Jump to search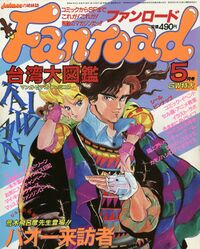 An interview with Hirohiko Araki from the May 1986 issue of Fanroad magazine.[1]
Summary
Interviewed by Noriko Komiyama (小見山典子, Komiyama Noriko), Fumaren (ふうま連, Fūmaren), and Erika Klose (エリカ・クローゼ, Erika Kurōze).
Interview
"
——Please, ask me anything
Erika: You look the same as the photo ♡. As soon as I entered the store, I knew it was you.
Araki: Oh, is that so? (laughs)
——But the pictures in the comics are in black and white?
Araki: Those are black and white. Super comics are in color.
Erika: Date of birth...?
Araki: June 7, 1960. Gemini. Type B.
Erika: How did you become a manga artist?
Araki: Around the winter of 1980, I brought a manuscript (Poker Under Arms) to Jump. It was chosen as a runner-up for the Tezuka Award.
——Oh, the entry gathered in this special edition. I'm sorry to say that I've heard the name, but haven't read it.
Araki: It's a Western story. It's pretty different...
Fumaren: Your work feels a lot different now.
Araki: I agree. It was like a gunman fighting with a poker game... it was 31 pages. That was my debut. After that, I started Cool Shock B.T. with 3 short stories.
——You can't really read those, now.
Araki: Oh, my old short stories. I want to sort of leave those in darkness. (laughs)
Everyone: Huh?!
Erika: Before that, did you do entries or doujinshi?
Araki: When I was in high school, I sent in a lot of entries.
Fumaren: What kind of magazine?
Araki: Jump, of course. It was my favorite...
——What kind of stuff was in Shonen Jump at the time?
Araki: ... Doberman Deka, and... I forget. (laughs) In the other magazine, there was Ai to Makoto.
Erika: Are there any people who've particularly influenced you?
Araki: Ikki Kajiwara's works.
Everyone: Oh? (laughing)
Araki: Huh? (laughs)
Fumaren: Does Ikki Kajiwara draw manga?
——He's the original author of Ai to Makoto.
Fumaren: Oh, is that so?
Komiyama: Huh?!
Araki: Huh? Maybe it's a generational thing?! It's still interesting to read!
Komiyama: Do you think of B.T.'s tricks yourself?
Araki: I adapted some of them, while others I thought of myself.
——Now, let's talk about Baoh. One of the reasons it was so popular with Fanroad readers is that, though it was short, it was a completed and fleshed out series- the ideal Jump piece...
Araki: That was the last thing I was thinking about. I couldn't have guessed that it would end up like this...
——It's nice to understand the meaning of 'the Visitor' in the end. At first, I wondered why the 'visitors' were running away...
Araki: I thought so too. (laughs)
Erika: Is there going to be a sequel?
Araki: I do want to make one.
Fumaren: I want to see a 17 year old Sumire ♡ What sort of image do you think she would have?
Araki: I agree, she'd be someone feminine but not very active.
Erika: Is Sumire modeled off of someone?
Araki: Honestly, I didn't base her off of anyone.
Fumaren: The ideal type...
——Come to think of it, the Sumire from the 2nd page of the comic has changed a lot.
Araki: Her image is going to change a lot. I think of it as training.
Fumaren: Was there anyone who influenced the painting?
Araki: Sanpei Shirato, foremostly.
——Also in Baoh, the duo who threw the bomb- if you use a shuriken instead of a bomb, it's a ninja thing.
Araki: That's right. (laughs) I really liked Sasuke.
Erika: Why are Sumire-chan's eyebrows so thick?
Araki: Are they too thick? (laughs)
Fumaren: It's cute when you get used to it, but when you see it for the first time...
Erika: At first I thought they were a decoration.
Araki: I like the make up of the 60s, so I tried it out a bit. (laughs) I went to a fashion design school.
Fumaren: I like the look of the eyes...
Araki: Yes, the eyes turned out well. The lips should be thicker, but I'm not drawing it anymore.
——Though that granny's eyes... (laughs)
Komiyama: Why did you make Baoh a parasite?
Fumaren: I was wondering that too! It's pretty gross! (laughs)
Araki: Well, it was a little unpopular.
——But in horror movies, that's what military secrets often are.
Araki: I was thinking of a way it could happen in reality, to give someone a transformation and a different level of power. Something to make you believe that he could transform.
Erika: It reminded me of Cyborg 009 when I read it ♡
——It's a girl's interest. The lonely heroes that have their own secret power and are pursued by an organization- like 009,
Wolf Guy
,
Chimera
- all have a common tragic charm. Oh yeah, here's a question from a reader:
"
[Translated by
Betsybugaboo
]
"
——それでは、何でも聞いて下さい。
エ「写真と同じ顔の人なんですね♡ お店に入ってきた時、すぐわかりました」
荒「ああ、そうですか(笑)」
——でもコミックスの写真は白黒でしょう?
荒「あれは白黒って決まってるんですよ。スーパー・コミックスの方はカラーなんですけど」
エ「生年月日などを…?」
荒「35年6月7日です。双子座です。B型です」
エ「マンガ家になったきっかけは?」
荒「80年の冬ぐらいに、ジャンプに持ちこんだんです。原稿を——『武装ポーカー』という、手塚賞準入選に入ったやつです」
——ああ、今回の特集に集まったハガキで、名前だけ知っているけど読んだことがなくて残念ってのが多かったですよ。
荒「西部劇です。異色の……」
ふ「今とずいぶん感じが違いますね」
荒「そうですね。ポーカーゲームみたいなのしてガンマンが戦うって話で……31枚でした。それでデビューしました。その後
は、短編を3本ぐらいのっけて、『魔少年ビーティー』に入りました」
——そのころのものは、じゃあ今は読めないわけですね。
荒「ああ、短編集は出ていません。もうあのへんのやつは、闇にほうむりたいんです(笑)」
一同「え〜っ!?」
エ「その前に、投稿とか同人誌は?」
荒「高校のころ、けっこう投稿してた」
ふ「どういった雑誌に?」
荒「やっぱりジャンプ。好きだったから……」
——そのころの少年ジャンプというと、どんな作品がありました?
荒「…『ドーベルマン刑事』とか…あと忘れた(笑)。マガジンだと『愛と誠』なんかね」
エ「影響を受けた人とかはいました?」
荒「梶原一騎さんの原作の」
一同「え〜っ(笑)え〜っ(笑)(笑)」
荒「え〜って…何で!?(笑)」
ふ「梶原一騎さんってマンガ描いてるんですか?」
——『愛と誠』の原作とかやってるでしょ。
ふ「あ、そうか」
小「え〜っ!?」
荒「えっ!? そんな世代なの〜っ!? 今、読んでもあれはおもしろい!」
——小見山さんも、何かありません?
小「『ビーティー』のトリックなんか、いつも自分でお考えになるんですか?」
荒「アレンジするのもあるし、自分で考えるのもあります」
——それではそろそろ、『バオー』のお話を……。ファンロードの読者に人気がある原因のひとつは、短い連載だったにもかかわらず、中途はんぱな打ち切りラストではなく、ジャンプの作品の中でも理想的な完結をむかえた作品であるかららしいんですが……。
荒「ああ、あれはラストだけは考えてたの。こういう終わり方にするんじゃないかなって……」
——終わりの方で、やっと"来訪者"って意味がわかるのも、いいですね。最初は、逃げてばかりなのになぜ"来訪者"なんだろうかと……。
荒「ボクもそう思った(笑)」
エ「あれ、続編とかは……?」
荒「作りたいですけどー……」
ふ「17歳のスミレちゃんが見たいで〜す♡ どういうイメージですか?」
荒「そうですね、あんまり活発じゃなくて女らしい人」
エ「スミレちゃんのモデルは?」
荒「現実には、いませんね」
ふ「理想のタイプとか……」
——そういえば、コミックスの2巻目の描きたしページのスミレは、ずいぶん感じが変わっていましたね。
荒「絵はね、なるべく変化させるようにこころがけてます。修行中と思ってますから」
ふ「絵の方で影響受けた方は?」
荒「白土三平……最初はね」
——『バオー』でもいましたね。爆弾投げた2人組なんて、爆弾の代わりに手裏剣にしたら忍者モノのノリですもんね。
荒「その通りです。(笑)『サスケ』とか好きでしたから」
エ「なぜ、スミレちゃんとかマユ毛が太いんですか?」
荒「太すぎますか?(笑)」
ふ「慣れるとかわいいんだけど、パッと初めて見た時は……」
エ「最初、飾りかと思った」
荒「60年代のメーキャップみたいのが好きなので、あのへんをちょこっとやってみた。(笑)ファッション・デザインの学校に 行っていたことがあるので」
ふ「ツリ目の人が好きだとか……」
荒「そう、ツリ目でね、くちびるはちょっと厚めがいいな。描いてはいませんけどね」
——ツリ目じゃないの、あのおばあちゃんぐらいですね。(笑)
小「バオーをどうして、寄生虫にしたんですか?」
ふ「あたしも聞きたかった! 気持ち悪〜いの!(笑)」
荒「あのへん、ちょっと不評だったかも……(笑)」
——でも、ホラー映画では、軍の機密とかなんとかでそういうのって、よくあるんですよ。
荒「リアリティーがあると思ったし……変身する理由がちゃちいと、迫力の面で違ってくると思うんですよ。こいつなら変身しかねないぞと、思わせるためには……」
エ「読んだ時、『サイボーグ009』みたいな感じがした♡」
——女の子の感想ですねえ。たしかに、自分のからだに秘密の力があって組織に追われる孤独なヒーローっていうのは、『009』、『ウルフガイ』、『キマイラ』なんかも、みんな共通の悲劇的な魅力を持ってますからね。そうそう、ここで読者の質問をちょっと……。"バオー"をとじこめた時に、ネペンテス液なんて入れずに水を入れてしまえば、バオーは眠ってしまったんじゃないんですか? というんですが……。
荒「それは、アシスタントからも指摘がありました。(笑)それはね、水を入れている間に、バオーだと扉をとかして脱出しちゃうわけ!」
一同「あっ、なるほどー!」
荒「霞の目は、ちゃんとそこまで考えていたわけ!」
——ボケてたんじゃなかったんですね。
ふ「生物とかはお好きだったんですか?得意科目だったとか……」
荒「そうかもしれません(笑)」
エ「じゃあ英語も? あれだけいろんなことばが出てくるから……」
荒「英語は——(笑)、あれは不得意だから、わざとむずかしくしてる」
ふ「○○フェノメノンとかいろいろ出てくるから、『試験に役立つマンガ』とか(笑)」
荒「あれ書いたら絶対に落ちます!」
エ「子供のころは、どんな子でした?やっぱりマンガ家にあこがれていましたか?」
荒「あんまりあこがれてなかったね。けっこう外で遊んでて、年上のガキ大将の後ろとかチョコチョコついて歩いてた」
——そういえば、同じ宮城の学校の後輩の人からもハガキ来てましたよ。
荒「あっ、ボク、宮城出身です。仙台です」
——寒さに強いそうですよ。
荒「寒さ強いです。夏は——仙台に逃げて帰ります」
エ「マンガ家になろうと思ったのは、いつごろですか?」
荒「デザイン学校入ってからかなあ。高校卒業してからデザイン学校入って、職がないんで、えらいとこに入った〜っと思って、マンガ家になろうと思って持ちこみをやった……」
エ「じゃあ、努力の人なんですね」
荒「努力というよりは……泣きつきです。(笑)お願いしまーすって……」
一同(笑)
ふ「やさしかったですか、編集さんは?」
荒「恐いです!(笑)」
小「でもホントに思ったわ、私。どうしてこんなお坊っちゃまみたいな人がマンガ家になったんだろうって(笑)」
——そうですか?
小「ジャンプでよく、新年号なんかで表紙で先生方の顔が出るでしょ。あれ見て、あーって思って……」
——そうそう、荒木先生は、バレンタインのチョコを、大きな箱に2つだか3つだか、ファンからもらうそうですよ。
一同「わ〜っ、すごい〜!」
荒「どうも、ありがとうございます」
小「キャラクターじゃなくて先生あてに? それはすごい!」
ふ「そういうチョコレートは、みんなどうしていますか?」
荒「全部、食べてます。返事もいくつか書いてます!」
——ああ、これもハガキでありましたけど、お正月にマンガ家やミュージシャンに年賀状を出したら、荒木先生からはお返事を、しかも早くもらえたって。
荒「(笑)ボクはマメです!」
——ファンは細かいとこ見てますね。
荒「週、1通か2通は返事を書いてんじゃないかな?」
——公認のファンクラブみたいなものはあるんですか?
荒「あります……あったかな?」
一同「ええ〜!?」
荒「いいよって、言ったかもしれないけど……」
ふ「『バオー』は、アニメ化の話とかないんですか?」
——う〜ん、ビデオアニメの話とかは耳にしますけど、はっきり決定したものはないですね。
荒「レコードの話は……」
——イメージ・レコードの話はあったんだけど、これは流れちゃいました。
荒「ありゃ残念でした」
エ「自分の作品のアニメ化なんてのは、見てみたいとか思いますか?」
荒「……見てみたいですね。うれしいとかいうのとはちょっと違うけど」
——声優さん、たいへんでしょうね(笑)。
ふ「実写版とかいうのは——はやりのスプラッタで……」
荒「ピキピキピキって(笑)」
ふ「でも気持ちわるそう(笑)」
小「そうしたら先生が主役だ!」
一同「あっ、似合いそ〜ッ!」
荒「やだよ(笑)」
——あっ、荒木先生は苦手なんですって。こう、バルバルってポーズとかとったりするの。
ふ「ポーズは、ほらJACとかスタントの人にやらせて、育朗の時だけ」
エ「ああいうの、海外で受けそう」
——台湾では『魔界訪客』ってコミックスになってますよ。
エ「そうじゃなくて、アメリカとか、もっとメジャーに……」
荒「ことばのギャップがなきゃいいんですけどね」
ふ「こういう英語は使わないとか言われたりして(笑)」
——それは恐い。よくアメリカとかの映画で変な日本語が使われるのといっしょですね。
荒「バオーとかビーティーってのも造ったことばですね。どーゆー名前にしようかと思って……発音で決めるんですね」
——じゃあ何かの略ではない?
荒「ぜんぜんない。ティーってのがいい響きするなあと思って、頭文字でいこうと思って——AT、BT、あっ、ビーティーでいこうと」
——それではそろそろおしまいですよ。早くジャンプで新連載が見れるように、みんなヨイショしましょーね!
一同「がんばって下さーい♡」
"
References