Tower Records
Jump to navigation
Jump to search
Tower Records (タワーレコード, Tawā Rekōdo) is an international retail music business and online music store, known for holding many events related to JoJo's Bizarre Adventure franchise. Typically centered around the stores in Shibuya and Osaka, Japan, the events are designed to showcase the TV anime adaptation and sell merchandise through companies like Warner Bros. and Medicos Entertainment.
History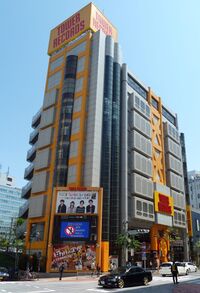 This section requires expansion.
Events
Tower Records Shibuya meets JoJo's Bizarre Adventure: Stardust Crusaders (TOWER RECORDS SHIBUYA meets ジョジョの奇妙な冒険 スターダストクルセイダース) was the first collaboration between Tower Records Shibuya and Stardust Crusaders. From June 3, 2015 to June 30, 2015, on the second floor of "Tower Records Cafe Shibuya", exclusive store merchandise and food related to Oingo Boingo Brothers Adventure were sold. The eighth floor featured a special exhibition where visitors could view Model Sheets and a experience a small tour of DIO's Mansion. A live JO☆STARS concert featuring TOMMY, Coda, JIN was also held during the event on June 17, 2015 in order to promote the release of their new anthology songs.[2]
A small celebration was held for JoJo's Bizarre Adventure: Eyes of Heaven planned for launch on December 17, 2015. From October 17, 2015, to November 1, 2015,[3] the second floor of Tower Records Cafe Shibuya included a panel of all the characters autographed by the voice actors, a playable demo in the skygarden, and a Stardust Crusaders-themed menu.
As a collaboration between Tower Records & Diamond is Unbreakable, from September 10, 2016 to October 30, 2016,[4] the 8th floor "Space HACHIKAI" in the Shibuya store featured an exhibition where visitors could check out Model Sheets, autographs of all the voice actors, episode scripts, life-size panels of the cast and a summary of the episodes. A special menu related to Morioh was also hosted in Tower Records Cafe Shibuya & Tower Records Cafe Umeda NU Chayamachi.
To commemorate the announcement of Mutsu-kabe Hill, from April 25, 2018, to May 20, 2018,[5] in Tower Records Shibuya. On the 8th floor, a special exhibition was held where visitors could explore the many locations of Morioh, such as Rohan's house or Futatsumori Tunnel. The venue also included a life-size statue of a Master Stars Piece Rohan in the middle, storyboards and info on the animated adaptation of Millionaire Village. A special food menu related to Millionaire Village was also featured in the Tower Records Cafe Shibuya & Tower Records Cafe Umeda NU Chayamachi.
As a celebration for the final episodes of Golden Wind, an exhibition was held from July 19, 2019 to August 25, 2019[6] on the 8th floor of Tower Records Shibuya. The venue featured genga and episode scripts, a life-size statue of Bucciaratti, and a wall of animator illustrations counting down to the final episode of Golden Wind. There was also exclusive merchandise related to JoJo's Pitter-Patter Pop!.
JoJo -A New Departure-
JoJo -A New Departure- (ジョジョ~新たなる旅立ち~, JoJo ~Aratanaru Tabidachi~) was a minor special event that went from June 11, 2021 to June 30, 2021 to wrap up promotion of Golden Wind before the transition to Stone Ocean.[7] Held on the second floor of Tower Records Shibuya, it included life-size cut-outs of characters from Part 5 and Jolyne Cujoh, as well as exclusive merchandise of Golden Wind by Medicos Entertainment.
A second collection titled "JoJo A New Departure Vol.2" would be later held from July 9, 2021 to July 25, 2021 on the 6th floor of Shibuya Marui, and from July 29, 2021 to August 2, 2021 on the 7th floor of Namba Marui.[8] Golden Wind-based "OSMO" stamps were also sold at Tower Records Shibuya during this time.
Gallery
References