Spring Morioh Festival
Jump to navigation
Jump to search
Spring Morioh Festival
(

春の杜王町まつり

Haru no Moriō-chō Matsuri)
is an upcoming special event that is set to be held in
Sendai
,
Miyagi Prefecture
, Japan from April 21 to 30, 2023.
The event, which is planned to have multiple installments, includes a pop-up shop that will sell goods with new Diamond is Unbreakable art, a collaboration event between the Tohoku Rakuten Golden Eagles featuring Yuki Ono, and the IGGY COFFEE STAND along with exclusive merch.[1]
Summary
Sendai Station POP UP SHOP
The pop-up shop will be available from Friday, April 21 to Sunday, April 30 at Sendai Station East & West Freepass. It opens at 10:00 JST and closes at 20:00.
The goods sold feature newly drawn character illustrations of the main cast from the Diamond is Unbreakable anime. In particular, there is art of Jotaro Kujo, Josuke Higashikata, Okuyasu Nijimura, Koichi Hirose, and Rohan Kishibe. There are also some goods with art of other characters using their anime model sheets, such as Keicho Nijimura, Yukako Yamagishi, Shigekiyo Yangu, Tonio Trussardi, and Yoshikage Kira.
The products include tapestries, a T-shirt, a tote bag, acrylic stands, can badges, clear files, bromides, ballpoint pens, a Crazy Diamond-themed hair tie, and a drawstring bag.
Tohoku Rakuten Golden Eagles Collaboration Event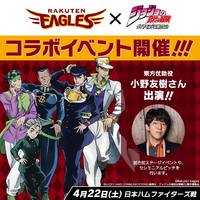 Tohoku Rakuten Golden Eagles is a professional baseball team based in Sendai, Japan. This event is a match between them and the Hokkaido Nippon-Ham Fighters. It will be at Rakuten Mobile Park Miyagi on Saturday, April 22 at 14:00 JST.
There will be a pre-game stage event and a ceremonial first pitch in which Yuki Ono, the voice actor of Josuke Higashikata, will appear. He will liven up the event as the stadium MC. Collaboration tickets with original designs will be on sale starting from April 10. It costs 3,000 yen.
IGGY COFFEE STAND
IGGY COFFEE STAND will be available in Sendai Station from Saturday, April 22 to Sunday, May 7, at the JR Sendai Station 3F Shinkansen Central Ticket Gate. It will be open from 10:00 JST to 19:00.
Another one will be open in Sendai-Izumi Premium Outlets from Saturday, April 22 to Friday, May 5.
The available goods include an Iggy-themed hair tie, a drawstring bag, lunch tote bag, acrylic muddler, a red apron, and an off-white apron.
Gallery
References