SOS from G.D. st. Jail
Jump to navigation
Jump to search
SOS from G.D. st. Jail
was a collaboration event between
Yokohama Hakkeijima Sea Paradise
and
JoJo's Bizarre Adventure: Stone Ocean
featuring new events and goods at the Sea Paradise Aquarium. It began on October 1, 2022 and ended on November 30, 2022.
[1]
For those who pre-purchased a ticket, a set that included a "one-day pass" and "Island Exploration Rally" admission received a original wristband with a prisoner's number (1 randomly given out of 9 types).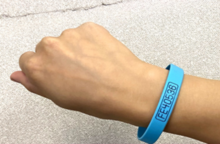 The story of the event involves the visitor being an agent of the Speedwagon Foundation disguising themselves as a prisoner of Green Dolphin Street Jail in order to infiltrate the facility and assist Jolyne and friends in finding Jotaro's Memory DISC.
Summary
The event featured new activities and goods for visitors to enjoy. A stamp rally (1,300 yen per person) took place within the Aquarium where participants must complete missions in order to acquire stamps and keywords. If all stamps are collected and a participant reaches the end, they will receive a novelty DISC of Jotaro's memory. In addition, those who guess the secret card from the cards distributed as a goal bonus (1 randomly given out of 9 types) will receive a special acrylic stand to store Jotaro's DISC.
A special exhibit named "JoJo and Strange Creatures" was featured at the event. A large collection of "strange creatures" are featured in this exhibit including the Spotted Poison Dart Frog and the Barbados Giant Crab. The ecology and characteristics of the animals on display are presented with stand parameters such as "speed", "destructive power", and "precision movement".
The "Sea Animal Show" show has been altered to fit the event's theme. The new show premise has the Penguin's Memory DISC, which was scheduled to appear, having been stolen by Whitesnake. The trainers and animals then work together to search for the Memory DISC.
Art of the Stone Ocean cast appeared on the "Merry-Go-Round" attraction and "Dolphin Fantasy" in the aquarium. Additionally, at the "Carnival House" and "Western Game House", games related to Stone Ocean were featured. Customers who spent 500 yen or more on these event games received a random postcard (1 out of 4 types).
Food
New event food items were available during the event. Character image soft drinks featuring Jolyne, Ermes and F.F. (650 yen each), Stone Free parfait (650 yen), Kiss Double Crepe (950 yen), Stone Free Pasta (1,880 yen), Chirashi Sushi (1,700 yen), Jotaro's Star Sweet Crepe (950 yen), G.D.st Wetland Style BBQ ~with crocodile meat~ (6,500 yen), Weather Report's Cloud Drink and Diver Down's Diving Drink (980 yen each). For each food collaboration item purchase, a random "coloring coaster" (1 out of 5 types) will be given out.
Merchandise
New merchandise includes acrylic stands of the main Stone Ocean cast with their stands was available for 2,420 yen each (7 types) as well as acrylic keychains for 770 yen each (7 types), ballpoint pens for 550 yen (7 types), clear file for 495 yen, tote bag for 1,980 yen, cookies for 810 yen and t-shirts for 2,750 yen each (2 types). A photo service was also available, allowing you to receive your photo in either a photo stand (4,000 yen) or a keychain (1,500 yen).
Gallery
Videos
References