Eyes of Heaven ★ Funny Valentine
Jump to navigation
Jump to search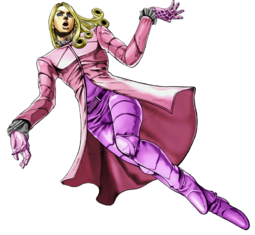 Valentine was confirmed for JoJo's Bizarre Adventure: Eyes of Heaven alongside Johnny, Gyro, and THE WORLD Diego.
As a Stand User, Valentine is one of many characters with wildly varied abilities that grant him uniqueness in battle.
Moveset
Style Action - Must...escape...to the next dimension...and hide...: Valentine jumps as he pulls out a flag and uses it to hide in another dimension, before reappearing from another flag. Depending on whether or not Valentine is locked onto an opponent, he will either reappear in the air behind them from anywhere on the stage, easily allowing for a Backstab to follow, or simply reappear in place from where he initially leapt. Valentine is granted invincibility from the moment he pulls out the flag until he reappears, and gains super armor upon reappearing until he lands. He may follow-up on his reappearance with a Normal or Powerful Attack, as well as any skill while falling.
It's merely self-defense!: Valentine pulls out a revolver and fires six bullets before tossing it away. His shots may automatically angle themselves slightly upward or downward depending on where his target is.
That really irritated me, so I'm really going to have to hurt you now.: Valentine and D4C charge forward a short distance before unleashing a barrage of 6 chops that send opponents caught flying on the final hit. If the target is splat against a wall, the attack can be inputted a second time and Valentine will follow it up by disappearing into another dimension. He will then briefly reappear in front of the target with two more Valentines as the three, in unison, uppercut and send them flying.
This is another me...: Valentine throws a piece of glass into the air as D4C shatters it, allowing him to switch dimensions. He then reappears with a parallel version of himself that will proceed to attack on his own. The parallel Valentine has his own health gauge separate of Valentine, and can utilize any of his skills and attacks. While the parallel Valentine is active, the original Valentine cannot use any attacks or skills involving D4C. After some time has passed or the parallel Valentine's health empties, he will retreat back into his own dimension using his own flag.

President Icon: A small icon on the right side of Valentine's health gauge showing a duplicate of his profile displays whether or not the parallel Valentine is active. It is dimmed by default, and lights up to indicate that the parallel Valentine is currently active.

If I switch out with this new me...: Valentine swaps places with an alternate version of himself from another dimension, completely replenishing his current health gauge. However, Valentine's defense permanently lowers every time he uses this skill, making it easier for his opponents to deplete his health overall. This will stack up to 3 times, at which point Valentine can lose a full health gauge after receving only a small amount of damage.
EX - That really irritated me, so I'm really going to have to hurt you now.: Valentine is invincible from the moment of the skill's execution to when the first chop is thrown.
EX - This is another me...: Valentine is invincible until the parallel Valentine is successfully active. The in-game description falsely implies that Valentine is invincible while the parallel Valentine is active.
Trait - D4C -Love Train-: When Valentine reaches his last health gauge, a dimensional wall of light surrounds him. While active, all projectiles are completely nullified. However, Love Train has an innate durability, and will disappear when enough projectiles have made contact with it. Valentine also remains vulnerable to Johnny Joestar's "Who'll be the sacrifice?" skill.
Dual Heat Attack - Dirty Deeds Done Dirt Cheap: Identical to its performance in All-Star Battle, though executes faster for the sake of brevity.
JoJolities
Dojyan! (dubbed "Ta-dah!" in the English localization): Valentine must use his Style Action 3 times. (200 Points)
You're the only one who can come in from the other side...: Valentine must use "This is another me..." 3 times. (200 Points)
Dirty Deeds Done Dirt Cheap (dubbed "Filthy acts, at a reasonable price" in the English localization): Valentine must Backstab 5 times. (300 Points)
Pick up the napkin first!: Valentine must use "If I switch out with this new me...". (500 Points)
My soul is in clear, unclouded tandem with my actions! Everything I do is for justice!: Valentine must Retire an opponent without losing a single health gauge. (800 Points)
Story Mode
In the game's story, Valentine is the root cause of Heaven Ascension DIO's appearance in the universe, and the entire story of the game because of it. During the events of his final battle with Johnny, trapped by Tusk ACT4's power, Valentine searches the various parallel universes in hopes of something capable of saving him while he buys time against his enemy. After some searching, he encounters a version of DIO within another universe. That version of DIO was able to undo the power of the Golden Spin with only a wave of his hand, and Valentine initially looked to him for help. However, after telling the alternate DIO of the existence of parallel universes, Valentine quickly realizes his mistake: Heaven Ascension DIO immediately made it his objective to subjugate and conquer every universe possible.
With his country threatened by the so-called "terrorist", Valentine ultimately decides to ally himself with the Joestar family, as they are his best hope for defeating Heaven DIO. Appearing multiple times under the guise of being one of Heaven DIO's minions sent to fight the protagonist group, he discreetly gives aid to the Joestars through small pieces of information each meeting.
Eventually, after the Joestar family's first encounter with Heaven DIO, Valentine directly approaches them. He confirms of the original universe DIO's status and hints at the weakness of DIO's new Heaven Ascension form. While Johnny is rightfully distrustful of Valentine, Valentine attempts to diffuse his suspicion by tossing the revolver he had hidden, forcing Johnny to throw his own version as the group witnesses the menger sponge effect. Despite the evidence that Valentine bears no ill-will and has no reason to deceive the Joestars, Johnny cannot forgive him for killing Gyro.
Valentine also helps Joseph Joestar confirm the reason why the two versions of him can co-exist right next to each other: as both of them are from the same timeline and are not alternate/parallel versions of the other, they are safe from the menger sponge effect.
Eventually, Valentine's role is discovered by Heaven DIO. He reveals his reason for betrayal, following the path of true justice, even it means sacrificing his life for the sake of his country. With nowhere to run, Valentine boldly attacks DIO, but is ultimately defeated by The World Over Heaven, with all versions of him in every universe wiped from reality along with D4C.
Due to Valentine's erasure from the timelines, the ending of Steel Ball Run is altered. In the new timeline, Gyro is alive to fight THE WORLD Diego alongside Johnny.
He is paired with Lisa Lisa in the Eyes of Heaven Tournament, but was eliminated in the preliminaries by Wamuu and N'Doul.