Cult Jump
Jump to navigation
Jump to search
Cult Jump (カルトジャンプ, Karuto Janpu) is an adventure trivia video game developed by Sun L and published by Bandai for the Game Boy. A Japan-only crossover game, it was released on September 10, 1993 and features many popular characters from seven series in Weekly Shonen Jump.
Overview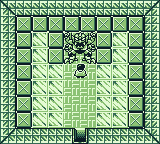 The king of the JUMP world has been imprisoned in a castle far away. It is up to the reader of Shōnen Jump to use all of his knowledge of their published works to beat opponents and rescue the king. Altogether, there are 50 long stages where the player needs to answer the questions posed by the opponents to survive and move on. A password will be displayed after beating each of these stages.
JoJo characters in the game
Gallery
Trivia
The main characters of the game are shared with the 1991 Famicom game Famicom Jump II: Saikyo no Shichinin, except for Jungle King's Ta-chan (replaced by Keiji of Hana no Keiji).
All the main characters appear as playable characters in the 2005 Nintendo DS game Jump Ultimate Stars, except for Tarurūto (Magical Tarurūto-kun) and Keiji. Taison Maeda (Rokudenashi BLUES) appears only as a support character.
Goku (Dragon Ball), Momotaro (Sakigake!! Otokojuku) and Ryotsu (Kochi-Kame) appear as playable characters in the 2013 PlayStation 3/ Vita game J-Stars Victory Vs.

Jotaro was replaced by Jonathan and Joseph to represent the JoJo's Bizarre Adventure franchise.
References