Fairouz Ai
Jump to navigation
Jump to search
"
Jolyne Cujoh
is the bravest, most beautiful, most strong, most loving, and most wonderful person I've come across. My admiration for her hasn't changed in 12 years. I'm really happy to be able to go on this bizarre adventure with her, and I'll put my life into my performance so that I can acquire the same "amazingness" as Jolyne through the recording process.
"
Fairouz Ai (ファイルーズあい, Fairūzu Ai) is a Japanese voice actress and singer who is affiliated with the Raccoon Dog talent agency. She is notable for being the voice of Jolyne Cujoh in the anime adaptation of JoJo's Bizarre Adventure: Stone Ocean.
Fairouz Ai is also known for her work on other anime such as being the voice of Manatsu Natsuumi in Tropical-Rouge! Pretty Cure, Hibiki Sakura in How Heavy Are the Dumbbells You Lift?, Emily Orange in Kandagawa Jet Girls, Eripiyo in If My Favorite Pop Idol Made It to the Budokan, I Would Die, and Takechiyo in Yashahime: Princess Half-Demon.
Biography
Fairouz Ai Kadota was born in Tokyo to a Japanese mother and an Egyptian father. Her brother, Gihado Kadota (門田 ギハード, Kadota Gihādo), is an athlete who represents Japan in ice climbing competitions.[3] Fairouz was raised in Egypt and studied at the Cairo Japanese School in Giza from fifth grade of elementary school until graduation. According to her, she used to walk to school on the same bridge where Jotaro Kujo and DIO fought in Stardust Crusaders.[4] She would later return to Japan during high school.
After graduating from high school, Fairouz did not immediately start a career in voice acting due to her parents' opposition. She first entered a graphic design school but her desire to become a voice actress rekindled during her third year. She worked as a dental assistant for one year to save money and entered the Profit Voice Actor Training Center, graduating in 2019 and debuting as a nameless female citizen in One Punch Man. In the same year, she starred in the role of Hibiki Sakura in the anime How Heavy Are the Dumbbells You Lift?.
In 2020, at the 14th Seiyu Awards, Fairouz Ai won an award in the "New Actress" category for her role as Hibiki Sakura.
Fairouz Ai is fond of drawing, watching horror movies, reading manga such as Prison School, Fist of the North Star, Akagi, and Kaiji, and muscle training. She has a grade 3 certification in Business Skill and a grade 4 certification in Horseback Riding.[5]
On March 31, 2022, Fairouz transferred to the Raccoon Dog talent agency along with several other voice actors from Pro-Fit after Pro-Fit ceased production operations.[6]
JoJo's Bizarre Adventure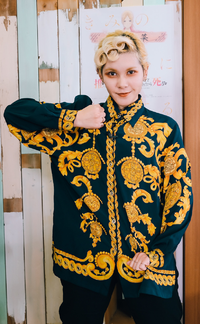 Fairouz has long been a fan of the JoJo's Bizarre Adventure series, particularly Stone Ocean, which she first learned of by reading comments on videos that referenced the series. She began collecting the first five volumes of Stone Ocean during her second year of junior high school because she liked the dramatic art and was fascinated by the female protagonist[7], though she mistakenly thought it was the first story arc due to the reset volume numbers. She couldn't understand anything but wanted to know more about Jolyne, whom she thought was cool. After reading the second volume of the sixth part, she restarted all the way back to Phantom Blood, and eventually completed the entire set by her freshman year of high school.[8]
Fairouz found it tough to adjust in high school but stayed optimistic and motivated herself by thinking that she wants to be like Jolyne. Being half-Egyptian, Fairouz was really happy when she read Stardust Crusaders as she met several people who told her they liked Egypt because of the manga and anime which featured the country. After making friends with other JoJo fans, they called her Avdol so she would joke that she would bring out Magician's Red.
She participated in an online reading session of the manga through Skype group calls and was praised within her online community for her skill in reading the dialogue out loud, leading her to begin to regularly act out scenes from JoJo. The character of Jolyne has even helped her to stay optimistic while job hunting or working, and inspired her dream to appearing in an anime adaptation of the manga and into her career as a a voice actor.
Fairouz jokingly proclaims herself to be a "Jolyne otaku". During her audition for the role, she tied her hair into buns and even brought a Stone Ocean clear folder with pictures of Jolyne and Jotaro for display. Despite her cheerfulness during the audition, she nearly cried while nervously showing her Stone Ocean clear folder to the casting directors.[8]
Fairouz says that she affiliated herself with the agency Pro-Fit because the teacher of the training center was Yoku Shioya, who voiced Will Anthonio Zeppeli, and that it would help her appear in the anime adaptation. She received her certification in horseback riding after reading Steel Ball Run which inspired her to learn how to ride a horse.[9]
Fairouz Ai had a voice cameo in all three episodes of the Thus Spoke Kishibe Rohan TV drama's second season.
JoJo's Bizarre Adventure Roles
Role
Village Broadcasting (voice)
Commentary
Commentary
"
"JoJo's Bizarre Adventure" is the reason why I wanted to become a voice actor, and it is a very important work in my life, so when I found out that I would be appearing in it, it felt like a "shock that would even send my Stand flying to the moon"... I was really speechless and I couldn't stop crying because I was so happy that my dream that I had been chasing for 12 years had come true.
I got a lot of courage from seeing Jolyne's strong and beautiful figure, especially when I was a student. So to have the opportunity to play Jolyne, who I love and admire the most, I am really grateful that I can't describe it in words.
Jolyne Cujoh is the most bravest, most beautiful, most strong, most loving, and most wonderful person I've come across. My admiration for her hasn't changed in 12 years. I'm really happy to be able to go on this bizarre adventure with her, and I'll put my life into my performance so that I can acquire the same "amazingness" as Jolyne through the recording process.
"
"
「ジョジョの奇妙な冒険」は私が声優を目指したきっかけであり、私の人生にはなくてはならないとても大切な作品なので、出演させて頂けることを知った時はまさに「スタンドも月までブッ飛ぶこの衝撃」というか…本当に言葉が出てこなくて、12年間追い続けていた夢が叶ったことの喜びで涙が止まりませんでした。
特に学生時代に、徐倫の強く美しい姿を見てたくさんの勇気をもらっていたので、そんな大好きで1番の憧れである徐倫を演じる機会を頂けて、本当に言葉では形容できないほど感謝の思いでいっぱいです。
空条徐倫は私が今まで出会った中で、世界一勇敢で美しくて強くて愛情深い、素晴らしい人間です。12年前から彼女に対する憧れの気持ちは変わっていません。そんな彼女と一緒に奇妙な冒険ができることが本当にうれしいですし、私もアフレコを通じて、徐倫のような『スゴ味』を身につけられるように、命を込めて演技させて頂きます。
[10]
"
Interviews

Published December 9, 2021
👤 Fairouz Ai
"
I can't even begin to describe how happy, moved and grateful I am.
Fairouz, you've said that you've always been a fan of the "JoJo's Bizarre Adventure" series. What do you find most appealing about the story of "Stone Ocean"?
Compared to the previous protagonists, I think the appeal of "Stone Ocean" is that it depicts Jolyne's mental growth to a greater extent. At first, Jolyne was a whimpering delinquent, but as the story progresses, she keeps growing stronger and stronger. She's so impressive! I want to be like her!
Also, at the time it was serialized, it was really rare to see a battle manga with a female protagonist. I was totally impressed, thinking "Girls can be this strong too!". I think it's a very avant-garde and energetic series in that aspect as well!
Please tell us how you felt when you were chosen to play the role of Jolyne.
I was filled with so much happiness, excitement, and gratitude that no words in the world can describe it. There were many difficult times in my life, but I was so happy that I came across JoJo when I was born, and got to be the closest to Jolyne, whom I love the most in the world. It's been a dream of mine to be in JoJo for a long time, and it was definitely a difficult path… that I wouldn't have been able to traverse without some luck.
When the cast was announced, there was a huge response, especially on social media. Were there any messages from fans or reactions from your family and friends that left a particular impression on you?
My friend group of 10 years, who became friends through JoJo, drew an illustration of Jolyne with me and gave me a very nice butterfly brooch as a gift! I also received congratulatory messages from my mother and many other friends and colleagues, which made me realize how blessed I am. "Thank you"… I can't find any other words to express my gratitude…
I have heart-to-heart conversations with Daisuke Ono, who plays the role of my father and loves his work.
Fairouz, please describe what you think is the appeal and strengths of Jolyne. Is there any new aspect of Jolyne that you have discovered through acting as her, or any point that you have a deeper understanding of now than when you read the manga?
Jolyne's appeal is her tough mental strength and her sense of purpose that shapes her power! However, after acting as her, I realized that Jolyne wasn't always strong from the beginning. The final volume left such a strong impression on me that it almost felt like I was in a hurry, like "I have to make her look cool!" The director tried to fix it by telling me "You shouldn't give the impression of having resolve right in the beginning."
Are there any other memorable interactions you had with the staff while recording?
When I was allowed to review the dubbing of the second episode, I felt a gap between the Jolyne I imagined and my actual performance I heard, which made me lose confidence and feel depressed. But the series director Kenichi Suzuki said, "It's okay, everyone was like that at the beginning. As the story progresses, you're growing with the characters." Those words saved me.
This work is also the story of father and daughter, Jotaro and Jolyne. While playing as Jolyne, have you ever talked with Daisuke Ono, who played the role of Jotaro?
We can talk about our love for JoJo on the same wavelength, so it's really fun to talk with him every time we meet!!
Talking about anime original scenes, I said "This scene is so emotional, just like that scene in ***, isn't it?!" To that, he replied "Emo emo daze", so I countered with "Emo emo dawa" (laughs). We've only met a few times, but we're already good friends!
Besides Jolyne, there are many other fascinating characters. Which character would you say is your favorite or who you want to pay attention to?
I love Sports Maxx, but I can't say that out loud because Ermes would probably get mad at me! (laughs)
If you could get a Stand ability, what would you want it to be?
Well, as an anime otaku, I guess I'd have to say "Bohemian Rhapsody"… I won't say much about it because it would be spoilers, but if you're a Stand user reading this, then you should be aware of it! Though it's too late…
Finally, do you have a message for our readers?
To all the fans who are looking forward to "Stone Ocean", thank you so much for always piling up enthusiasm about it and loving it! I truly love "JoJo's Bizarre Adventure", so if this season can be a chance for people who haven't seen it to get to know it, hopefully you enjoy it~
Right now I can't help but feel lucky from the bottom of my heart and laugh…! I can't hold it in~
"
[Translated by
Vish
(JoJo's Bizarre Encyclopedia)]
[11]
"
形容できないくらいのうれしさと感動と感謝
― もともと『ショジョの奇妙な冒険』シリーズが大好きだったというファイルーズさん。『ストーンオーシャン』の物語には、どんなところに魅力を感じますか?
これまでの歴代主人公達と比較して、徐倫の精神面での成長が大きく描かれているところが『ストーンオーシャン』の魅力だと思います。徐倫は、最初はメソメソとした不良娘でしたが、物語が進むにつれてどんどん逞しく強くなっていって「そこにシビれる! あこがれるゥ!」となりましたし、また、連載当時は女性主人公のバトル漫画というのはとても珍しく、「女の子もこんなに強くなれるんだ!」とすごく感銘を受けたので、そういった面でもとても前衛的でエネルギッシュなシリーズだと思います!
― 徐倫役に決まったときの心境を教えてください。
世界中のどんな言葉を使っても形容できないくらい、うれしさと、感動と、感謝でいっぱいでした。人生で苦しいときもたくさんありましたが、生まれてきて、『ジョジョ』に出会えて本当によかったと思いましたし、世界で一番愛してる徐倫の一番近くにいられることが、本当に嬉しかったです。『ジョジョ』に出演することは本当にずっと夢で、何よリも『困難』で…
「幸運」なくしては近づけない道のリでした…。
―キャスト発表時には、SNSなどを中心に大反響でした。ファンの方からのメッセージや、ご家族・ご友人などの反応で、特に印象に残っていることはあリますか?
『ジョジョ』がきっかけで仲良くなった10年来の友人たちが、わたしと徐倫のイラストを描いてくれて、とっても素敵な蝶々のブローチをフレゼントしてくれました! ほかにも母や、た<さんの友人や同業者さんから祝福のメッセージを頂けて、自分がどれほど恵まれているのかを実感しました。「あリがとう」…それしか言う言葉がみつからない…。
父役・小野大輔さんと作品愛で心通じる
― ファイルーズさんが考える、徐倫の魅力や強みを教えてください。演じることで改めて発見した徐倫の新たな一面や、マンガで読んでいたとき以上に理解が深まった点などはありますか?
徐倫の魅力はなんといってもタフな精神力と、それを形作る目的意識の強さです!ただ、演じてみて気付いたのは、徐倫は決して最初から強かったわけじゃあないということです。どうしても最終巻の印象が強くて、「かっこよくしなきゃ!」と焦ってしまいそうになったので、「最初は覚悟が決まった感じにならないように」とディレクションで直していたたきました。
― そのほか、アフレコ時にスタッフの方としたやり取りで印象に残っていることはありますか?
第2話のダビングを見学させていただいたとき、想像していた自分の徐倫と実際に聴こえてくる自分の演技にギャップを感してしまい、自信がなくなって落ち込んでしまっていたのですが、鈴木健一総監督が「みんな品初はそうだったから大丈夫たよ。話が進んでいくのと同時に、キャラクターと一緒に成長していっているから」と言ってくださり、その言葉で私は救われました。
― 承太郎と徐倫の親子の物語でもある今作。ファイルーズさんは徐倫を濱じるにあたって、承太郎役の小野大輔さんとお話をされたことはありましたか?
同じ温度感で『ジョジョ』愛を語れるので、毎回お話するのが本当に楽しいです!! アニメオリジナルの演出について「ここのシーン、○○のシーンと繋がっててエモいッスよねェ~ッ!!」つて言ったら「エモエモだぜ」と言っていたので、「エモエモだわ」と返したりしてました(笑)。まだお会いして数回ですが、すでに仲良しです!
― 徐倫以外にも魅力的なキャラクターが多数登場しますが、ファイルーズさんがお気に入リのキャラクターや注目してほしいキャラクターは誰ですか?
スポーツ・マックスが大好きですが、エルメェスに怒られそうだから大きい声で言えない(笑)!
― ファイルーズさんがもしスタンド能力を手に入れられるとしたら、どんな能力がほしいですか?
やっぱりアニメオタクとしては「ボヘミアン・ラプソディー」でしょうか…。ネタバレになるので多くは語リませんが、これを読んでいるスタンド使いのあなたは気付いているはずッ! スデに…。
― 最後に、読者にメッセージをお願いします。
『ストーンオーシャン』を楽しみにしてくれているファンの皆様、いつも作品を盛り上げて、愛してくださり、本当にあリがとうございます! わたしは『ジョジョの奇妙な冒険』 という作品が本当に大好きなので、このシリースをきっかけに、まだ観たことがない方にも知っていただき、楽しんでいただけたらよォ~今のおれみてえにウププッてな笑いが腹の底からラッキーって感じで…!込みあげて来るよなあ~。
"
Gallery
Videos
Trivia
References