User:Morganstedmanms
Jump to navigation
Jump to search

Hello, I'm Morgan, an editor and moderator for JoJo's Bizarre Encyclopedia, a fan-made wiki dedicated to JoJo's Bizarre Adventure.
My favourite part is Stone Ocean, and my favourite characters are Mariah and Bruno Bucciarati. Besides JoJo, I'm also a fan of Berserk, Gantz, Baki, One Piece, and Hunter x Hunter.[1] If you need to contact me, I have a cool Discord server you can join here.
I currently have 19,170 edits on the wiki.
Summary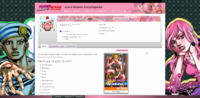 I started reading JoJo in 2014, just after All-Star Battle and the Part 3 anime were announced. Before that, I was a casual fan of the arcade fighting game and the OVA series. I caught up with the series in 2016 during JoJolion, and am currently looking forward to Part 9.
I joined the wiki in May 2017 because I wanted to document obscure JoJo media, and have been a moderator on the site since October 7, 2017. My first major edit involved replacing all the low quality volume covers we had on the old site with nice new ones.[2] Later, I helped Vish out with setting up and migrating to the new site, which you can read more about here. I also created a dark theme for the wiki with his help.[3]
I've contributed to a couple of translation projects on the wiki, including interviews, author's notes, and card games. I've also done scanlations for various spin-offs, like Deadman's Questions, The Harvest Moon, Fujiko's Bizarre Worldly Wisdom, and Drip Painting Style.[4][5][6][7] I've also provided minor translation assistance for other scanlations, including Baoh the Visitor,[a] Cool Shock Old B.T., Crazy Diamond's Demonic Heartbreak,[b] and Hot Summer Martha.[8]
Favourite Pages
Countdowns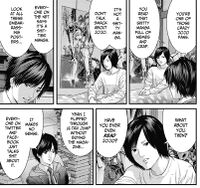 To-do List
Notable Pages
Pages that I've either made or heavily contributed to:
Articles
Media
Characters
People
Interviews
News
Source Code
Wiki
Guest Art
Music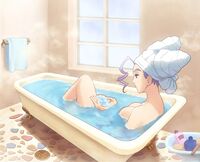 Notes
References