User
:
Lou/Sandbox
Jump to navigation
Jump to search

Edizioni Star Comics S.r.l, also known simply as Star Comics is a major Italian publisher founded in 1987 specialized in publishing Manga and Comics, and is the official publisher of the JoJo's Bizarre Adventure series in Italy.
Summary
Star Comics was founded in 1987 by Sergio Cavallerin and Marco Marcello Lupoi. Early in its history, the company started out importing comics from other countries and selling them for very low prices. The company was also translating comics such as Spiderman, Fantastic Four and several others. Later in 1992, in order to expand its market Star Comics began working on various manga such as Fist of the North Star, Dragon Ball, JoJo's Bizarre Adventure and more.
JoJo's Bizarre Adventure
Main article: List of Italian JoJo's Bizarre Adventure chapters
Star Comics has been producing and distributing the Italian localization of the JoJo's Bizarre Adventure manga since 1993. The company is currently publishing the 8th part of JoJo's Bizarre Adventure, JoJolion. It has also worked on several other Araki Works related to the JoJo universe, such as Thus Spoke Kishibe Rohan and Under Execution, Under Jailbreak; as well as Araki's earlier works, such as Cool Shock B.T., Baoh the Visitor and Gorgeous Irene
"SOTTILETTA" Release
JoJo's first began in 1993 in the "Sottiletta" Format (A very thin book with occidental reading order, this order was used up to part 4). The "Sottiletta" Format was used for all the parts up to Stone Ocean, before Star Comics switched to the Tankobon Format.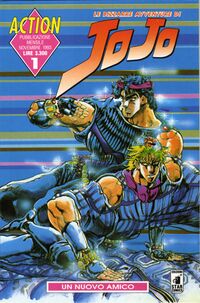 Tankobun Release
In 2006, Star Comics switched to the Tankōbon format, after the release of Part 7, Steel Ball Run. This newer release provided better printing materials, a more accurate translation and was an improvement over the old "Sottiletta" Format. The Tankōbon Format is still used to this day for the release of part 8, JoJolion, although Part 7, Steel Ball Run has been discontinued and is not produced anymore.
Bunkoban Release
In 2009, Star Comics started releasing the Bunkoban manga for all the seven parts of JoJo. This new edition of JoJo provided the before mentioned improvements (This release doesn't re-use the old "Sottiletta" format translations.) and some various interviews. The Bunkoban release was officially concluded in 2019. In 2021, the Bunkoban release began digitally, with a new volume releasing every week.
JoJonium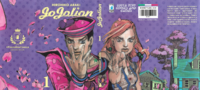 In 2019 during the Lucca Comics & Games Event, Star Comics revealed an Italian release for JoJonium, this new edition is still published to this day and it is currently up to Part 3, Stardust Crusaders.
Special Editions
A special limited edition release of the first volume of JoJolion was released at the Lucca Comics & Games 2019 event. This version features a different cover, the initial colored pages in coated paper, a colored internal folding poster, a sketch of Josuke Higashikata and Soft & Wet, and a note written in Italian by Hirohiko Araki.
Other Araki's Work
During Lucca Comics & Games 2019, a collection of Araki's work called "Il bizzarro universo di Hirohiko Araki" (Hirohiko Araki's Bizarre Universe) was released. This collection includes Baoh the Visitor, Gorgeous Irene, Cool Shock B.T. and Under Execution, Under Jailbreak. All the volumes can be bought in a single bundle or as separate releases. Thus Spoke Kishibe Rohan was also released in Italy in 2015, with the second volume being released in 2019.
Gallery