Clint Eastwood
Jump to navigation
Jump to search
"
I draw characters influenced by your image, Mr. Eastwood. Even the way you wear your hat. Normally, outlaws bend the brim of their hats. But in your case, the brim of the hat is straight.
"
Clint Eastwood is an American actor and film maker whose various roles and films greatly influenced Hirohiko Araki's JoJo's Bizarre Adventure series.[1]
He made a lasting mark on the world of cinema with his roles in Westerns and other genres over a career spanning more than six decades. Famed for his portrayal of iconic roles such as The Man with No Name in Sergio Leone's Dollars Trilogy and the rugged cop Harry Callahan in Dirty Harry, Eastwood embodies the on-screen persona of the strong, silent type.
Biography
Early Life
Clint Eastwood was born on May 31, 1930, in San Francisco, California, to Clinton Eastwood Sr. and Margaret Ruth (née Runner).[2] He is of mixed English, Scottish, Dutch, German, and Irish ancestry.[3] Although he was raised in an affluent area of Piedmont, California,[4] his academic performance was subpar, leading to him being held back in middle school and later expelled from Piedmont High School for various infractions. Subsequently, he transferred to Oakland Technical High School, with his graduation status remaining unclear.[5]
Eastwood held various jobs, including lifeguard, paper carrier, grocery clerk, forest firefighter, and golf caddy,[6] before attempting to enroll at Seattle University in 1951.[7] However, he was drafted into the U.S. Army during the Korean War.[6] Despite references to his service, Eastwood's military stint was spent primarily as a lifeguard at Fort Ord in northern California.[4] His time in the military was marked by an incident where he survived a plane crash near Point Reyes, swimming 2 miles to safety from the crash site.[5]
Career
Clint Eastwood's career in the entertainment industry spans over six decades, starting in the late 1950s and reaching into the early 2020s. In the late 1950s, Eastwood began his acting career with minor roles in films and TV series, most notably in Rawhide.[5] His breakthrough came in the 1960s with Sergio Leone's Dollars Trilogy where he played the iconic character The Man with No Name.[5] The term "Spaghetti Western" emerged from the success of these films.[8]
In the 1970s, Eastwood starred in the Dirty Harry series, reinforcing his image as a tough, stoic character. His directorial debut came in 1971 with the thriller Play Misty for Me.[5] Eastwood continued acting and directing throughout the 1980s and 1990s, earning acclaim for both.
Eastwood's work in the 21st century has been marked by critical and commercial success. He directed and starred in Million Dollar Baby in 2004 and Gran Torino in 2008. Both films were well received, with Million Dollar Baby winning four Academy Awards, including Best Picture and Best Director for Eastwood.[9]
In the 2010s, Eastwood continued to direct and occasionally act in films, receiving praise for his work in movies like American Sniper in 2014 and Sully in 2016. In 2020, Eastwood directed and starred in Cry Macho. Although it had mixed reviews and was not commercially successful, Hirohiko Araki praised it for being entertaining, also mentioning that it is the 50th anniversary of the first movie directed by Eastwood.[10]
Eastwood is planning on retiring after directing his 40th and final film, Juror No. 2, according to reports in early 2023.[11]
Influence on Hirohiko Araki
"
I like his standing pose the most. It's not macho, but it's a stance that makes you feel his intelligence and good upbringing. He has elegance. The image of Eastwood standing alone in the wilderness overlaps with the protagonist of the manga
Babel II
, leading to
Jotaro
, who fights in the desert wearing a school uniform.
"
Hirohiko Araki's interest in Clint Eastwood began in 1966 when his father took him to go see Eastwood's films. His father was a fan of Eastwood, so they watched For a Few Dollars More and The Good, the Bad and the Ugly together. Although Araki didn't understand the plots at his young age, he was amazed by the action scenes, and Eastwood's fashion.[1] Since then, he followed Eastwood's works, becoming completely captivated by Dirty Harry in 1971.[12] Araki has listed Eastwood as both his favorite actor[13] and director.[14][15]
Impact on Manga
Araki first referenced the actor in his 1981 debut manga, Poker Under Arms, which took place in a Western setting, and "Eastwood" can be read on a sign in the background in the third page. Araki's interest in the Western genre stemmed from Eastwood being his childhood hero.[16]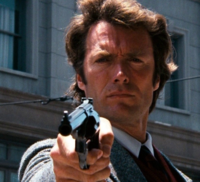 Eventually, Eastwood became the ideal hero image for Araki's manga as well, particularly JoJo's Bizarre Adventure;[1] like Eastwood's main roles, Araki sees heroes as loners, who do the right thing without looking for compensation or appreciation from society.[17][18] The film Dirty Harry was one of Araki's artistic references,[19] particularly impacting some traits of his characters. Araki stated that Clint Eastwood served as the model for the protagonist of Stardust Crusaders, Jotaro Kujo. Jotaro's trademark pose where he points his finger was inspired by Eastwood pointing his .44 Magnum. Moreover, Jotaro's catchphrase took inspiration from some of Eastwood's dialogue in films, such as "You have to be kidding me..."[18] According to Araki, Sergio Leone once told Eastwood that he doesn't have to act for a scene, but just stand there. This inspired Araki to have Jotaro perform limited movements while fighting, such as standing quietly with his hands in his pockets even while his Stand is throwing incredibly powerful punches.[20][1]
Jotaro was not the only character influenced by Eastwood's roles. The flat brim hats of characters were designed based on how Eastwood wore his hats in films. In Vento Aureo, Araki doesn't consider Team Bucciarati to be a team with a sense of hierarchy, but rather a group of outcasts who each fights alone in most of their fights.[1] When Guido Mista was young and ran out of money, he would stand outside a movie theater, beat up anyone who badmouthed Clint Eastwood, and then take their money.[21] Mista's favorite film is The Bridges of Madison County, which Eastwood directed and stars in.[22]
JoJo's Bizarre Adventure's seventh part, Steel Ball Run, takes place in a Western setting, where Johnny Joestar and Gyro Zeppeli deviate from their family and societal values, ultimately confronting a large obstacle. When creating Part 7, Araki thought it was time to make a work that was also about ethics, citing Eastwood, who was not only limited to being an action star.[23] If Eastwood were to play a character from JoJo, Araki thinks there would be plenty that would fit him from Part 7, such as Steven Steel, who would be a good choice both age-wise and because Steven fights against authority.[1]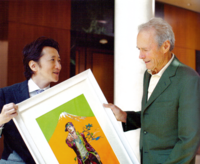 In September 2012, Araki had the opportunity to meet Clint Eastwood, with their interview published in JOJOmenon. Araki drew him a portrait of Jotaro with Iggy and Mount Fuji in the background, since items featuring drawings of the mountain are considered to be lucky.[1] After giving him the drawing, Araki asked if he could pose in the same way as Jotaro. He was worried that Eastwood would reject him, believing that if you asked some Hollywood stars to pose, they would leave saying they didn't come there for that kind of work. However, Eastwood willingly accepted both Araki's gift and his request, even going as far as adjusting his head angle to try matching the drawing.[12]
Araki also told Eastwood that he watched his latest film at the time, Trouble with the Curve, without subtitles and still felt emotionally moved by it.[1] In an interview afterward, Araki stated that meeting Eastwood was one of his dreams, and he's really glad the meeting wasn't canceled last minute.[24] Later, when JoJolion Chapter 18 was published in Ultra Jump in January 2013, the chapter was titled "Trouble with the Curve", based on the film.
Impact on Adaptations
Araki's admiration for Clint Eastwood has even made its way into adaptations and spin-offs by different writers. In the 2001 light novel GioGio's Bizarre Adventure II: Golden Heart, Golden Ring, Pannacotta Fugo's voice reminds Coniglio of Clint Eastwood's.[25] In September 2018, the English dub of the Diamond is Unbreakable anime referenced Eastwood in Episode 5, where Okuyasu Nijimura says "So go ahead punk, make my day" during his fight with Josuke Higashikata. This is a reference to an iconic line in the film Sudden Impact. Additionally, the 2022 light novel rey infinito narrates that if Octavio Luna Kan had a more fortunate childhood, he could have starred as a young Clint Eastwood in Hollywood.[26]
Araki's Commentaries
Araki frequently comments on Eastwood's films. When Unforgiven won the Best Picture award in the 65th Academy Awards, Araki was so happy that he couldn't sleep.[27] In 2012, Araki's all-time best 10 Clint Eastwood films were The Good, the Bad and the Ugly, Play Misty for Me, Dirty Harry, Escape from Alcatraz, Firefox, Unforgiven, Mystic River, Changeling, Gran Torino, and J. Edgar.[1]
In 2013, Araki wrote the book Hirohiko Araki's Super-Favorites! Rules of Movies, where its fifth chapter, "Eastwood is a Genre", is dedicated to Eastwood's films. In the chapter, Araki discusses the films' themes and his thoughts on each of them. He also reflects upon his meeting with Eastwood in the previous year.
Interviews
Gallery
Trivia
If Eastwood were to have a Stand, Araki believes he would give him one that has the ability to create wind. Its gentle breeze would subtly affect his opponent while he steadily attacks them.[1]
References