Kazuyuki Okitsu
Jump to navigation
Jump to search
Kazuyuki Okitsu (興津 和幸, Okitsu Kazuyuki) is a Japanese voice actor and singer credited for his work as Jonathan Joestar in the anime adaptation of JoJo's Bizarre Adventure's first part, Phantom Blood.
Okitsu is also known for his work on other anime such as Reiji Andou from Prison School, Serpico in Berserk, God Serena in Fairy Tail, Fat Gum in My Hero Academia, and Hatori Soma in the 2019 remake of Fruits Basket.
Biography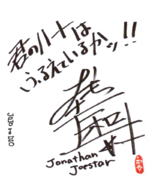 Okitsu was born on March 8, 1980, in Awaji Island, Hyōgo Prefecture, Japan. He first learned about the existence of voice actors when he was watching the mecha anime Mashin Hero Wataru as a child. Since then, he made it his goal to become a voice actor as well.[1] He was the moderator for the 79th Japanese High School Baseball Championship opening ceremony in his third year of high school. He graduated from Hyogo Prefectural Sumoto High School and then the Osaka University of Arts with a degree in broadcasting. After working with the RME entertainment agency, he has been a member of Kekke Corporation since May 2007.[2]
His initial roles were all minor characters in various anime. He got his first major roles in 2010, having voiced Seishin Muroi in Shiki and Akiharu Hino in Ladies versus Butlers!. In 2012, he was selected to play Jonathan Joestar in JoJo's Bizarre Adventure.
JoJo's Bizarre Adventure
Okitsu's favorite aspects of Jonathan are his straightforward personality, rapid growth, and heart. The character's growth is what Okitsu struggled with when voicing him, but he loved shouting Jonathan's iconic Sunlight Yellow Overdrive.[3]
Okitsu's favorite character other than Jonathan is Dio Brando. He also has a fondness for Robert E. O. Speedwagon as the scene he remembers the most in season one was when Speedwagon's death was reported in Episode 10.[3]
Okitsu started reading JoJo's Bizarre Adventure at Stardust Crusaders (at the suggestion of a senior) but didn't read further than a few volumes. Okitsu then says that reading part 1 and 2 before 3 made it more interesting.[4]
As he was still nervous about his role during Episode 4, he wasn't confident about voicing Jonathan's "Overdrive" attacks and was relieved when he finished his first Sunlight Yellow Overdrive. He thinks out of all of them, his best one was Turquoise Blue Overdrive against Bruford. The scene was recorded in the morning and there were two sessions.[5]
JoJo's Bizarre Adventure Roles
Other Roles
Gallery
Videos
References