Toshio Sako
Jump to navigation
Jump to search
Toshio Sako (迫 稔雄, Sako Toshio) is a Japanese manga artist and illustrator. He is best known as the author of the manga Usogui and Batuque.
History
Born in Shimonoseki, Japan, Sako's parents encouraged him moved to Tokyo after graduating high school to pursue a career as a barber.[1] However, at around the age of 27, he decided to follow his passion and become a manga artist. Without any prior experience in manga, Sako voluntered as an assistant to Takeshi Hinata until he had the skills to create his own series.
In 2005, Sako won an Honorable Mention in the 48th Young Jump Monthly MANGA Grand Prix for his one-shot, Usogui. In 2006, Sako began serializing Usogui in Weekly Young Jump.[1] The manga became long-running and popular, finishing serialization in 2017 with a total of 49 volumes published. Following the success of Usogui, Sako started his next series, Batuque, which began serialization in 2018 and is still on-going. Despite working as a manga artist, Sako is notably very physically fit. He joined a Karate dojo in elementary school, and works out at a gym with mixed martial artist Hideo Tokoro, who he met through his work.[1] He also learned Capoeira, a Brazilian martial art that appears in his series Batuque.[1]
JoJo's Bizarre Adventure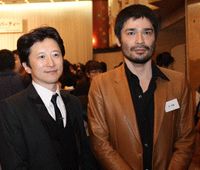 Toshio Sako has a strong admiration for Araki's works, which has caused the two to collaborate on multiple occasions. Sako said that the main appeal of JoJo for him was the unforgettable intensity of its world. Sako's favorite battle in the series is D'Arby the Gambler, as it clearly explains the concept of gambling and bluffing in a way that's easy to understand, while keeping the reader on the edge of their seat.[2] This is reflected in Sako's own works, which heavily focus on high stakes gambling and characters staking their lives on a bet.
On December 14, 2006, an interview between Hirohiko Araki and Sako was published in Weekly Young Jump to commemorate the release of the Phantom Blood film and the second volume of Usogui.[3][4] In the interview, Araki said he would like Usogui to receieve a film adaptation similar to JoJo, although it had only been a year since the series started serialization.[5] On March 20, 2007, a recommendation from Araki was printed on the obi of the third volume of Usogui, praising it as the "pinnacle of bizarre suspense."[6] On March 19, 2009, the author's note of the 11th volume of Usogui featured a signed autographed of Jotaro from Araki. In the author's note, Sako said that he treasures the autograph and that it watches over him as he works each day.[7]
On August 19, 2013, a JoJo x Usogui collaboration was published in the 30th volume of Usogui, in which Sako drew Jotaro and Star Platinum, and Araki drew Madarame Baku in the style of Cool Shock B.T., and Sako drew Jotaro.[2] Sako was also interviewed in the second volume of the Stardust Crusaders omnibus, which was released on August 2, 2013.[8] In August 2014, Sako was nominated by Araki to do the ALS Ice Bucket Challenge, which was a fundraising event to spread awareness of amyotrophic lateral sclerosis disease.[9] On May 12, 2016, Araki provided a second illustration to commemorate the 10th anniversary of Usogui, which was published in Weekly Young Jump.[10] Araki also commented, "On the 10th Anniversary of Usogui, Sako-sensei's body fat percentage also reached 10%. It's indeed a number worth celebrating. I wish for the prosperity of Usogui in the future."
Works
Gallery
References