Crazy Diamond
Jump to navigation
Jump to search
"
L'Homme vit sa vie en détruisant nécessairement quelque chose. En ce sens, ta faculté est la plus généreuse qui puisse exister.
"

Crazy Diamond (クレイジー・ダイヤモンド, Kureijī Daiyamondo) est le Stand de Josuke Higashikata, figurant dans la quatrième partie de JoJo's Bizarre Adventure, Diamond is Unbreakable.
C'est un Stand puissant dont la force est comparable à Star Platinum et qui possède la faculté de restaurer tout objet et personne à un état antérieur.
Apparence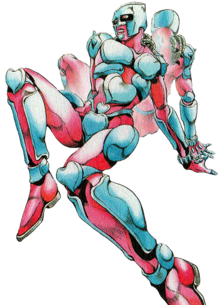 Crazy Diamond est un Stand humanoïde très musclé et qui est assez grand (il fait deux têtes de plus que Josuke).
Crazy Diamond porte un casque qui comme un casque corinthien couvre presque toute sa tête et son visage à part les yeux et la bouche. Ce casque a une forme particulière car son sommet plat a la forme d'un coeur. Crazy Diamond arbore d'autres plaques métallique sur son corps, notamment aux articulation, sur les pectoraux et sur les membres comme The World. Des câbles relient le does à l'arrière de sa tête. Il a toujours des plaques en forme de coeur aposées sur sa peau, sur le mention, sur l'entrejambe, aux épaules et aux genoux. Deux petits pics surgissent de chacune de ses épaulières et genouillères.
Sa palette la plus commune est un corps rose en armoure bleue ou argentée.
Lors de sa première apparition, ses iris avaient un motif de cercles concentrique, et il semblait plus que Crazy Diamond était entièrement métallique avec une membrane rose recouvrant partiellement son corps. Vers la fin de la partie 4 dans le manga, dans quelques cases, Crazy Diamond était représenté avec un petit nez visible sous son casque.
Palettes
Les palettes changent souvent entre les médias. L'information ci-dessous ne devrait pas être considérée comme canonique.
Armure
(Casque et armure bleu bébé, pointes et câbles argentés)
Armure
(Casque et armure bleu clair, pointes et câbles gris)
Armure
(Casque et armure bleu acier, pointes et câbles argentés)
Armure
(Casque et armure bleu bébé, pointes et câbles noirs)
Armure
(Casque et armure bleu clair, pointes et câbles gris)
Personnalité
Crazy Diamond n'a pas de personnalité propre en dehors de paraître en colère pendant les combats et de crier son Cri de combat "DORARARA!"; similaire mais uniquement distinct de celui des Stands appartenant à d'autres Joestars.
Probablement en raison de la nature douce mais rude de Josuke, lors du traitement des êtres vivants, Crazy Diamond ouvrira ses mains pour toucher doucement la cible tandis que pendant les moments urgents ou la réparation de substances inorganiques, il frappera avec son poing.[2]
Dans une très petite poignée de scènes, Crazy Diamond a montré des émotions à travers son visage telles que la peur pendant son combat avec Mushikui.
Pouvoirs
Crazy Diamond est Stand de courte portée qui comme le Star Platinum de Jotaro Kujo est caractérisé par sa puissance physique et sa vitesse, en échange d'une courte portée de 2 mètres. Ses caractéristiques basiques sont :
Super Force: Crazy Diamond possède une force physique immense. Entre autres, il peut facilement percer les abdomens de deux personnes à la fois, détruire le ciment ou ravager des véhicules. Sa force correspond à celle d'un Star Platinum affaibli par 6 ans d'inutilisation, ayant une fois réussi à briser sa défense et incitant Jotaro à noter que Star Platinum dans son état aurait des difficultés contre Crazy Diamond dans un concours de force.[3]
Super Vitesse: Non seulement il est capable de surprendre un Red Hot Chili Pepper sur ses gardes et presque complètement chargé, mais Crazy Diamond peut aussi devancer d'autres Stands tels que Highway Star en combat rapproché. Josuke estime que ses frappes dépassent 300[4] km/h (190 mph),bien que cela soit probablement faux car sa vitesse est comparable à celle de Star Platinum, qui se déplace à la vitesse de la lumière. Il a également pu attraper une balle tirée à bout portant de Josuke.[5]
Précision: Selon Jotaro, il peut tirer efficacement une balle de fusil de ses doigts jusqu'à 50 à 70 mètres lorsque Josuke se concentre.[6]
Ainsi, Crazy Diamond est un puissant Stand en combat rapproché dont les capacités sont complétés par son pouvoir assez peu conventionnel de réparer les objets cassés. Il est donc un Stand redoutable et imprévisible dans un combat, mais aussi un partenaire de combat inestimable car il peut guérir toute blessure instantanément.
Restauration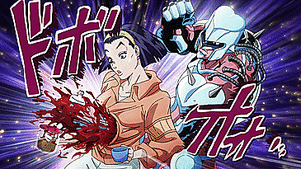 La capacité unique de Crazy Diamond est de restaurer ou de ramener des objets ou des organismes à un état antérieur de leur histoire juste en les touchant.
Avec son pouvoir de restauration, Crazy Diamond peut réparer n'importe quel dommage, guérir des blessures, renverser des modification au niveau chimique et désassembler des structures complexes en leurs éléments de bases. Il peut aussi fusionner des objets s'il les cogne ensemble, et a par exemple fusionné le méchant Anjuro Katagiri à un rocher.[7] Lorsqu'il restaure un objet détruit en plusieurs morceaux, Josuke peut décider à partir de quelle partie l'objet va se reconsituer.[2] Ainsi, Josuke peut forcer les débris d'une moto à revenir vers lui juste en tenant un petit morceau, forcer un Stand à se révéler alors qu'il était caché[8] ou utiliser un morceau pour traquer le reste, par exemple en forçant la main coupée de Kira à revenir vers lui, permettant à Josuke de la suivre.[9]
Si Josuke est en colère alors qu'il use de sa faculté, la cible peut se retrouver être déformée car la restauration ne se passe pas parfaitement.[10] De plus, Crazy Diamond n'affecte pas son manieur et donc Josuke ne peut pas guérir ses propres blessures.[11] Il ne peut pas non plus guérir des maladies,[2] ou restaurer des objets endommagés par The Hand,[12] ou encore ressusciter des gens.[13]
Josuke utilise fréquemment cette capacité pour soigner ses alliés, se tirer lui-même ou des objets dans une position avantageuse, ou piéger des ennemis en réparant tout un objet autour d'eux. Il peut également utiliser des stratagèmes hors des sentiers battus qui tirent parti des propriétés de l'ancien état d'un objet.
Chapitres / Episodes

Apparitions Manga
Apparition dans les chapitres

Apparitions Animé
Apparitions dans les épisodes
Galerie d'Images
Trivia
Références
↑ Love Deluxe - Vol.14 "Shueisha Jump Remix Diamond is Unbreakable Edition" P86 The origin of STANDS! Part 2
↑ 2.0 2.1 2.2 2.3 JOJOVELLER: STANDS, pp.80-83
↑ Chapter 267: Jotaro Kujo! Meets Josuke Higashikata (2)
↑ Chapter 391: Highway Star (8), pp 14
↑ Chapter 406: Enigma Boy (3)
↑ Chapter 328: Let's Go "Hunting"!, Part 4
↑ 7.0 7.1 Chapter 273: Josuke Higashikata! Meets Angelo, Part 5
↑ Chapter 305: Let's Go Eat Some Italian Food, Part 3, pp.16-18
↑ Chapter 363: Sheer Heart Attack, Part 10, pp.18-19
↑ Chapter 266: Jotaro Kujo! Meets Josuke Higashikata, Part 1
↑ Chapter 271: Josuke Higashikata! Meets Angelo, Part 3, pp. 5-6
↑ Chapter 295: Yukako Yamagishi Falls in Love, Part 2, p.22
↑ Chapter 292: Toshikazu Hazamada (Surface), Part 4
↑ JOJO A-GO!GO!: STANDS, p.36