Tenore Sax
Jump to navigation
Jump to search
Tenore Sax (ティナー・サックス, Tinā Sakkusu) est le Stand de Kenny G. figurant dans Stardust Crusaders. Il permet à Kenny G. de créer des illusions.
Sommaire
Tenore Sax permet directement à Kenny G. de créer des illusions et ce dernier a été vaincu en un instant. Ainsi on ne sait rien de son apparence ni de sa personnalité, s'il en avait une.
Il est l'un des rares Stands qui référence en fait un instrument de musique, et non une carte du tarot, un dieu Egyptien, ou un groupe de musique.[1]
Pouvoirs
Grâce à ses illusions, Tenore Sax peut être un stand utile, mais a été vaincu si rapidement qu'on ne peut déterminer une autre utilité que celle de désorienter des ennemis. L'une de ses faiblesses est qu'il ne peut pas créer d'illusions olfactives, ce qui a permit à Iggy de détecter où se cachait Kenny G.
Illusions
Tenore Sax a la capacité de générer des illusions qui peuvent déformer l'intérieur du manoir de DIO. On perçoit alors des pièces incroyablement grandes ou des labyrinthes complexes. Le Stand peut reproduire non seulement l'apparence d'une zone spécifique, mais également sa composition; dans le cas de l'île de Telence T. D'Arby, la sensation de la brise de l'eau et de l'océan était identique à la réalité.[2] Pour disperser les illusions, il faut vaincre Kenny G., le manieur.
Chapitres / Episodes

Apparitions Manga
Apparition dans les chapitres

Apparitions Animé
Apparitions dans les épisodes
Galerie
Trivia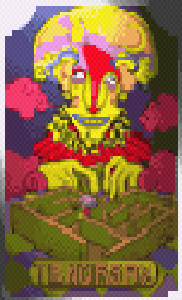 Tenore Sax est l'un des Stands qui ne fait pas référence au tarot divinatoire ni à la mythologie égyptienne dans Stardust Crusaders, l'autre étant Cream. Cependant, c'est dans JoJo6251, un livre publié des annés après Stardust Crusaders, que leurs noms ont été révélés.

The Capcom game gives both Cream and Tenore Sax their own Tarot cards.

Araki admet qu'il a simplement créé Tenore Sax pour ralentir le rythme de l'histoire. Ayant été fan de l'artiste, Kenny G, il s'excuse avec le recul d'avoir rendu le personnage si inutile.[2]
Références
↑ 1.0 1.1 Pet Shop's Horus - Vol.8 "Shueisha Jump Remix Stardust Crusaders Edition" P84 The Secret of JOJO Characters
↑ 2.0 2.1 JOJOVELLER: STANDS