Sheer Heart Attack
Jump to navigation
Jump to search
"
REGARDE-MOI !
(

コッチヲ見ロッ!

,

Kotchi o miroǃ

)
"
Sheer Heart Attack (シアーハートアタック, Shiā Hāto Atakku) est la bombe secondaire de Killer Queen, figurant dans l'arc "Sheer Heart Attack".
C'est un sous-Stand automatique indestructible qui détecte la chaleur pour déterminer ses cibles avant de déclencher une grande explosion.
Apparence
Sheer Heart Attack prend la forme d'une bombe à chenilles et avec une forme quasi-sphérique. Sur son sommet on peut voir un bouton amovible et des chenilles à chaque côté. Un crâne est intégré à l'avant de Sheer Heart Attack, qui a des pointes comme des oreilles, un long pic qui fair office de nez, et une petite épée apposé sur le front.[1] Bien qu'il ne soit pas visible pour les gens sans Stand, si Sheer Heart Attack s'attache à quelqu'un, cela laissera des traces de chenilles visibles sur leurs vêtements. Il laisse également un creux sur la main de Kira qui ne semble pas être visible pour les gens ordinaires.[2]
Dans le manga couleur, Sheer Heart Attack est vert et dans l'anime, il est représenté en bleu.
Palettes
Les palettes changent souvent entre les médias. L'information ci-dessous ne devrait pas être considérée comme canonique.
Tête
(Crâne gris clair avec une épée dorée)
Accessoires
(Chenilles gris métal, bouton gris et jaune moutarde)
Tête
(Crâne blanc avec une épée dorée)
Accessoires
(Chenilles grises et noires, pommeau blanc et doré)
Tête
(Crâne blanc avec une épée doré)
Accessoires
(Marches grises et noires, pommeau vert et doré)
Tête
(Crâne gris avec un poignard doré)
Accessoires
(Dark gray and black treads, moss green and golden knob)
Tête
(Crâne beige avec un épée noire)
Accessoires
(Chenilles noires, bouton vert et noir)
Personnalité
Sheer Heart Attack est dépourvu de toute personnalité car il s'agit d'un sous-Stand automatisé. Cependant, dans le cadre de sa nature autonome, il s'adresse toujours à sa cible en disant des phrases du type «Regarde-moi».[3]
Pouvoirs
Bombe détecteur de chaleur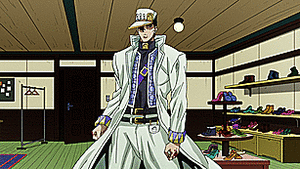 Sheer Heart Attack est une bombe automatique qui détecte la chaleur qui se détache de la main gauche de Killer Queen.[4] En conséquence, toutes les capacités de Stand activées sur lui sont reflétées sur la main gauche de Kira.[5] Comme Sheer Heart Attack est lié à la main gauche de Kira, la capacité primaire de Killer Queen peut toujours être utilisée même si Sheer Heart Attack est actif.[6]
Sheer Heart Attac a une portée énorme et est autonome donc Kira peut relâcher son sous-Stand avant de repartir, laissant son Stand le soin de disposer de ses ennemis.[7] Sheer Heart Attack chasse toujours l'objet le plus chaud à proximité[8] et change de cible si une source de plus grande chaleur apparaît. Quand il touche sa cible, Sheer Heart Attack créé une explosion de taille équivalente à la cible, la détruisant.[9] Si Sheer Heart Attack explose une cible inanimée, il recherche alors d'autres cibles jusqu'à ce qu'il n'y ait plus d'humains.[10] Tout comme la bombe primaire de Killer Queen, les explosions causées par Sheer Heart Attack sont assez puissantes pour atomiser un être humain.[11]
Sa principale faiblesse est son autonomie, et il est facile de dévier l'attention de Sheer Heart Attack sur quelque chose d'autre que les cibles de Kira.[12][13] De plus, il faut que Kira revienne le chercher s'il veut le désactiver et que Sheer Heart Attack n'a pas encore réussi à éliminer ses cibles, ce qui expose le tueur en série.[14] Cependant, Kira peut couper sa propre main gauche pour complétement libérer Sheer Heart Attack, comme il l'a fait lorsque Josuke et les autres l'ont coincé pour une première fois. Ainsi, Sheer Heart Attack est encore plus résilient et peut résister au pouvoir immobilisant de Echoes ACT 3's.[15]
Indestructibilité
"
Sheer Heart Attack n'a aucun point faible.
"
Le corps de Sheer Heart Attack est presque indestructible, et peut résister aux barrages de coups de poing du Star Platinum de Jotaro,[16] mais les pouvoirs Stand peuvent toujours l'affecter[5] et on le voit se craqueler sous la pression de la force exceptionnelle de Star Platinum.[17] Tout compte fait, Sheer Heart Attack a une défense hors du commun et est l'un des Stand les plus solides de la série.
Kira aime prétendre que Sheer Heart Attack n'a aucune faiblesse.
Chapitres / Episodes

Apparition dans le Manga
Chapitres (ordre chronologique)

Apparitions dans l'Anime
Episodes (ordre chronologique)
Galerie d'Images
Détails
Selon Araki, l'épée sur le crâne de Sheer Heart Attack doit représenter un assassin.[18]
Références