Tomoko Higashikata
Jump to navigation
Jump to search
"
I hope Josuke's behaving himself. He just got into high school. I really don't get that brat sometimes. But, he is really tender and gentle deep down, so I guess I shouldn't worry so much.
"
Tomoko Higashikata (東方 朋子, Higashikata Tomoko) est un personnage secondaire de la quatrième partie de JoJo's Bizarre Adventure, Diamond is Unbreakable.
Elle est la mère de Josuke Higashikata, son enfant qu'elle a eu avec Joseph Joestar. Elle est une citoyenne de Morioh et est la fille du policier Ryohei Higashikata.
Apparence

Tomoko est une femme de petite taille et mince. Elle a des cheveux foncés, raides, qu'elle plaque vers l'arrière de sa tête avec un serre-tête et qui lui tombent donc à peu près jusqu'au cou.
Tomoko apparait plusieurs fois dans l'histoire et change régulièrement sa tenue à chaque fois qu'ont la voit. Plusieurs personnages la décrivent comme étant très belle.
Personnalité
Tomoko Higashikata est une femme avec un fort tempérament et qui est toujours très attachée à Joseph malgré des années de séparation.
Tomoko est en somme une femme ordinaire, mais avec un fort caractère et un certain tempérament. Lors de son introduction, un homme essaie de la draguer mais celle-ci lui prend les cheveux et écrase sa face contre une voiture pour son impolitesse. Ironiquement, elle se plaint du mauvais caractère de Josuke en se demandant de qui il tient son tempérament, son père Ryohei pensant en privé que c'est Tomoko qui a donné à Josuke son caractère.[5] Malgré tout, Tomoko est en général une personne gentille envers sa famille et ses amis. Bien que Tomoko soit une personne ordinaire, lorsqu'elle voit quelqu'un s'introduire chez elle, elle a la présence d'esprit de brandir un couteau malgré sa peur.[6]
Malgré le fait qu'elle n'a pas revue Joseph depuis près de 16 ans, Tomoko est encore amoureuse de lui. Lorsque Jotaro lui rend visite, Tomoko le méprend pour Joseph et le prend dans ses bras, lui disant à tel point Joseph lui avait manqué. Tomoko est aussi proche de sa famille, vivant avec son père Ryohei et le pleurant quand ce dernier meurt. En tant que mère, Tomoko est plutôt familière avec Josuke. Par exemple, elle essaie de rappeler à Josuke de faire ses devoirs en lui donnant des coups de pied au dos pendant qu'il joue aux jeux vidéos pour le faire perdre.[7] Cependant, elle est sérieuse pour des sujets importants. Par exemple, elle gèle le compte de Josuke quand ce dernier acquier plus d'un million de yens avec Okuyasu et Shigechi car elle souhaite qu'il économise pour ses études à l'université.[8]
When Jotaro visits looking for Josuke, she breaks into tears and hugs him as she thought he was Joseph, whom she remains in love with. It is not known whether she knew he was married during their romance. She loves her family dearly, as evidenced by the close relationship she has with her son and had with her late father. She can also be strict with Josuke, as she froze his account when she found out he earned 1.33 million from a shared 5 million with Okuyasu and Shigechi. She understood that Josuke would spend it all if she didn't, and began saving it for his university funds.
Tomoko aime beaucoup un gâteau éponge de chez Kamakura.[6]
Tomoko a un tic. Quand elle est effrayée, elle avala inconsciemment sa salive.[6]
Histoire
Passé
Tomoko est une japonaise, fille de Ryohei Higashikata qui était policier à Morioh. Quelques années avant les évènements de Stardust Crusaders, Tomoko devint l'amante de Joseph Joestar alors qu'elle était une étudiante. Joseph, qui avait 62 ans, était marié à Suzi Q, cacha cette relation à sa femme et ne vit plus Tomoko pendant des années. Pour sa part, Tomoko tomba enceinte de Josuke. Ils vécurent alors une vie ordinaire, et la famille Joestar n'apprit l'existence de Tomoko et Josuke que 16 ans plus tard.[9]
En 1988 alors que Josuke avait 4 ans, l'influence néfaste de DIO se fit sentir et le petit garçon tomba malade car son pouvoir Stand devint hors de contrôle, la même chose arriveant à Holy Kujo en même temps. Tomoko décida de conduire Josuke à l'hôpital. Cependant, c'était encore l'hiver et Morioh était très peu développée. Tomoko se retrouva coincé dans la neige sur une route de campagne, seule et avec personne à l'horizon. Cependant, un jeune homme inconnu apparut et l'aida à se sortir de la neige, ce qui permit à Josuke d'être traité à l'hôpital. Tomoko essaya de retrouver cet homme, sans succès.
Diamond is Unbreakable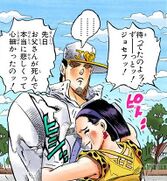 En 1999, Jotaro Kujo va à Morioh pour informer Josuke de son lien avec la famille Joestar. Alors que Josuke a rencontré Jotaro, Tomoko elle marche seule dans la rue et se fait draguer par un conducteur lambda. Enervée, Tomoko fait mine d'être intéressée mais prend l'homme par les cheveux et lui écrase la face sur la porte de la voiture. Tomoko échappe à toute justice car le policier qui passe tout près d'eux est son père Ryohei. Josuke va résoudre une prise d'otage et se faire un ennemi en la personne d'Anjuro Katagiri, un violent tueur manieur de Stand.
Le jour suivant au matin, Tomoko reçoit la visite d'Anjuro qui est déguisé en livreur de lait. Elle remarque qu'Anjuro lui a passée une bouteille ouverte et réclame une autre bouteille, évitant ainsi Aqua Necklace une première fois. Anjuro envoie Aqua Necklace par les canalisations et Tomoko finit par le boire. Cependant, Josuke donne un coup à travers son estomac avec Crazy Diamond pour piéger Aqua Necklace, puis la guérit. Aqua Necklace est piégé mais va plus tard duper Ryohei Higashikata et le tuer. La famille est en deuil. Tomoko croit qu'il a eu une attaque, et est persuadée de quitter la maison le temps que Josuke et Jotaro vainquent Anjuro.
Plus tard, Tomoko reçoit la visite de Jotaro qui voulait rencontrer Josuke. Tomoko, en ouvrant la porte, croit voir Joseph et l'enlace sans penser, criant haut et fort qu'elle l'aime et qu'il lui a tellement manqué. Jotaro doit la rappeler à l'ordre. Jotaro part mais promet d'aider à protéger la ville à la place de Ryohei.
Tomoko apparait un soir pour ordonner à Josuke de faire ses devoirs. Elle lui donne alors des coups de pieds pour le forcer à perdre aux jeux vidéo. Plus tard, Tomoko apprend que Josuke a gagné 1.3 millions de yen à la loterie. Elle gèle alors son compte en banque pour qu'il économise pour ses étude.
Un jour, alors que Tomoko rentre chez elle, Tomoko sent que l'atmosphère dans sa maison est différente. Allant dans la cuisine, elle se rend compte que quelqu'un a mordu dans le seul beignet qui reste et s'énerve, croyant que c'est Josuke. Cependant, elle voit que quelqu'un a sorti une de ses culottes et l'a posée sur la table. Tomoko rencontre alors Terunosuke Miyamoto, un manieur de Stand à la solde de Yoshihiro Kira. Miyamoto intimide Tomoko et la scelle dans une feuille de papier avec son pouvoir Enigma. Miyamoto se servira plus tard de Tomoko pour déstabiliser psychologiquement Josuke durant leur combat. Cependant, Josuke, Koichi et Yuya Fungami vainquent Miyamoto.
L'information ci-dessous provient de sources dont Araki n'est pas l'auteur. Leur canonicité est incertaine.
Quand Takuma Hasumi essaie d'assassiner Josuke, il envoie une lettre contenant une page de The Book qui contient le souvenir du moment où il a essayé de se couper les poignets. C'est Tomoko qui ouvre la lettre et c'est elle qui est blessée par la page. Rohan Kishibe décide d'effacer cet incident de sa mémoire pour ne pas la troubler.
Chapitres / Episodes

Apparitions Manga
Apparition dans les chapitres

Apparitions Animé
Apparitions dans les épisodes
Galerie d'Images
Détails
Dans l'anime, Megumi Toyoguchi était l'interprète originale de Tomoko pour la version originale japonaise. Elle a du cependant arrêter son rôle pour avoir son congé maternité après l'Episode 31 et c'est l'actrice Shizuka Itō qui l'a remplacée.[10]
Références