Earth Wind and Fire
Jump to navigation
Jump to search
Earth Wind and Fire (アース・ウィンド・アンド・ファイヤー, Āsu Uindo ando Faiyā) est le nom donné au pouvoir spécial de Mikitaka Hazekura, figurant dans la quatrième partie de JoJo's Bizarre Adventure, Diamond is Unbreakable.
On ne sait pas si Earth Wind and Fire est un Stand ou bien un pouvoir d'extraterrestre à cause des circonstances mystérieuses concernant la nature et l'origine de Mikitaka.
Apparence
Comme tous les pouvoirs de la série qui confèrent directement des pouvoirs à leurs propriétaires, Earth Wind and Fire n'a pas de forme physique à proprement parler et est lié au corps de Mikitaka.
Comme Mikitaka prétend être un extraterrestre, la nature exacte de Earth Wind and Fire est inconnue. On ne sait pas si Mikitaka est véritablement un extraterrestre on non et Araki entretient le mystère. Ainsi, on ne sait pas non plus si Earth Wind and Fire est un pouvoir Stand ou autre.
Palettes
Les palettes changent souvent entre les médias. L'information ci-dessous ne devrait pas être considérée comme canonique.
Bandes
(Bleue, bleue sarcelle, et blanche)
Pouvoirs
Le Earth Wind and Fire de Mikitaka est un pouvoir inoffensif de transformation dont la forte utilité est quelque peu diminuée par l'excentricité de Mikitaka.
Métamorphose
Earth Wind and Fire permet à Mikitaka de se transformer en n'importe quel objet.[2]
Quand il se transforme, Mikitaka se décompose en un tas de bandes de substance étrange puis et se recompose en un ou plusieurs objets de son choix, répliquant alors leur apparence, leur poids et leur texture.[3]
S'il se transforme en un objet, il peut aussi copier les propriétés physiques de l'objet. Par exemple, en transformant sa main en cône de glace, il peut aussi faire en sorte que le cône soit froid.
[4]
Il peut se transformer aussi en jumelle pour observer quelque chose de loin.
[5]
Mikitaka peut aussi annuler partiellement sa transformation.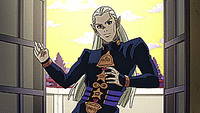 Bien qu'il puisse théoriquement se transformer parfaitement en un objet, Mikitaka est sujet à certaines limitations.
Premièrement il ne peut pas se transformer en machines ou objets trop complexes, ou qui requièrent plus de force qu'il n'en pas pour fonctionner.
Deuxièmement, Mikitaka ne fait pas la différence entre les humains et considèrent qu'ils se ressemblent tous. Il est donc incapable d'être assez subtil pour copier l'apparence de quelqu'un.
Troisièmement, s'il n'a pas une idée précise de ce en quoi il se transforme, sa métamorphose risque d'être fortement imprécise (par exemple il se transforme en dé géant, ne connaissant pas la taille ordinaire d'un dé).
Quatrièmement, Mikitaka est sujet aux faiblesses de son corps même s'il est transformé. Etre agité dans tous les sens alors qu'il est transformé en dé le rend toujours malade et il vomit, rompant la masquarade.[2]
Enfin, Mikitaka doit être concentré pour maintenir sa transformation. Il panique et est malade lorsqu'il entend des sirènes et sa transformation devient de plus en plus grossière et imprécise, jusqu'à ce qu'il soit forcé de reprendre sa forme normale.[6]
De façon générale, Mikitaka ne semble avoir aucune idée de comment la société humaine fonctionne et de comment les choses se passent sur Terre. Il est donc susceptible d'être suspicieux même s'il est transformé en objet.
Earth Wind and Fire semble capable de combiner sa force avec celle des autres: lorsque Mikitaka s'est transformé en baskets pour Josuke, il note que leur force combinée les a rendus capables de sauter à grande vitesse à travers Morioh.[3]
Chapitres / Episodes

Apparition dans le Manga
Chapitres (ordre chronologique)

Apparitions dans l'Anime
Episodes (ordre chronologique)
Galerie d'Images
Détails
Références