Telence T. D'Arby
Jump to navigation
Jump to search
"
Bienvenue, Monsieur Joestar. Nous attendions votre visite. Je suis l'intendant de ce manoir.
"
Telence T. D'Arby (テレンス・T・ダービー, Terensu Tī Dābī) est un antagoniste secondaire figurant dans la troisième partie de JoJo's Bizarre Adventure, Stardust Crusaders, dans l'arc narratif "D'Arby the Player".
Telence est le petit frère de Daniel J. D'Arby. Il réside dans le Manoir de DIO au Caire et est l'intendant de DIO. Souhaitant la bienvenue au Groupe Joestar, il prend avec lui Jotaro, Joseph et Kakyoin puis les force à parier leurs âmes aux jeux vidéo.
Telence est le dernier membre des 9 Dieux Glorieux d'Egypte et son Stand est Atum, qui lui permet de voler les âmes de ceux qui reconnaissent leur défaite et de lire dans les pensées.
Apparence
Telence est un homme adulte avec une carrure moyenne. Sa caractéristique principale est sa chevelure qui monte en une touffe lisse verticale enserré dans un ruban. Il porte un costume avec une veste longue et un pantalon clairs, et une chemise sombre avec un grand coeur sur la poitrine. Il porte une ceinture et des boucles d'oreilles qui arborent ses initiales.
Comme son frère, une partie de son visage est marqué par des stries, mais c'est pour lui le milieu du front, l'arête du nez et le milieu du menton, contrastant les joues striées de Daniel.
Palettes
Les palettes changent souvent entre les médias. L'information ci-dessous ne devrait pas être considérée comme canonique.
Peau
(Peau claire, marques bleues)
Tenue
(Costume bleu bordé de violet, chemise noire à coeur violet/rose, chaussures brunes)
Tenue
(costume gris, chemise bleu foncé à coeur mauve)
Peau
(Peau claire, marques violettes)
Tenue
(Costume lavande avec chemise noire)
Peau
(Peau claire, marques grises)
Tenue
(Costume blanc bordé de violet, chemise noire à coeur violet, chaussures brunes)
Personnalité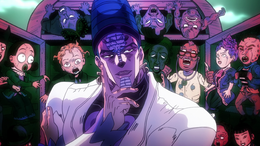 En tant que majordome de DIO, Telence est un individu qui est très formel et poli en temps normal. Cependant, ceci ne fait que cacher une personnalité arrogante et malveillante.
Comme il est l'intendant du Manoir de DIO, Telence est poli et affable. Il va ainsi à la rencontre du Groupe Joestar pour leur souhaiter la bienvenue, même lorsque le groupe répond en le provoquant.
Bien que Telence semble être un individu calme, il confesse qu'il a tabassé son grand frère Daniel quand celui-ci avait essayé de séduire sa copine. Il se sent aussi supérieur à son frère à cause de son pouvoir de lire l'âme des gens mais Jotaro lui dit qu'il n'a pas l'esprit affuté que son frère a acquis en tant que parieur.[5][6] La malveillance de Telence devient manifeste lorsqu'il exhibe sa collection de poupées dans lesquelles il a piégé les âmes de ses victimes, les tourmentant en jouant avec elles alors qu'elles sont pleinement conscientes de leur état.[7]
Telence est un homme intelligent et est très doué aux jeux vidéo. Il est fier d'avoir battu un jeune Japonais nommé Tatsuhiko qui avait un QI de 190 et s'est montré plus fort que Kakyoin aux jeux, et ce sans utiliser son pouvoir de lire les pensées.
Cependant, Telence s'appuie tellement sur son pouvoir qu'il en oublie d'exercer son esprit tactique. En effet, il était tellement absorbé sur le fait de lire l'esprit de Jotaro qu'il en a complètement oublié Joseph, qui jouait alors à la place de son petit-fils.
Telence a un certain attachement au chiffre 15 et a l'habitude de choisir le chiffre 15 dans ses jeux, car son anniversaire est le 1er janvier (en japonais, le mois vient avant le jour, ce qui fait 1/5).
Pouvoir et Compétences
Main article: Atum
Le Stand de Telence est Atum, un Stand humanoïde qui peut voler l'âme des gens qui reconnaissent leur défaite comme Osiris. Cependant, Atum peut aussi lire l'âme des gens et Telence peut lire leur intentions en posant aux âmes des questions fermées (càd auxquelles on répond oui ou non).
Atum
(
アトゥム神
)


Pouvoir(s)
Vol d'âme, lecture de l'âme
Gaming
Telence est très doué aux jeux vidéo. Il possède une collections de jeux vidéos sur lesquels il défie des opposants et il maîtrise ses jeux à un tel point qu'il peut gagner contre d'autre joueur de haut niveau comme Noriaki Kakyoin.
Histoire
Background
Telence est un américain et le petit frère de Daniel J. D'Arby. Grâce à son talent aux jeux vidéo et à son Stand Atum, il pouvait voler des âmes encore plus facilement que Daniel et il gagnait toujours aux jeux. Grâce à Atum, Telence put amasser une petite collection de poupée avec l'âmes de personnes qu'il trouvait spéciales.
A un moment, Daniel a essayé de séduire sa petite amie alors Telence l'a battu.
Après que DIO revienne du fond de l'océan Atlantique, Telence entre à son service à un moment inconnu, devenant l'un des 9 Dieux Glorieux d'Egypte.
Stardust Crusaders
"
Tu vas faire ORA ORA ?!
"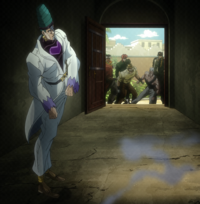 Lorsque le Groupe Joestar ouvre la porte du Manoir de DIO, Telence apparait depuis le bout du couloir pour leur souhaiter la bienvenue. Polnareff veut se battre et invoque Silver Chariot mais Telence l'interrompt en jetant une carte à jouer à ses pieds, puis se présente formellement, expliquant qu'il est le petit frère de Daniel J. D'Arby, ce qui inquiète le groupe. Telence dit qu'il ne leur porte aucune rancune pour avoir vaincu son frère, se disant supérieur à Daniel. Telence invoque ouvertement son Stand Atum pour l'exhiber au groupe. Jotaro lui invoque son Star Platinum. Amusé, Telence devine comment Star Platinum va attaquer et évite son coup de poing. Empoignant son bras, Atum entraîne Jotaro dans un trou noir qui apparait au sol, et aussi Joseph et Kakyoin. Telence les entraîne alors dans une salle spéciale reproduisant une île au milieu de la mer et les défie à jouer aux jeux vidéo avec lui. Au sinon, dit-il, ils ne pourront pas sortir. Joseph dit qu'un défi à trois-contre-un sera facile, mais D'Arby montre sa collections de poupées infusé avec l'âme de ses victimes pour démontrer sa dangerosité, montrant aussi à quel point il est malveillant. Telence force la main des héros car la main Atum enserre le bras de Jotaro et pourrait le briser, son pouvoir sur les âmes ayant affecté Jotaro quand il a deviné son attaque. Les héros sont forcés de jouer avec Telence.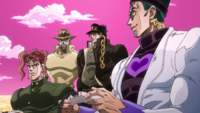 D'Arby demande à ce que ce soit Kakyoin qui joue avec lui; ce dernier est d'accord, disant qu'il est doué aux jeux. Kakyoin défie Telence à F-Mega, un jeu de course. Sur la ligne de départ, Kakyoin oublie d'appuyer sur le bouton d'accélération qui donne un boost de vitesse aux voitures au départ. D'Arby est maintenant légèrement en avance et est convaincu qu'il conservera son avantage, mais Kakyoin fait délibérément tournoyer sa voiture et l'écrase contre Telence, ce qui annule son avance. Pourtant, Kakyoin est légèrement désavantagé. Au sixième virage de la piste de course, les deux joueurs s'apprêtent à entrer dans un tunnel qui sert de raccourci dans le circuit, mais le tunnel n'est assez grand que pour une voiture. En raison de sa rotation, la voiture de Kakyoin a moins d'énergie et Telence peut la pousser à côté. Cependant, Kakyoin fait ensuite soulever sa voiture de manière experte pour rouler sur les murs du tunnel. Les voitures entrent dans la zone la plus dangereuse du raccourci où elles ne peuvent pas voir la voiture mais doivent éviter les mines et un canon. A la sortie du tunnel, la voiture de D'Arby est toujours en avance sur la voiture de Kakyoin et le majordome déclare sa victoire. Déterminé à gagner, Kakyoin exploite le fait que D'Arby a maintenant moins d'énergie sur sa voiture pour tourner et l'envoie voler hors de la piste pendant qu'il atterrit en toute sécurité. Kakyoin a accompli son plan, mais D'Arby avait tout prévu : il s'est volontairement laissé repoussé pour obtenir un avantage insurmontable dans la course. Lorsque D'Arby lui révèle ceci, Kakyoin reconnaît inconsciemment la défaite et Atum vole son âme. D'Arby ajoute Kakyoin à sa collection et explique que s'il meurt, Kakyoin mourra pour de bon, forçant Jotaro et Joseph Joestar à continuer à jouer.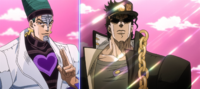 Immédiatement après, Jotaro défie Telence au jeu de simulation de baseball Oh that's a baseball!. Jotaro commence à battre de la batte sans raison, révélant qu'il ne sait pas jouer et Telence en profite pour lancer ses balles. Cependant, Jotaro déclare alors qu'il a "a peu près" compris les contrôles du jeu et à la dernière balle avant que son batteur ne soit renvoyé, il réussit un home run, envoyant la balle hors du terrain et complétant son tour. Ceci force Telence à reconnaitre la précision de Star Platinum et il se décide à utiliser le pouvoir de son Stand.
Telence reprend confiance, donnant un indice quant au pouvoir de son Stand. Il déclare alors qu'il va lancer une balle fronde. Atum lit l'âme de Jotaro et voit ainsi que Jotaro a été provoqué et a choisi de battre la batte pour une balle rapide. Il lance la balle, et son batteur bat main, permettant à Telence de rattraper directement la balle et d'éliminer son joueur. C'est au tour de D'Arby d'attaquer. Il annonce un home-run et en lisant l'âme de Jotaro, parvient toujours à deviner son prochain coup.
C'est alors que Jotaro enlève son chapeau et annonce son prochain lancer. D'Arby lit son âme et devine ce qu'il veut faire, mais est surpris lorsque la balle lancée est une autre que ce qu'il a lu. Telence est estomaqué que sa lecture ait pu échouer. En interrogeant l'âme de Jotaro, il parvient à discerner le fait que Jotaro triche, mais n'arrive pas à deviner sa méthode. Jotaro se justifie sur le fait qu'il n'a pas encore été surpris à tricher et peut donc jouer. Alors que son équipe rate toutes les balles, Telence essaie et savoir comment Jotaro triche, perdant son calme au fur et à mesure. D'Arby essaie une dernière fois de jouer mais l'équipe de Jotaro exécute un home run. Au bout du rouleau psychologiquement, D'Arby admet sa défaite inconsciemment et relâche l'âme de Kakyoin par accident.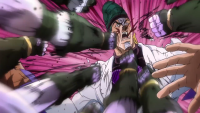 Telence tente immédiatement de renier sa défaite, mais Jotaro est parfaitement conscient des subtilités du pouvoir d'Atum. Il tourne alors la tête et remarque Hermit Purple enroulé autour de la manette de Jotaro, lui faisant réaliser que celui qui jouait contre lui n'était pas Jotaro, mais plutôt Joseph Joestar. Lorsque les deux Joestars se retournent pour l'achever, Telence supplie d'être épargné n'a aucune intention d'épargner Telence. Jotaro dit à Telence de deviner avec quel poing il le frappera. Telence demande si c'est le poing «gauche», puis le poing «droit», avant de découvrir que la réponse est «les deux». Telence demande enfin s'il s'agit de l'attaque signature de Jotaro "ora ora ora ora ora ora ora ora ..." avant de recevoir sa réponse directement sous la forme d'une violente volée de coups de la part de Star Platinum, qui l'envoie voler et s'écraser sur le ciel factice de la salle créée par Kenny G.[8]
Plus tard, Vanilla Ice informe DIO de la défaite de Telence. Le vampire mentionnera le fait qu'il gardait Telence à ses côtés car il aimait bien son pouvoir, mais que Telence se saurait jamais pourquoi il a perdu et qu'il n'avait pas la volonté de mourir pour lui.
Chapitres / Episodes

Apparition dans le Manga
Chapitres (ordre chronologique)

Apparitions dans l'Anime
Episodes (ordre chronologique)

Apparitions dans les Romans
Chapitres (ordre chronologique)
Citations

Citations
"

Good day, master Joestar. We've been expecting you. I am the butler of this house.

"

"

If you wish to fight me... then come, come into this manor.

"

"

Exactly.

(Exactly (そのとおりでございます)

Ikusakutorī

)

"

"

My hobby is to make puppets, then infuse them with the souls od real people. To tell you the truth... that is my Stand's ability.

"

"

I got his soul. He admitted defeat in his heart. It won't matter if he continues. But Kakyoin... you were the first to make me sweat like this.

"

"

This puppet is now the most special one in my collection. The man who can conquer his fear... He's the first one that's played a game against me without making a mistake mentally. I am going to treasure it so I can play with it for a long time...

"
Jeux Vidéo
Unlike his battle in the manga, on the SNES title, Telence is encountered and fought like a normal boss, as he uses his Stand, ATUM, to make physical attacks on the player.
Telence is one of several "quick time event" bosses in the console versions of the game.
At first, the player controls Kakyoin in order to race against Telence in the F-1 Racing and later controls Jotaro to play a Baseball game.
Unlike the minigames against Daniel D'Arby, there's no alternate ending against Telence, his battle will always end by Jotaro beating him.
Telence appears on several commercials challenging Jotaro to fight in All-Star Battle (as the game's launch was coming closer Telence's reaction were getting more and more desperate, ending by his famous mind reading on Jotaro "YES! YES! YES!", much like his reactions against Jotaro in the manga).
Telence also appears as the explanatory character for the CHARACTER GALLERY MODE, where the player can see all the characters models and costumes (similar to his Stand ability).

D'Arby (Younger)

Genius of Mind-Reading Games ver.
Rarity:

Max Power: 1610
Favorite Gift and Voiced Gift Reactions:

Skill:
Atum

Replaces random panels with YES or NO panels. When tapped they become enhanced D'Arby panels or enhanced partner panels

Skill Lv 1
# of Replaced Panels:
4
Cooldown:
100

Skill Lv 2
# of Replaced Panels:
6
Cooldown:
100

Skill Lv 3
# of Replaced Panels:
6
Cooldown:
95

Skill Lv 4
# of Replaced Panels:
8
Cooldown:
95

Skill Lv 5
# of Replaced Panels:
8
Cooldown:
85
Galerie d'Images
Détails
Références