Hierophant Green
Jump to navigation
Jump to search
"
Mon Hierophant est au anges quand il peut déchirer quelque chose !
"
Hierophant Green (ハイエロファントグリーン(法皇の緑), Haierofanto Gurīn) est le Stand de Noriaki Kakyoin figurant dans la troisième partie de JoJo's Bizarre Adventure, Stardust Crusaders.
Hierophant est un Stand à longue portée qui peut se dérouler en tentacules et tirer son attaque spéciale : l'Emerald Splash.
Apparence

Hierophant Green est un Stand humanoïde athlétique avec des caractéristiques robotiques, comme les yeux et les jambes, mais sa vraie forme est celle d'une longue toile de tentacules. Dans sa forme assemblée, il est légèrement plus grand que Kakyoin lui-même, et il peut s'étirer sur de grandes longueurs. Hierophant Green possède un corps couvert de lignes veineuses, qui est protégé par une armure de couleur claire. Malgré son visage impassible, il semble avoir une bouche d'apparence humaine sous son masque.[1]
Quand ses appendices se mettent à briller, celà veut dire qu'il se prépare à attaquer et notamment à tirer son "Emerald Splash".
On représente constamment Hierophant Green comme étant de couleur verte à travers tous les médias, ce qui correspond à son nom. "All Star Battle" possède une version turquoise. Son armure est blanche-verdâtre dans le manga couleur et grise dans l'anime et les jeux vidéo.
Palettes
Les palettes changent souvent entre les médias. L'information ci-dessous ne devrait pas être considérée comme canonique.
| | | |
| --- | --- | --- |
| | Corps | (Vert clair et noir) |
(Kakyoin normal)
(Kakyoin sans peur)
Personnalité
Hierophant Green semble ne pas avoir de personnalité, servant Kakyoin sans hésitation et sans faille. Quelques fois, il semble même agir comme le porte-parole de Kakyoin. Bien que Kakyoin mentionne qu'il déteste les grands espaces et aime déchiqeter les choses, Hierophant Green n'exhibe jamais de tels traits de caractère.
Il représente la carte du Hiérophante

du tarot divinatoire, qui représente le pont entre ciel et terre.
Pouvoirs
Hierophant Green est le tout premier stand à longue distance présenté dans la série, et il dispose d'un grand nombre de capacités pour l'aider au combat et à traquer ses ennemis. Cependant, ce Stand est relativement faible en combat au corps à corps direct, pour compenser pour sa relative puissance à grande distance.
Corps Enroulé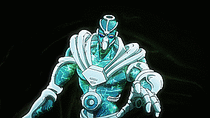 La vraie apparence de Hierophant Green n'est pas humanoîde, mais plutôt d'une ensemble de tentacules qui peuvent se dérouler librement en de multiples filaments utilisables pour plusieurs fonctions telles que celles de cordes de fortunes.[2][3] D'ailleurs, Hierophant Green peut se dérouler pour éviter les attaques, et a pu notamment éviter de se faire couper en deux par Death Thirteen en déroulant le bas de son corps.[4]. Enfin, Hierophant Green peut se déployer en un grand réseau de filaments sur une large zone pour détecter tout mouvement de l'ennemi, comme celà s'est fait durant le combat final contre DIO.[5]
Kakyoin peut contrôler la façon dont Hierophant Green va de dérouler, pour soit créer des cordes assez fortes pour supporter le poids d'une personne en en faire des filaments qui sont presque imperceptibles. Un seul filament a la capacité de sentir le contact d'un ennemi et peut attaquer avec un Emerald Splash soit automatiquement ou sur les ordres de Kakyoin. Quand un seul filament est coupé, Kakyoin ne sera pas blessé mais il le sera si un nombre assez important de fils ou que le corps principal de Hierophant Green sont attaqués.
Contrôle de marionnette
Hierophant Green est capable de se glisser dans le corps d'une personne, permettant à Kakyoin de contrôler complètement les mouvements de celles-ci et dans une certaine mesure son esprit. En effet, il sembla qu'il a rendu une infirmière folle quand il a pris contrôle de son corps. Cela sert à protéger Hiérophante Green et Kakyoin des attaques si son adversaire est quelqu'un qui ne veut pas nuire à des innocents. De plus, il peut détruire complètement les voies respiratoire ainsi que les organes internes de l'hôte. Lorsque cette capacité est utilisée pour la première fois, on voit Kakyoin tenir dans sa main un pantin de bois alors qu'il contrôle une infirmière mais ceci n'est peut-être qu'un effet dramatique.[6]
Emerald Splash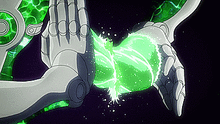 Le Emerald Splash (エメラルドスプラッシュ, Emerarudo Supurasshu) est la capacité la plus puissante de Hierophant Green.[7] C'est une technique durant laquelle Hierophant concentre l'énergie de son corps, faisant celui-ci luire d'un intense lueur verte, avant de tirer de ses mains une grande quantité d'énergie sous la forme d'un déluge d'émeraudes. Avant le tir, les mains émettent un liquide visqueux (ressemblant plus à un torrent d'eau dans l'anime).
L'attaque a une portée considérable a est destructrice comme le tir d'un fusil à pompe. Cette attaque peut détruire une voiture ou même une tour de pierre. Cette puissance fait de Hierophant Green un Stand redoutable au combat. D'ailleurs, Kakyoin peut utiliser le Emerald Splash autant de fois qu'il le veut sans se fatiguer. Cependant, des Stands assez puissants comme Star Platinum ou même un Vampire peuvent bloquer ou dévier cette attaque.[8]
Chapitres / Episodes

Apparitions Manga
Apparition dans les chapitres

Apparitions Animé
Apparitions dans les épisodes
Galerie
Iggy, Killer Queen, The Fool, Hierophant Green, Kira, Harvest, Weather Report, Weather, D4C, & Sticky Fingers - Ripples of Adventure
Détails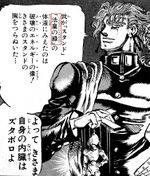 Durant la première publication de l'arc d'introduction de Kakyoin, Weekly Shonen Jump, son Stand était connu sous le nom de "Hierophant Emerald" (

法皇の緑 (ハイエロファントエメラルド)

Haierofanto Emerarudo). Le nom a été changé en Hierophant Green (

ハイエロファントグリーン

) après que Kakyoin ait rejoint les héros, et la version tankōbon a corrigé cette incohérence.
Références