Harvest
Jump to navigation
Jump to search
"
Trouvé !
(

ミツケタゾ!

Mitsuketa zoǃ)
"
Harvest (ハーヴェスト, Hāvesuto) est le Stand de Shigekiyo Yangu, figurant dans la quatrième partie de JoJo's Bizarre Adventure, Diamond is Unbreakable.
Harvest est une colonie de petits nains ressemblant à des abeilles que Shigechi déploie pour récolter de petit objets et submerger ses ennemis par le nombre.
Apparence
Harvest est un Stand multiple qui est composé d'à peu près 500 unités individuelles qui agissent de façon indépendante.[2]
Chaque Harvest prend la forme d'un petit Stand humanoïde aux allures insectoïdes. Ils ont un corps ovale comme un oeuf avec deux yeux robotiques et un nez pointu. Ils ont chacun deux paires de bras avec trois doigts à chaque main et deux jambes. Ils possèdent aussi un abdomen assez large comme celui qu'on retrouve sur des abeilles.
Leurs corps sont couvertes de larges rayures sombres contrastant avec leur carapace clair. Une fente sur leur tête leur permet de stocker des petits objets fins comme des pièces. Ils ont aussi un trou sur leur tête depuis lequel surgit une aiguille qui peut injecter des liquides. Leurs yeux semi-circulaires sont striés.
Le design de Harvest des basé sur celle des abeilles.[3]
Harvest est jaune avec des rayures violets dans la plupart des médias.
Palettes
Les palettes changent souvent entre les médias. L'information ci-dessous ne devrait pas être considérée comme canonique.
Corps
(Corps jaune, rayures violettes)
Corps
(Corps jaune à rayures bordeaux)
Corps
(Corps jaune, rayures marons)
Corps
(Corps jaube, rayures violettes)
Personnalité
Harvest a une voix fluette. Il parle peu, et dit surtout "Je l'ai trouvé !" ou rit avec un "Hi hi !". Shigechi peut cependant parler à travers eux.
Pouvoirs
Harvest est un Stand multiple à longue portée qu'on peut facilement sous-estimer à cause de son apparence inoffensif et du comportement amical de Shigechi. De plus, Shigechi l'utilise surtout pour collecter des pièces perdues et autre fioritures à travers Morioh.[4]
Cependant, le nombre d'unités combiné à leur capacité individuelle à pénétrer dans la chair signifie que Harvest peut facilement submerger des manieurs de Stands de la trempe de Josuke et Okuyasu.[2] De plus, Shigechi utilise avec imagination son Stand au combat (peut-être à un niveau instinctif), ce qui en fait un Stand assez redoutable en somme.
Harvest possède certaines caractéristiques de base :
Résistance : Harvest a une certaine résistance. En effet, même si on détruit un Harvest, il en reste des centaines pour combattre et Shigechi ne reçoit aucun dommage ou presque.[5] De fait, Harvest est plus résistant au combat.
Grand Nombre : Un Harvest individuel est assez faible, même s'il peut trouer le corps d'un ennemi par un coup de poing. Cependant, comme il y a des centaines de Harvest, ils ont tendance à complètement couvrir le corps d'un ennemi et le submergent en attaquant en même temps partout, notamment en attaquant des points faibles comme les yeux;[6] Shigekiyo a menacé de trancher la carotide de Kira, montrant que Harvest peut être encore plus mortel.[7] De plus chaque Harvest est assez rapide et agile. Un Harvest peut courir aussi vite que Josuke et courir sur les murs. Quand plusieurs Harvest soulèvent Shigechi, alors ils peuvent le transporter à grande vitesse et même le porter en haut d'un immeuble.[6]
De plus, Harvest possède les capacités suivantes :
Collecte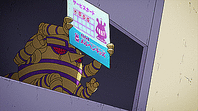 Harvest a une grande portée à tel point que Shigechi n'a aucune mal à déployer ses 500 Harvest à travers une petite ville de la taille de Morioh.[8] Shigechi peut donc ordonner à Harvest de collecter un certain type d'objet assez léger pour Harvest, et ainsi il collecte souvent des pièces perdues[4] et avec le conseil de Josuke rassemble des coupons de magazins qui donnent plus d'argent.[8]
Shigechi peut aussi démonter rapidement des objets grâce à Harvest, ce qui lui permet d'exploiter l'environnement à son avantage[6] et il peut se créer une cachette de fortune en ordonnant à Harvest de le recouvrir de feuilles pour le déguiser en buisson.[9]
Aiguille Hypodermique
Chaque Harvest possède une aiguille hypodermique qui peut injecter un liquide dans le corps d'un ennemi. Il a pu ainsi injecter de l'alcool directement dans leur veines, les rendant soûls et diminuant leur capacité au combat.[6]
Chapitres / Episodes

Apparition dans le Manga
Chapitres (ordre chronologique)

Apparitions dans l'Anime
Episodes (ordre chronologique)
Galerie d'Images
Iggy, Killer Queen, The Fool, Hierophant Green, Kira, Harvest, Weather Report, Weather, D4C, & Sticky Fingers - Ripples of Adventure
Détails
Dans l'anime, Harvest est partiellement représenté avec des modèles 3D dans certaines séquences, probablement à cause du grand nombre d'entités à animer. Les modèles 3D ont été fournis par CyberConnect2.[10]
Références