Daniel J. D'Arby
Jump to navigation
Jump to search
"
Mon nom est D'Arby, D-A-R-B-Y. Il y a un apostrophe après le "D". (̺わたしの名はダービー。D. A. R. B. Y。Dの上にダッシュがつく。Watashi no na wa Dābī. D-A-R-B-Y. D no ue ni dasshu ga tsuku.)
"
Daniel J. D'Arby (ダニエル・J・ダービー, Danieru Jei Dābī) est un antagoniste secondaire figurant dans la troisième partie de JoJo's Bizarre Adventure, Stardust Crusaders, sépcifiqueemnt l'arc "D'Arby the Gambler".
D'Arby est un joueur et parieur invétéré mais de talent. C'est aussi un manieur de Stand et son Osiris vole les âmes d'autrui. Il est un membre des 9 Dieux Glorieux d'Egypte et rencontre le Groupe Joestar au Caire dans un bar, et force les héros à parier leurs âmes dans une série de paris et de jeux. Il est le grand frère de Telence T. D'Arby.
Apparence
D'Arby est un homme de taille supérieure à la moyenne et de constitution apparemment athlétique, cachée par ses vêtements amples.
Il a des cheveux sombres courts peignés vers l'arrière et une moustache fine. Ses joues sont couvertes par des stries horizontales espacées régulièrement et sa peau ici est grisée.
Il porte une chemise claire sous une veste arborant des motifs de spirales. Il porte un pantalon et des chaussures ordinaires.
Palettes
Les palettes changent souvent entre les médias. L'information ci-dessous ne devrait pas être considérée comme canonique.
| | | |
| --- | --- | --- |
| | Peau | (Claire, taches grises) |
| | | |
| --- | --- | --- |
| | Cheveux | (Rouge, rose après défaite) |
| | |
| --- | --- |
| | Tenue (haut) |
| | (Gilet magenta avec spirales jaunes et dos beige, chemise de ville blanche, cravate violet foncé) |
| | |
| --- | --- |
| | Tenue (bas) |
| | (Pantalon de costume noir, chaussures grises) |
| | | |
| --- | --- | --- |
| | Peau | (Bronzé, taches grises) |
| | |
| --- | --- |
| | Tenue |
| | (Magenta vest with yellow spirals, tie, and shoes, white dress shirt, grey pants) |
| | | |
| --- | --- | --- |
| | Peau | (Clair, taches grises) |
| | |
| --- | --- |
| | Tenue (haut) |
| | (Gilet sarcelle foncé avec spirales jaunes, chemise de ville blanche, cravate rouge) |
| | |
| --- | --- |
| | Tenue (bas) |
| | (Pantalon de costume noir, chaussures marron foncé) |
| | | |
| --- | --- | --- |
| | Peau | (Bronzé, taches grises) |
| | | |
| --- | --- | --- |
| | Cheveux | (Noirs, gris après défaite) |
| | |
| --- | --- |
| | Tenue (haut) |
| | (Gilet en velours avec spirales roses et dos gris, chemise de ville blanche, cravate rose) |
| | | |
| --- | --- | --- |
| | Tenue (bas) | (Ceinture en cuir marron, pantalon noir) |
| | | |
| --- | --- | --- |
| | Peau | (Claire, taches grises) |
| | |
| --- | --- |
| | Tenue (haut) |
| | (Gilet bordeaux avec spirales rose clair et dos gris, chemise blanche, cravate en velours) |
| | | |
| --- | --- | --- |
| | Tenue (bas) | (Pantalon noir, chaussures marron foncé) |
Personnalité
"
Je pense que le jeu est la même chose que les relations sociales ... c'est un jeu de faux et de triche. Celui qui pleure le premier est le perdant.
"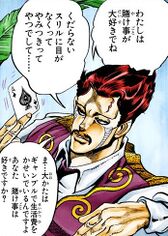 Daniel J. D'Arby a une personnalité sournoise derrière une façade affable. Son trait de personnalité le plus marquant est son amour des paris. Il dit qu'il vit pour le frisson de jouer même s'il reconnaît que c'est une passion inutile. Son amour du jeu est complété par sa compulsion à tricher et il admet fièrement que la triche est l'une de ses plus grandes compétence. Par conséquent, il triche dès que possible et à chacun de ses jeux en se justifiant que tant qu'il n'est pas pris la main dans le sac, le jeu compte toujours.
L'addiction au jeu de D'Arby est tel qu'il peut se souvenir de parties de jeu spécifiques. De plus, il a développé une philosophie particulière centrée autour du jeu. Pour D'Arby, les relations sociales sont fondés sur la tromperie comme les paris. Selon lui, ceux qui sont assez stupides pour se faire tromper le méritent et n'ont pas le droit de ce plaindre, montrant un certain d'esprit darwiniste chez D'Arby. D'un autre côté, D'Arby accepte rapidement que Jotaro Kujo lui ait brisé le doigt car il s'est fait prendre à tricher au cartes et considérait sa blessure comme une punition pour avoir sous-estimé son ennemi.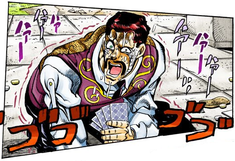 D'Arby se considère comme le meilleur parieur au monde et a confiance en ses capacités de joueur, et en est très fier. Il est assez confiant pour se révéler après avoir volé l'âme de Polnareff et défie le groupe des héros en entier. Quand il considère que sa fierté est en jeu, D'Arby dit ouvertement qu'il ne se bat plus pour DIO mais pour sa fierté de joueur. D'Arby aime d'ailleur narguer ses opposants et les rabaisser dès qu'il gagne contre eux. Malgré sa confiance, D'Arby a perdu la raison lorsque la pression de devoir potentiellement révéler le pouvoir de The World dans une partie de poker s'est révélée trop grande. En effet, il était déjà déstabilisé par Jotaro et le risque d'être exécuté par DIO l'a rendu fou.
D'Arby est fier de son nom. Il prend l'effort de l'épeler durant son introduction et est offensé alors que Joseph Joestar se trompe sur son nom plusieurs fois. Ceci est à relativiser car pour un lectorat japonais, se tromper sur un nom est offensant. Sa colère a aussi pu être jouée pour induire Joseph en erreur.
Pouvoirs et compétences
Main article: Osiris
Le Stand de D'Arby est Osiris, lequel a le pouvoir de voler des âmes. Lorsqu'une cible qui parie son âme perd au jeu, son âme est affaiblie et Osiris peut aller la voler et transformer celle-ci en jeton de casino

, tuant instantanément sa victime bien qu'il puisse restituer l'âme après.
Osiris
(オシリス神)


Jeu et triche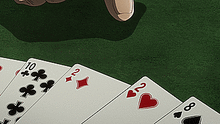 D'Arby est un joueur professionnel avec du flair pour la tromperie et la triche. Il est très fort aux jeux, n'importe lesquels et lui a confiance en sa capacité à tricher au nez et à la barbe de ses adversaires. Son jeu de prédilection est le poker. D'Arby a par exemple pu payer un bar entier pour l'aider à tricher contre le groupe Joestar, montrant une prédilection à planifier en avance. Mais il peut aussi penser à des moyens de tricher sur le coup lorsque Joseph le défie à son propre jeu.

Tour de passe-passe: D'Arby possède une motricité fine et un sens du toucher exceptionnel, ce qui lui permet de pratiquer la cardistry (l'art de manipuler des cartes de jeu). Il est agile et précis au point qu'il peut déterminer sur quelle page d'un livre il se trouve simplement en le touchant avec ses doigts, et peut mémoriser l'ordre des cartes dans un jeu en les touchant. Son agilité lui permet d'effectuer des tours de cartes dans le but de tricher et a tenté d'utiliser une technique de "second dealing" durant une partie de poker, un tour avancé au poker requérant une bonne manipulation des cartes.
Histoire
Passé
D'Arby est un homme désirant tromper les gens dans ses jeux apparemment anodins juste pour voler leur âme avec son stand. Il commence alors à inciter les amis et la famille du perdant à essayer de reconquérir l'âme, lui donnant des gains encore plus importants. Avec cela, il a rassemblé une grande collection d'âmes, y compris celles de la Famille Moor. Il partage cet intérêt de collectionner les âmes avec son jeune frère, Telence, bien que D'Arby n'ait aucun intérêt à garder les âmes conscientes en captivité, préférant les garder dans un sommeil profond à l'intérieur de son livre. De plus, sa collection est méticuleusement détaillée, avec le nom de chaque âme répertorié, ainsi que où et quand l'âme a été capturée.
A un moment, Daniel a essayé de séduire la petite amie de Telence, ce qui a poussé Telence à le tabasser. Daniel n'a aussi jamais pu gagner contre Telence, principalement parce que Telence pouvait lire dans les esprits.
Stardust Crusaders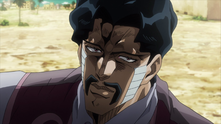 D'Arby prend part à une réunion des Egypt 9 Glory Gods et est déployé pour assassiner les héros. Près de Gizeh, D'Arby prépare un piège en remplissant un café avec ses pions. Lorsque les héros viennent dans le café pour demander si on reconnaîtrait le manoir de DIO, D'Arby appelle les héros et dit savoir où se trouve ce bâtiment. Il force alors les héros à parier contre lui même s'ils lui offrent de l'argent. Agacé, Polnareff accepte de parier sur lequel des deux morceaux de viande que D'Arby vient de jeter au sol un chat va prendre en premier. Polnareff accepte et parie même son âme en pensant que D'Arby blague. Cependant, D'Arby parie sur le bon morceau de viande et gagne. Il vole ainsi l'âme de Polnareff et se révèle comme l'un des serviteurs de DIO. Par ailleur il révèle que le chat est le sien et qu'il a pu donc gagner car il connaissait mieux son chat.
D'Arby retient essentiellement l'âme de Polnareff en otage et les héros sont forcés de mettre leurs propres âmes en jeu pour ressusciter Polnareff. Déterminé, Joseph défie donc D'Arby à un jeu. Après avoir rempli un verre avec du whisky, Joseph et D'Arby devront mettre des pièces dedans et celui qui fera déborder le verre aura perdu. D'Arby demande d'inspecter le verre de whisky avant de commencer. La partie commence et D'Arby met d'emblée cinq pièces et Joseph n'en met qu'une seule. Pendant le jeu, Joseph met D'Arby hors de ses gonds en se trompant sur son nom. D'Arby décide de se déplacer un peu et mets une pièce dans le verre avec succès, ce qui choque Joseph qui avait pourtant triché et versé discrètement plus de whisky. Joseph reconnait défaite et Osiris prend son âme. Jotaro découvre qu'auparavant, D'Arby avait caché une pièce de chocolat pour faire pencher le verre et induire Joseph en erreur sur le volume dans le verre. En se déplacant, il a pu faire fondre le chocolat et mettre sa pièce.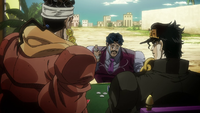 Jotaro défie D'Arby au poker, ce qui est le jeu de prédilection du joueur professionnel. Ils débutent une partie mais Jotaro brise le doigt de d'Arby en le voyant tricher : il se réservait la carte du haut et distribuait celles du dessous pour avoir un triplé. Honteux de s'être fait prendre, D'Arby promet de ne plus sous-estimer Jotaro et Star Platinum et décide de jouer sérieusement. En séparant les âmes en jetons, il créé un véritable enjeu. Les héros demandent à un petit garçon (en réalité l'un des pions de D'Arby) de distribuer les cartes. Le garçon lui donne une double paire de cartes et il gagne la moitié de l'âme de Jotaro. Durant la seconde main, D'Arby a un triplé de rois, mais est déstabilisé quand Jotaro ne regarde pas ses cartes. Il obtient du garçon le quatrième roi et est très confiant. Il augmente le pot mais Jotaro suit en misant les âmes de Mohammed Abdul et Noriaki Kakyoin sans broncher. De plus, Jotaro exhibe clairement la rapidité de Star Platinum en le faisant faire apparaître une cigarette dans la bouche de Jotaro et une boisson dans sa main. D'Arby soupçonne qu'il aurait pu échanger des cartes sous son nez.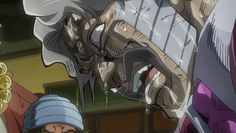 Agacé, D'Arby veut montrer ses carte mais soudainement, Jotaro augment la mise en pariant l'âme de sa mère Holy et demande en échange le secret du Stand de DIO. D'Arby panique car l'enjeu est trop grand et il risque d'être exécuté s'il dévoile le pouvoir de son maître. D'Arby essaie tant bien que mal de suivre, mais il craque psychologiquement et se couche dans son coeur. Les âmes de Polnareff et Joseph sont restituées. Quand on découvre que la main de Jotaro n'avait aucune valeur, D'Arby devient fou et relâche tout sa collection d'âme. Les héros le laissent divaguer dans le bar.
Après sa défaite, Jotaro reconnaît tout de même la dangerosité de D'Arby et le mentionnera plus tard contre Telence. Il dira que Daniel était le plus dangereux des deux par son talent pur aux jeux.
Chapitres / Episodes

Apparitions Manga
Apparition dans les chapitres

Apparitions Animé
Apparitions dans les épisodes
Citations

Citations
"
All right... we had a deal. Give it to me! Your soul.
"
"
My name is D'Arby. D'-A-R-B-Y the "D" has an apostrophe.
"
"
Cheating? Didn't you know? If you can't detect when someone is cheating, you can't detect failure. I think gambling is the same as social relations... it's a game of fakes and cheats. The one who cries first is the loser.
"
"
My name is D'Arby! Not barbie! Not obi! D'Arby! Don't make that mistake again!
"
"
Go ahead, Mr Joestar!
"
"
J'adore le jeu, tous les jeux. C'est une sorte d'obsession chez moi, voyez-vous. Le jeu est une telle passion que j'en ai fait mon métier, je suis un joueur professionnel. Ma raison de vivre, c'est de jouer.
"
"
-Si vous voulez bien passer à l'encaissement, je vous en serais reconnaissant.
-De quoi? Payer? Mais quoi?
-Me donner votre âme, cher adversaire malheureux. C'était bien l'enjeu de notre petit pari. Je suis propriétaire d'un Stand qui trouve les âmes à son goût. Grâce à mes petits paris, j'extrais les âmes des joueurs malheureux et mon Stand s'en empare plus facilement.
"
"
La tricherie au fond, qu'est ce que c'est ? C'est la vie, rien d'autre. Je considère que les paris sont à l'image de toutes les relations humaines, ils ne sont basés que sur le mensonge et la tromperie, tout comme la tricherie, d'ailleur.
"
"
[M. Moor] a appris, lui, qu'on ne joue pas impunément avec son âme, comme vous l'apprendrez vous aussi car maintenant, vous allez parier avec moi !
"
"
Tout pari comporte des risques, c'est d'ailleur tout l'intérêt d'un pari. Dites-vous simplement que vous prenez un risque supplémentaire en me croyant, monsieur. Ca rendra votre partie plus excitante.
"
"
La tricherie est une illusion subtile dont les ficelles sont invisibles pour les âmes naîves et crédules.
"
"
Eh bien, puisque tu sembles joueur, Jotaro, accroche-toi bien à tes cartes ! Parce que maintenant, on va vraiment jouer... Hein !? Quoi ?! Il a un jus d'orange !!!
"
Jeux Vidéo
Daniel J. D'Arby is encountered in a bar earlier in the story and challenges the player to pick out a certain tarot card. The other player characters lose and have their spirit taken (Represented by their mental points dropping to 1) but the last player character wins on the final turn, restoring their mental points and moving the story on.
D'Arby does not cheat all in said game and no explicit mention is made of his Stand, nor does he go insane after being beaten.
D'Arby appears as one of the ten characters from the JoJo's Bizarre Adventure franchise who appears on the game.
D'Arby , along with his cat and his Stand, makes a cameo in the game's continue screen, asking if the player wishes to continue (In the English locale, he asks 'Continue?' while in Japanese, 'Game no tsuzukeru ka?'). If the player lets the timer run down, Osiris takes their soul away compressing it into a poker chip. In the updated game and HD rerelease, D'Arby appears on the main menu. When the player selects a mode or when they continue, D'Arby shouts his signature phrase, "GOOD!"
In the PSX version's Super Story Mode, D'Arby is encountered as a boss with three different minigames, all of them the same as the manga. the first two games are rigged as they were in the manga, so the player will always lose, but the Poker minigame allows the player to win once they unlock and choose the "Bluff" option.
However, if the player replays the minigames via the Boingo Book menu, this time the player can win said minigames to see optional different endings, and can also win the poker game legitimately by forcing D'Arby to run out of coins to bet with.
D'Arby appears in the game as the host of the game's Customize mode. His taglines are available for use in Player Cards as well. He also appears as a support character in Campaign mode. When he appears, he challenges the player to pick a card from a set of ten. 9 of them have D'Arby on them whilst one has Iggy on it. Getting a D'Arby card will give the player a support item for free whilst getting an Iggy will get the player nothing.
D'Arby appears in the game's Story Mode twice, both of which are in Morioh. His first appearance sees him taking the soul of Jotaro's future daughter, Jolyne Cujoh, in a game of heads-or-tails before Jotaro could stop it from happening, in an act of revenge for his previous humiliation by him. Jotaro then defeats D'Arby in a poker game, forcing him to relinquish Jolyne's soul before disappearing. He later reappears back in Morioh, now holding a Saint's Corpse Part thanks to Heaven Ascension DIO. Defeated by Jotaro once again, he gives his corpse part to Jotaro and tells him that the only other person who knows DIO's weakness is Enrico Pucci, before disappearing once again.

D'Arby (Older)

Gambler Wagering Souls ver.
Rarity:

Max Power: 1620
Favorite Gift and Voiced Gift Reactions:

Skill: Osiris

Replaces the character panels in a horizontal line with D'Arby panels without changing the type of panel. Enhanced panels would become enhanced D'Arby panels and boxes would become D'Arby boxes




































Skill Lv 1
# of Replaced Panels:
6
Cooldown:
85




































Skill Lv 2
# of Replaced Panels:
10
Cooldown:
85




































Skill Lv 3
# of Replaced Panels:
10
Cooldown:
80




































Skill Lv 4
# of Replaced Panels:
14
Cooldown:
80




































Skill Lv 5
# of Replaced Panels:
14
Cooldown:
75
Galerie
Détails
Araki voulait avoir un combat entre Joseph, un tricheur invétéré, et quelqu'un qui pourrait être son égal. Il a donc créé le personnage de D'Arby.[4]
Le jeu avec le verre et le pièces que D'Arby joue contre Joseph est tiré du film Adieu l'ami de Jean Hermin.
Le jeu de cartes utilisé par D'Arby ressemble au jeu réel "Bee Club Special No. 92" à dos bleu. Dans l'OAV, il utilise des "Bee No. 92" aussi mais d'autres média le montrent utiliser des cartes à dos rouge ressemblant au jeu "Bee Stringers".

Le jeu de carte de D'Arby devient un produit dérivé nommé Prize D'Arby Poker vendu à Ichiban Kuji.
Dans l'OAV, le chocolat que mange D'Arby est de la marque Hershey's.

Dans l'adaptation anime, les mouvement de mains de D'Arby ont été filmée à partir des mouvement d'un magicien.[5]
Références