Star Platinum
Jump to navigation
Jump to search
"
ORA ORA ORA ORA!
"
—Cri de combat de Star Platinum
Star Platinum (スタープラチナ(星の白金), Sutā Purachina) est le Stand de Jotaro Kujo, apparaissant surtout dans la troisième partie de JoJo's Bizarre Adventure, Stardust Crusaders. Il apparaît aussi dans Diamond is Unbreakable et dans Stone Ocean.
Star Platinum est un Stand humanoïde de courte porté caractérisé par sa force, sa vitesse et sa précision exceptionnelles. Pendant le combat contre DIO, il gagne la capacité d'arrêter le temps. Sa puissance écrasante, associée à la nature stoïque de Jotaro, en font l'un des Stands les plus forts de la série.
Apparence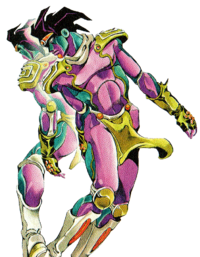 Star Platinum est un Stand humanoïde, ressemblant à un homme grand et bien construit aux proportions similaires à Jotaro, sinon plus musclé. S'il est coloré, sa peau est souvent une teinte entre le violet, le bleu, le vert et certains détails colorés en or. Son visage et son corps ont des couleurs variables.
Il a de longs cheveux flottants avec une teinte plus foncée au-dessus de ses yeux et sur l'arête de son nez, brouillant la distinction entre ses cheveux et sa tête. Les zones sous ses yeux et sur ses joues et son menton sont de couleur plus foncée et clairement séparés de l'espace autour de son nez et de sa bouche. Il porte une mentonnière et un bandeau métallique trois pièces, dont la pièce centrale a la forme d'une ellipse verticale. Au départ, son visage ressemblait à celui de Jotaro.
Une ligne ondulée s'étend de chaque bras à l'avant de son torse, en continuant le long de ses jambes. Il porte peu de vêtements et d'armures : une écharpe courte et circulaire, des épaulettes avec un motif en spirale, des gants longs et cloutés sur le dos de la main, des genouillères et des coudières, un pagne et des bottes courtes (qui montront jusqu'aux genoux dans la Partie 6).
Star Platinum a été conçu pour ressembler à un esprit gardien. Ses épaulettes ressemblent à celles portées dans Ken le Survivant. Les motifs en spirale symbolisent l'Onde et le concept de l'infini.[2]
Dans l'adaptation anime de la Partie 4, tous les vêtements de Star Platinum tels que son foulard rouge et ses gants noirs deviennent blancs, reflétant la propre transition de Jotaro du noir au blanc. Ses parties violettes foncées tels que ceux sous ses yeux deviennent également de couleur cyan.
Palettes
Les palettes changent souvent entre les médias. L'information ci-dessous ne devrait pas être considérée comme canonique.
Peau
(Violet et indigo, avec une mâchoire, des joues et des oreilles grises.)
Cheveux
(Violet foncé avec des reflets violets.)
Tenue
(Armure et couronne dorées, écharpe jaune, gants, enveloppements et bottes violet foncé, pagne blanc.)
Tenue
(Armure et couronne dorées, gants et coudières gris, écharpe violette, enveloppements et pagne.)
Peau
(Bleu clair et bleu, avec une poitrine violette et noire)
Cheveux
(Noir avec reflets verts)
Tenue
(Armure, oreilles, menton et couronne dorés avec un bijou magenta, des gants et des enveloppes marron, une écharpe blanche et un pagne.)
Peau
(Vert clair et turquoise, avec une mâchoire et des joues vertes.)
Tenue
(Armure et couronne dorées, écharpe jaune, gants, vêtements et bottes noirs.)
Peau
(Vert, avec une mâchoire et des joues jaunes)
Tenue
(Armure et couronne dorées, écharpe jaune, gants, bandages et bottes de lavande, pagne blanc.)
Peau
(Violet, avec une mâchoire et des joues violet foncé.)
Tenue
(Armure et couronne dorées avec un bijou en argent, une écharpe rouge, des gants noirs, des bandages et des bottes à rayures jaunes, un pagne et des genouillères blancs.)
Tenue
(Armure et couronne dorées, écharpe rouge-orange, gants, enveloppes et bottes vert foncé, pagne et genouillères blancs.)
Tenue
(Armure, menton et couronne dorés avec un bijou en argent, une écharpe, des gants, des bandages, un pagne et des bottes blancs.)
Peau
(Sarcelle et pourpre)
Tenue
(Armure, menton et couronne dorés, écharpe , gants, bandages, pagne et bottes blancs.)
Personnalité

Bien que Star Platinum n'ait pas de conscience propre, Jotaro l'a décrit comme très violent. Il est silencieux, sauf lorsqu'il lance des coups de poing pendant lesquels il crit "ORAORAORA!" à pleins poumons et à plusieurs reprises. Avec un visage relativement humain, il peut montrer des notes d'émotion en fronçant les sourcils ou en souriant.
Star Platinum montre un certain instinct de préservation, comme on le voit quand il arrête une balle que Jotaro tire sur sa propre tête pour voir,[3] protège Jotaro contre les attaques de DIO pendant que The World stoppe le temps, et le ranime en pompant directement son cœur.[4] Cependant, compte tenu du fait Star Platinum est un des premiers Stands de la série, cette capacité peut parler principalement des qualités métaphysiques ou subconscientes des manieurs de Stands.
Dans le manga original, lorsque Star Platinum apparaît pour la première fois, celui-ci a un large sourire déconcertant. Plus tard, Star Platinum garde plutôt l'expression stoïque de Jotaro, ses futurs sourires ne servant qu'à signaler que Jotaro va relâcher toute sa colère contre un ennemi à coups de poings.
Star Platinum porte le nom de la 17e carte du tarot divinatoire, l'étoile qui symbolise l'optimisme, le discernement et l'espoir.
Pouvoirs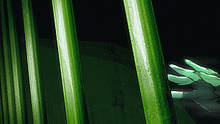 Star Platinum est un Stand de courte portée, avec une portée de base de seulement 2 mètres autour du corps de Jotaro, mais avec une force, une vitesse et une précision incroyables.
Capacités surhumaines
Star Platinum est l'un des Stands les plus puissants de la série. Ses caractéristiques physiques formidables dans toutes les paramètres de base (à l'exception de la portée) couplées à l'intelligence de Jotaro au combat, permettent à Jotaro de vaincre facilement d'autres manieurs de Stand, même sans utiliser aucun pouvoir spécial. De plus, Star Platinum n'en devient que plus puissant lorsque Jotaro découvre son vrai pouvoir.
Super Force: Star Platinum possède une force immense, capable de lancer une Jeep transportant quatre hommes et une fille hors de la trajectoire d'un 18 roues d'une main, tirant plus tard la même Jeep d'un canyon avec seulement une voiture comme contrepoids,[5] et détruire des rochers dits "durs comme du diamant" facilement.[6] Il peut aussi lancer des objets à grande vitesse.
Super Vitesse: Star Platinum possède une vitesse phénoménale. Il a pu intercepter une balle tirée à bout portant[3] peut égaler brièvement Silver Chariot combiné à Anubis dans un échange de coups[7] et on dit qu'il peut se déplacer plus vite que la lumière.[8]
Super Précision: Star Platinum est incroyablement précis; il peut retirer chirurgicalement un objet incrusté dans le crâne d'une personne sans endommager le cerveau, attraper à la fois une balle et un minuscule Stand comme Lovers entre ses doigts alors qu'ils volent vers lui, et créer le dessin photo-réaliste d'une petite mouche égyptienne à partir d'une photo sombre et floue.[9]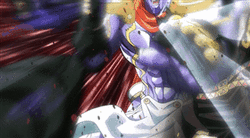 Super Vue: Star Platinum a des yeux d'aigles, ce que Jotaro utilise durant tout Stardust Crusaders. Jotaro a utilisé les yeux de Star Platinum pour distinguer clairement N'Doul à quatre kilomètres dans le désert,[10] ainsi que d'identifier des détails significatifs tels qu'une mouche volant dans une photo sombre.[1] Il peut également suivre un mélange de cartes effectué par un joueur professionnel, permettant à Jotaro de dire dans quel ordre les cartes sont.
Super Durabilité: La défense de Star Platinum lui permet de protéger Jotaro contre diverses attaques telles que l'Emerald Splash de Hierophant Green ou les coups de poing de The World. Il est également capable de minimiser les dommages environnementaux lorsque Jotaro est envoyé voler à travers des objets.
Super Inspiration: Star Platinum inhale avec une puissance surhumaine et est capable d'aspirer l'entièreté du Stand de brouillard Justice et de le maintenir assez longtemps pour que son utilisateur Enya suffoque.[11]
Ora Ora[12] (

オラオラ

Ora Ora): La principale méthode d'attaque de Star Platinum. Il lance un barrage extrêmement rapide mais précis de coups puissants pour pulvériser un adversaire ou détruire des objets.[13]
Star Finger (流星指刺 Sutā Fingā, lit. "Doigt météore perçant"): Star Platinum peut allonger son majeur et son index, ce qui lui permet d'effectuer des attaques sournoises et de percer ses adversaires de loin.[14] La fréquence d'utilisation de la technique a diminué à mesure que les batailles s'intensifiaient.[2]
Star Platinum: The World
Lors de la bataille finale avec DIO dans Stardust Crusaders, Star Platinum éveille la capacité d'arrêter le temps. La technique est désignée par Jotaro comme Star Platinum: The World (スタープラチナ ザ・ワールド, Sutā Purachina Za Wārudo), du nom du Stand du défunt DIO, The World.
Arrêt du temps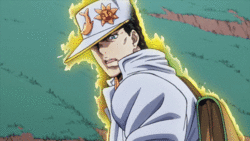 Une fois activé, Star Platinum est capable d'arrêter le flux du temps pendant un bref instant, ce qui fige sur place l'univers autour de Jotaro. Pendant ce laps de temps, Jotaro est capable d'interagir avec n'importe quel objet ou personne à sa portée. Les mesures du temps pendant l'arrêt du temps correspondent aux mesures normales et donc Made in Heaven est aussi capable de réduire la période d'arrêt en accélérant le temps. Il est incapable d'utiliser ce pouvoir consécutivement et passe toujours quelques secondes entre chaque utilisation.[15]
Dans la force de l'âge, Jotaro pouvait stopper le temps jusqu'à 5 secondes[17] mais ce laps de temps a diminué au fil du temps car Jotaro ne s'exercait pas au combat.[2] Dix ans après son utilisation initiale, Jotaro ne peut arrêter le temps que pendant une demi-seconde, mais le prolonge finalement à 1-2 secondes tout au long de la seconde moitié de Diamond is Unbreakable.[18][19]
Dans Stone Ocean, en particulier pendant l'arc Le Visiteur, Jotaro ne semble toujours pouvoir arrêter le temps que pendant deux secondes, bien que la validité de cette version est discutable car cela n'a été mentionné que dans le rêve de Jolyne créée par le pouvoir de Whitesnake. Au cours de la bataille finale à Cap Canaveral contre Made in Heaven, il est capable d'arrêter le temps jusqu'à 5 secondes.[20]
Star Platinum Over Heaven
L'information ci-dessous provient de sources dont Araki n'est pas l'auteur. Leur canonicité est incertaine.
SPOILER WARNING: Part / Game spoiler details may follow.
Dans le mode histoire du jeu Eyes of Heaven, Jotaro se retrouve face à face avec Heaven Ascension DIO, le dernier boss du jeu. Au fur et à mesure de leur combat, le fait que Star Platinum et The World soient le même type de Stand devient encore important, permettant à Star Platinum d'apprendre le pouvoir de The World Over Heaven: réécrire la réalité.
Cela confère à Star Platinum la même capacité au potentiel illimité de réécrire le temps et la réalité elle-même, la seule vraie limitation étant qu'elle nécessite l'utilisation de ses mains pour le faire. Malgré ces changements, Star Platinum ne change pas d'apparence, contrairement à The World Over Heaven.
Grâce à ses pouvoirs, toutes les anomalies temporelles ont disparu après la mort de Heaven Ascension DIO. Le monde est revenu à la normale et Jotaro a perdu Star Platinum Over Heaven.[21]
Chapitres / Episodes

Apparitions Manga
Apparition dans les chapitres

Apparitions Animé
Apparitions dans les épisodes
Galerie
Détails
C'est Mohammed Abdul qui a nommé Star Platinum.[1]
Star Platinum est l'un des Stands qui apparaissent le plus dans la série, apparaissant dans plus de 351 cases. Il est eulement battu par Silver Chariot (367 cases) et Sex Pistols (385 cases). Cela n'inclut pas son apparition dans Stone Ocean.[22] Après Stone Ocean, Star Platinum apparait dans 398 cases.
Star Platinum n'utilise Star Finger que deux fois dans le manga, une fois contre Dark Blue Moon et une fois contre Forever. Cependant, dans l'anime, il l'utilise une troisième fois contre Polnareff brandissant Anubis.[23]
Références