Bulgari X Hirohiko Araki
Jump to navigation
Jump to search
BVLGARI X Hirohiko ARAKI (BVLGARI (ブルガリ) X Hirohiko ARAKI) was a 2017 collaboration between Italian luxury goods brand Bulgari and Hirohiko Araki. Titled the "BVLGARI & Hirohiko Araki Japan-limited Capsule Collection", the line-up consisted of various stylish accessories specially designed by Araki and themed after the Stand, Killer Queen.
The products were available from November 1 to November 7 in the Isetan Shinjuku Department Store and were released on November 10 in Bulgari shops and their online store.
Summary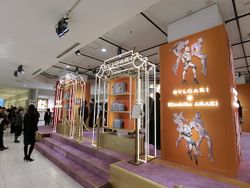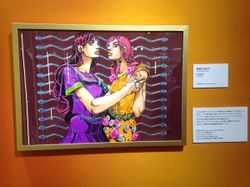 The collection was initially on display at the Isetan Shinjuku from November 1 to November 7 and also featured a special illustration of Yasuho Hirose and Yukako Yamagishi by Araki.
The items in the collection included a tote bag (194,400 yen [US$1,700]), Alba tote bag (medium size 270,000 yen / small size 248,400 yen), key holder (48,600 yen), wallet (81,000 yen), shelley scarf (27,000 yen), and silk scarf (32,400 yen).
"
In my manga, JoJo's Bizarre Adventure, there is a kind of supernatural entity called 'Stand'. It is a visual personification of its user's mind or spirit, which stands over its user, protecting them like a kind of guardian angel.
My strongest image of Bulgari is of the Serpenti (or "snake"), with its powers of protection against evil, which is also one of the brand's iconic motifs. On this occasion, I have designed a collection of items for everyday use—including BB Alba bags, wallets, bandana and Shelley, which incorporate the image of 'Killer Queen', one of the most powerful of all of the 'Stands' that I have drawn in my manga.
I would be truly happy if my items would protect the people who carry them, for health and safety, and at times when they have to fight, for love or in their work.
"
Gallery
References