Kenny G.
Jump to navigation
Jump to search
"
Mets-toi en travers de notre route et on te tuera. Compris ?
"
Kenny G. (ケニーG, Kenī Jī) est un antagoniste secondaire figurant dans la troisième partie de JoJo's Bizarre Adventure, Stardust Crusaders.
Kenny G. est un manieur de Stand au service de DIO. Lorsque le Groupe Joestar entre dans le Manoir de DIO, il créé une illusion pour faire ressembler l'intérieur à un labyrinthe mais il est rapidement vaincu.
Apparence
Kenny G. est un petit homme trapu avec de longues oreilles pointues, un petit nez, des petits yeux proches mais une large bouche. Kenny G. porte une veste boutonnée sur les côtés avec des épaulières, un pantalon noir et des chaussures, et aussi un collier doré et un chapeau conique.
Palettes
Les palettes changent souvent entre les médias. L'information ci-dessous ne devrait pas être considérée comme canonique.
Tenue
(Écharpe et gilet marron clair avec épaulières gris pierre, collier doré, gants kaki, pantalon et chaussures noirs)
Tenue
(Écharpe et gilet blancs avec épaulettes rouges, collier vert avec breloque rouge)
Tenue
(Chapeau noir et blanc, blanc, écharpe et gants, gilet lavande, pantalon noir et chaussures)
Tenue (haut)
(Écharpe bleu bébé, gilet blanc avec épaulettes marron, gants gris)
Tenue (bas)
(Pantalon noir, chaussures marron foncé)
Personnalité
On ne sait pas grand chose sur la personnalité de Kenny G., mais on peut supposer qu'il est malveillant car il est au service de DIO. Il se sait plus fort que Nukesaku et est même arrogant envers lui car il menace de tuer ledit Vampire si Nukesaku le gêne.[2]
Pouvoir et Compétences
Main article: Tenore Sax
Le Stand de Kenny G. est Tenore Sax, une capacité qui lui permet de générer de puissantes illusions visuelles et sensorielles. Il l'utilise pour donner à l'intérieur du Manoir de DIO l'apparence d'un labyrinthe impossible.
Tenore Sax
(
ティナー・サックス
)


Histoire
Passé
On voit Kenny G. se préparer avec Vanilla Ice et Telence T. D'Arby à aller combattre le Groupe Joestar. Quand Nukesaku vient pour combattre avec eux, le groupe menace de le tuer s'il interfère dans leurs combats.[2]
Stardust Crusaders
Pour aider ses alliés, Kenny G. déploie Tenore Sax pour créer une illusion dans l'intérieur du manoir. Avec ses illusions, Telence est capable d'emporter Jotaro, Joseph et Kakyoin avec lui. Quand Abdul, Polnareff et Iggy se décident à entrer dans la maison, ils entrent dans une salle fantasmagorique qui est extrêmement large avec de nombreux escaliers allant dans tous les sens. Abdul invoque Magician's Red, dont la flamme détecte la présence de Kenny G. qui est caché. Iggy sent la position exacte de Kenny G. et lui lacère la poitrine avec The Fool. Kenny G. est vaincu et ses illusions disparaissent.[3]
Chapitres / Episodes

Apparitions Manga
Apparition dans les chapitres

Apparitions Animé
Apparitions dans les épisodes
Jeux Vidéo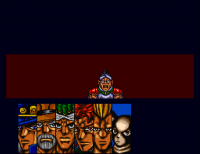 Kenny G. apparaît dans le jeu en tant que boss secondaire lorsque les héros entrent dans le manoir de DIO. Il n'a pas beaucoup de vie et fuit après le premier tour. Le joueur peut le coincer et le vaincre, faisant disparaître les illusions qu'il a créées.

Kenny G. apparaît dans le jeu en tant que mini-boss spécial dans le mode Super Story. Le joueur doit utiliser la flamme détectrice d'Abdul pour trouver Kenny G. et envoyer Iggy à l'attaque.
Références