Killer Queen
Jump to navigation
Jump to search
"
Le pouvoir de Killer Queen est le suivant : il est capable de transformer tout ce qu'il touche en bombe.
"
Killer Queen (キラークイーン, Kirā Kuīn) est le Stand de Yoshikage Kira, figurant dans la 4ème partie de JoJo's Bizarre Adventure, Diamond is Unbreakable.
Killer Queen est un Stand humanoïde aux allure félines et son pouvoir tourne autour de la création de bombes qui peuvent atomiser n'importe qui.
Apparence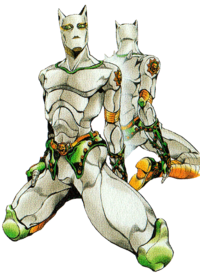 Killer Queen est un stand humanoïde musclé à peu près aussi grand que Kira lui-même, de couleur claire dans l'ensemble. Il est représenté en rose clair dans la plupart des médias.
La tête de Killer Queen est assez angulaire et a une forme vaguement carrée, avec des petites oreilles triangulaires ressemblant à celles d'un chat. Son visage est plat et lisse, n'ayant pas de nez. Il a des grands yeux de félins avec des pupilles verticales et une sclérotique colorée, et une bouche aux lèvres fines qui ne s'ouvre jamais.
Il porte des gants sombres cloutés en simili cuir qui couvrent les avant-bras, une porte-jarretelles assortie à la taille et des sandales qui montent à hauteur de cheville. Ses pouces sont également bandés de blanc. Quatre pointes courtes tapissent le haut de son dos. Ses épaules, le dos de ses mains, sa boucle de ceinture, une plaque suspendue devant son entrejambe, les deux côtés de ses chevilles et le dessus de ses pieds portent tous des emblèmes de tailles variables d'un crâne aux oreilles de chat.[3] Dans l'anime, les yeux de Killer Queen commencent à briller quand il obtient sa troisième bombe.
Plus tard, on découvre que Killer Queen a l'estomac vide et qu'il peut ouvrir en quelque sorte son abdomen pour y stocker des objets.[4]
Palettes
Les palettes changent souvent entre les médias. L'information ci-dessous ne devrait pas être considérée comme canonique.
Yeux
(Sclérotique blanche et pupilles roses)
Tenue
(Gants, chaussures et ceinture bleu marine, clous gris et plaques or orange)
Yeux
(Sclérotique blanche et pupilles brunes)
Tenue
(Gants, chaussures et ceinture violets profonds, clous et plaques dorés)
Yeux
(Sclérotique blanche et pupilles rouge brique)
Tenue
(Gants, chaussures et ceinture violet foncé, clous et plaques dorés)
Yeux
(Sclérotique rouge et pupilles blanches)
Tenue
(Gants, chaussures et ceinture violet foncé, clous argentés et plaques dorées)
Personnalité
Bien qu'il ait un visage plutôt organique, Killer Queen est extrêmement stoïque et garde constamment une expression neutre. Dans l'anime, Killer Queen est un peu plus expressif et on le voit en colère alors qu'il attaque Jotaro.[5] Kira semble pouvoir parler à travers Killer Queen et il s'adresse à Rohan quand ce dernier déclenche Bites the Dust.[6]
Pouvoirs
Killer Queen est un Stand de courte portée avec une vitesse et une force un peu supérieures à la moyenne.[7] Bien qu'il soit puissant physiquement parlant, Killer Queen est visiblement plus faible que d'autres Stands à courte portée comme Crazy Diamond et Star Platinum, et donc Kira préfère s'appuyer sur les pouvoirs spéciaux de Killer Queen pour gagner. D'ailleurs cette faiblesse relative peut s'expliquer par le fait que Kira n'aime pas directement confronter les gens.
Les pouvoirs de Killer Queen sont centrés sur sa capacité à créer des bombes assez puissantes pour qu'une d'entre elles puissent réduire une personne à néant, ce qui fait de Killer Queen un Stand extrêmement dangereux à combattre. En plus de la puissance de ces bombes, Killer Queen peut déployer deux puis trois types de bombes qui ont chacunes leurs utilités et leurs points fort, ce qui donne à Kira un large éventail d'options pour se débarrasser de ses adversaires.
Transmutation en bombe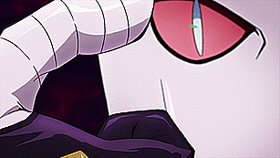 Killer Queen peut charger n'importe quel objet en une bombe simplement en le touchant.
Lorsqu'une cible touche sa bombe, Killer Queen peut déclencher la détonation en pressant son pouce sur la phalange de son index comme s'il pressait le bouton d'un détonateur. L'énergie explosive stockée dans l'objet est transférée à la victime par contact physique et celle-ci explose.[8] Ou bien, Killer Queen peut déclencher une explosion de l'objet, qui relâche une explosion. Il fait ceci avec les bulles d'air de Stray Cat durant son combat final contre Josuke Higashikata.[9] De plus, Kira peut simplement créer une bombe automatique qui se déclenche automatiquement si quelqu'un touche l'objet chargé. C'est ce qui s'est passé avec Okuyasu, que Hayato a touché pour déclencher l'explosion.[10] Enfin, Kira et Killer Queen peuvent directment toucher quelqu'un, le transformer en bombe et le faire exploser, sautant l'étape de charge d'un objet.[11]
Une personne qui est affectée par l'explosion de Killer Queen est complètement incinérée par l'explosion. Son corps, ses vêtement et n'importe quel objet sur elle sera réduite en poussière, ne laissant aucune trace d'elle.[12][13] sauf si Kira a fait exploser un objet près d'eux à la place ce qui expose "simplement" la victime à une explosion.[14] Cette faculté de faire complètement disparaître qualité est particulièrement adaptée à Kira qui est un tueur en série et qui souhaite ne laisser aucune trace de ses crimes. Kira peut aussi contrôler la taille et la puissance des explosions de Killer Queen, ce qui lui permet à la fois des explosions mortelles ou des explosions plus discrètes.[15][16][17] Kira peut aussi décider quelles parties du corps d'une victime sont détruits, et il peut conserver la main droite de ses victimes tout en se débarrassant du reste.[18] Les effets des explosions sur l'environnement varient au fil de l'histoire. Avec Shigechi, l'explosion a laissé indemne les murs environnants[12] mais durant le combat final, elles pouvaient affecter l'environnement même si ça peut être due au fait que Kira déclenche une explosion au lieu de transférer une charge à la victime.[19]
Il y a plusieurs limites au pouvoir de Killer Queen. Premièrement si la bombe n'était pas automatique, Killer Queen doit presser son pouce sur son index pour déclencher sa bombe.[20] De plus, comme les bombes de Kira sont des bombes incendiaires, elles ont besoin d'oxygène pour se déclencher et Stray Cat a pu désactiver une bombe en créant un vide autour d'elle.[21] Finalement, Kira ne peut créer qu'une seule bombe à la fois.[22]
On ne sait pas si les gens ordinaires peuvent ressentir ou voir les explosions mais ils peuvent certainement voir les victimes mourir.[11] De plus, il semble que les explosions ne génèrent peu ou pas de bruit. On voit ainsi Josuke et Okuyasu entendre Shigechi les appeler juste en dehors de leur salle de classe mais ne remarquant pas l'explosion qui tue le garçon. D'ailleurs aucun des étudiants présents dans le couloir où Shigechi meurt n'entendent ni ne voient Shigechi exploser, sachant que toute trace de l'explosion disparaît en quelques instants.[12]
Transmutation de bombes d'air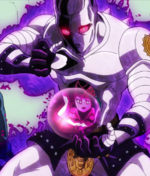 Main article: Stray Cat
Durant le combat final, Kira obtient la plante-chat Stray Cat (ストレイ・キャット, Sutorei Kyatto) et la place dans l'abdomen vide de Killer Queen.[4] Se sentant menacé, Stray Cat tire régulièrement des bulles d'air que Killer Queen peut toucher et transformer en bombes d'air (空気弾, Kūki-dan) comme projectiles.[23] Celles-ci peuvent exploser automatiquement au contact[24] ou être déclenchée manuellement par Killer Queen.[25] Les bulles ne peuvent pas être éclatées car le pouvoir de Killer Queen les stabilise, changeant leur propriété de façon drastique.[26] Même s'il ne voit pas les bombes d'air, Kira est assez doué en mathématique pour pouvoir calculer leur position.[27] Il peut d'ailleur changer la trajectoire de ses bombes en créant des mini-explosions sur les bulles qui la propulsent et avec l'aide de Yoshihiro Kira comme guide, peut même piloter ses bombes d'air sans les voir.[28]
Chapitres / Episodes

Apparition dans le Manga
Chapitres (ordre chronologique)

Apparitions dans l'Anime
Episodes (ordre chronologique)
Galerie d'Images
Iggy, Killer Queen, The Fool, Hierophant Green, Kira, Harvest, Weather Report, Weather, D4C, & Sticky Fingers - Ripples of Adventure
Détails
Le pouvoir de Killer Queen semble faire référence aux paroles de la chanson Killer Queen – "She's a killer queen / Gunpowder, gelatine / Dynamite with a laser beam / Guaranteed to blow your mind / Anytime". De plus, son usage de Stray Cat pourrait aussi être une référence. – "Playful as a pussy cat".
Araki dit que sur le design seul, Killer Queen est l'une des chose qu'il préfère dessiner.[29]

D'ailleur Araki place Killer Queen en seconde place en terme de design, derrière Gold Experience mais devant Echoes. Killer Queen devait incorporer l'aura ténébreuse de Kira ainsi que la facette étrange d'un chat.[30]
Au festival Lucca Comics 2019, Araki a déclaré que Killer Queen était son stand préféré en termes de design. [citation needed]

Son cri de combat "SHIBOBOBO!" peut se traduire en "A mort !".
Références
↑ Harvest - Vol.17 "Shueisha Jump Remix Stardust Crusaders Edition" P190 The origin of STANDS! Part.6
↑ Chapter 345: Yoshikage Kira Just Wants to Live Quietly, Part 4, pp.18
↑ Chapter 345: Yoshikage Kira Just Wants to Live Quietly, Part 4, p.10
↑ 4.0 4.1 Chapter 427: Another One Bites the Dust, Part 10, p.19
↑ DU Episode 24: Sheer Heart Attack, Part 2
↑ Chapter 420, Another One Bites the Dust (3); page 13
↑ Chapter 345, Yoshikage Kira Wants a Quiet Life (4); page 16
↑ Chapter 346, Yoshikage Kira Wants a Quiet Life (5); pages 15-17
↑ Chapter 428, Crazy Diamond Is Unbreakable (4); page 6
↑ Chapter 429, Crazy Diamond Is Unbreakable (2); page 9-11
↑ 11.0 11.1 Chapter 410, My Dad Is Not My Dad (1); pages 10-11
↑ 12.0 12.1 12.2 Chapter 346, Yoshikage Kira Wants a Quiet Life (5); pages 17-18
↑ Chapter 364, Sheer Heart Attack (11); page 14
↑ Chapter 346, Yoshikage Kira Wants a Quiet Life (5); pages 2-3
↑ Chapter 345, Yoshikage Kira Wants a Quiet Life (4); pages 17-19
↑ Chapter 370, Yoshikage Kira;s New Situation (1); page 16
↑ Chapter 395, The Cat Likes Yoshikage Kira (4); page 17
↑ Chapter 410, My Dad Is Not My Dad (1); pages 16-17
↑ Chapter 428, Crazy Diamond Is Unbreakable (4); page 18
↑ Chapter 438, Town Guardian Spirits; page 3
↑ Chapter 394, The Cat Likes Yoshikage Kira (3); pages 13-14 & 17
↑ Chapter 429, Crazy Diamond Is Unbreakable (2); page 8
↑ Chapter 428, Crazy Diamond Is Unbreakable (1); pages 6-8
↑ Chapter 428, Crazy Diamond Is Unbreakable (1); page 9
↑ Chapter 428, Crazy Diamond Is Unbreakable (1); pages 14
↑ Chapter 428, Crazy Diamond Is Unbreakable (3); page 12
↑ Chapter 430, Crazy Diamond Is Unbreakable (3); page 3
↑ Chapter 433, Crazy Diamond Is Unbreakable (6); pages 10-14
↑ JOJO A-GO!GO!: STANDS, p. 34