Bastet
Jump to navigation
Jump to search
"
Mon corps ...! Il agit comme un aimant !
"
Bastet (バステト女神, Basuteto-joshin) est le Stand de Mariah figurant dans Stardust Crusaders. Il prend l'apparence d'une prise électrique apparemment innofensive mais qui électrocute et aimante tous ceux qui le touchent.
Apparence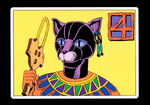 Bastet est un Stand à l'apparence d'une simple prise électrique quasi-rectangulaire, avec un câble dessous qui le relie au mur. Bastet peut être mis sur n'importe quelle surface, par exemple un rocher, ou le côté d'un escalator.
Il représente Bastet, la déesse égyptienne de la protection, et est le quatrième des 9 Dieux Glorieux d'Egypte.
Dans Heritage for the Future, Bastet semble apparaître sous une forme humanoïde à tête de chat lorsque Mariah bloque des attaque ou complète des actions spécifiques, comme Anubis.
Palettes
The series is known for alternating colors between media, the information presented below may or may not be canon.
Prise
(Blanc, bordure or, fil rouge)
Prise
(Tan, bordure or foncé, fil beige)
Prise
(Jaune, bordure verte et brune, fil vert foncé)
Prise
(Beige, bordure vert et marron foncé, fil rose saumon)
Pouvoirs
Bastet est fait pour exploiter la curiosité des gens. Il n'a pas de capacité au combat direct et ne peut que piéger ses victimes en étant placé dans des endroits inhabituels. Cela force Mariah à seul tenir près de ses victimes jusqu'à ce qu'elles meurent. Cependant, Bastet est adapté pour l'assassinat car il suffit que Mariah se cachent assez longtemps et il n'y a aucun moyen qu'on sache qu'elle est l'ennemie.
Magnétisation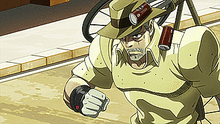 Quand une personne touche la prise électrique de Bastet, elle est légèrement électrocutée[1] et devient un aimant vivant qui va attirer tous les objets métalliques à proximité.[2]
La force magnétique va progressivement augmenter, à tel point que des objets métalliques vont voler vers la victime et à force elle sera écrasée et poignardée à mort par les objets,[2] le magnétisme peut devenir assez fort pour attirer des voitures vers la victime.[3]
Bastet peut affecter plusieurs personnes à la fois avec le magnétisme. D'ailleurs, deux personnes affectés vont s'attirer l'une sur l'autre et il est difficile de se séparer une fois qu'on est collé ensemble.[4]
La limite de ce pouvoir est que Mariah doit conserver une certaine distance par rapport à sa victime. Si elle s'éloigne trop, le magnétisme va disparaître.[5]
Chapitres / Episodes

Apparition dans le Manga
Chapitres (ordre chronologique)

Apparitions dans l'Anime
Episodes (ordre chronologique)

Apparitions dans les Romans
Chapitres (ordre chronologique)
Galerie d'Images
Détails
Araki fut inspiré par son travail en rapport Nikola Tesla dans La vie des eccentriques pour créer Bastet, ayant été intéressé par l'électromagnétisme à cette époque.[6]
Références