Bites the Dust
Jump to navigation
Jump to search
"
Il s'agit de Bites the Dust, le pouvoir de faire exploser le temps !
"

Killer Queen Bites the Dust (キラー・クイーン バイツァ・ダスト, Kirā Kuīn Baitsa Dasuto) ou plus simplement "Bites the Dust" (BITE THE DUST (負けて死ね), Baitsa Dasuto, kanji lit. "Perd et périt"), est la troisième bombe de Killer Queen qui figure principalement dans l'arc "Another One Bites the Dust".
C'est un Killer Queen miniature qui est implantée dans un hôte et qui s'active lorsque l'identité de Kira est révélée, faisant exploser toute personne à proximité qui entend son secret. Bites the Dust crée alors une boucle temporelle, rembobinant le temps d'environ une heure.
Apparence
Killer Queen Bites the Dust prend la forme d'un Killer Queen miniaturisé. Bites the Dust se détache de la main droite de Kira, de la même manière que Sheer Heart Attack se détache de la main gauche de Kira.
Pouvoirs
Yoshikage Kira reçoit cette capacité lorsque la Flèche de Yoshihiro Kira le transperce une seconde fois.[1] Il est né du désir de Kira d'empêcher quiconque de connaître sa véritable identité, ainsi que de son désespoir suite à son assassinat impulsif de Hayato Kawajiri.[2]
Lorsqu'il est activé, Killer Queen est séparé de Kira et planté dans un hôte; il agit indépendamment de la volonté de Kira, se manifestant seulement lorsque la bombe est déclenchée. Lorsqu'il est implanté dans Hayato, il s'active lorsque l'identité de Kira est révélée de n'importe quelle manière, qu'Hayato écrive ou en parle,[3] et si d'autres manieurs de Stand découvre ce petit Killer Queen.[4] Lorsque cela se produit, Killer Queen entre dans l'œil de la ou des victime(s) et provoque une explosion, qui tue tous ceux présents.[5] La bombe peut donc faire exploser plusieurs personnes simultanément.[6]
Boucle temporelle
Après avoir tué quelqu'un avec son pouvoir, Bites the Dust crée une boucle temporelle, remontant le temps à environ une heure avant la détonation.[7][8] Parce que Bites the Dust est complètement indépendant et autonome, Kira ne sait pas qui en est tué,[9] et il ne sait pas non plus si une boucle temporelle a eu lieu.[10] En fait, la seule personne qui conserve la mémoire de chaque boucle temporelle est Hayato Kawajiri, l'hôte de Bites the Dust.[11][12] Toutes les actions effectuées dans la boucle temporelle précédente deviennent le destin, ce qui signifie qu'elles sont destinées à se produire à nouveau à chaque boucle.[13] Des déviation mineurs peuvent se passer[14] mais toute personne tuée par Bites the Dust dans une boucle temporelle précédente est destinée à exploser au moment exact où elle a été tuée auparavant, même si elle n'a pas réactivé Bites the Dust dans la chronologie actuelle.[15]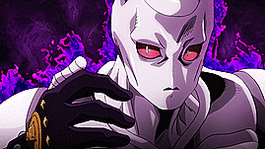 L'hôte de Bites the Dust doit être vivant pour qu'on active le pouvoir et, Bites the Dust ne fera jamais de mal à l'hôte avec ses explosions et peut même le protéger contre les attaques. Ainsi, on a pu voir un Killer Queen miniature empêcher Hayato de se trancher la gorge avec un couteau alors que le garçon essayait de se tuer pour protéger les héros.[16] Ironiquement, Bites the Dust empêche également Kira de nuire à l'hôte et donc Killer Queen a intercepté le poing de Kira lorsque ce dernier tente de frapper Hayato.[17] Il semble également être en mesure de faire revivre cette personne si elle est morte lorsqu'elle est activée, car Hayato était de nouveau vivant lorsque Kira l'a planté en lui après l'avoir tué, ce qui implique que le temps a été rebouclé pour empêcher Hayato de mourir à nouveau de la même manière.[18]
La seule façon d'arrêter les effets de Bites the Dust est de tuer Kira ou de le forcer à rappeler Killer Queen à ses côtés. Si cela se produit, toutes les chronologies créées à l'aide de Bites the Dust sont effacées.[19] D'ailleur, Kira doit abandonner Killer Queen dans le corps de l'hôte de Bites the Dust et va donc potentiellement se retrouver sans défense contre d'autres manieurs de Stands.[20] Hayato déduit également que Bites the Dust ne fonctionne que sur les personnes ordinaires car Kira ne peut confier ses secrets qu'à une personne sans Stand pour pouvoir activer sa faculté.[21]
Chapitres / Episodes

Apparitions Manga
Apparition dans les chapitres

Apparitions Animé
Apparitions dans les épisodes
Galerie d'Images
Détails
Araki déclare qu'en créant "Killer Queen Bites The Dust ", il ne voulait pas que cela devienne un stand ultime et a donc placé beaucoup de limitations pour que Kira ne puisse pas en abuser.[22]
Dans «All-Star Battle», la capacité de Killer Queen's Bites the Dust inversera de nombreux effets. Par exemple, le Made in Heaven d'Enrico Pucci peut être réduit en Whitesnake, ce qui annule tous les effets de Made in Heaven; Kars perd sa forme ultime et Giorno Giovanna perd Gold Experience Requiem. Le Tusk de Johnny Joestar redevient ACT1 s'il est transformé en ACT 2, 3 ou 4. Si Jonathan Joestar ou Funny Valentine on dépensé jauges HH dans le cadre de leurs capacités spéciales, Bites the Dust restaurera leurs jauges HH.
Références