Silver Chariot
Jump to navigation
Jump to search
"
Le "char" symbolise l'invasion et la victoire.
"
Silver Chariot (シルバーチャリオッツ(銀の戦車), Shirubā Chariottsu) est le Stand de Jean Pierre Polnareff, apparaissant surtout dans la troisième partie de JoJo's Bizarre Adventure, Stardust Crusaders, et brièvement dans la cinquième partie, Vento Aureo.
Silver Chariot est un Stand humanoïde vêtu d'une armure et armé d'une rapière. Il est particulièrement mortel en combat rapproché en raison de sa vitesse et de sa précision.
Apparence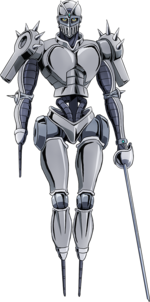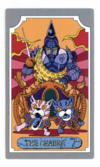 Silver Chariot ressemble à un robot humanoïde mince, vêtu d'une armure médiévale en argent, armé d'une rapière avec une garde sphérique. Bien que Silver Chariot soit mince, il porte une armure de plaque lourde à pointes sur les épaulières et les coudières. Silver Chariot a un casque distinctif avec une gemme intégrée dans le front et plusieurs dents métallique pointant vers le bas protégeant la bouche et les joues. L'épée de Chariot peut être non équipée pour les tâches qui nécessitent deux mains. Selon JOJOVELLER, sa conception est une combinaison d'un robot avec une armure européenne.[1]
Après avoir combattu Diavolo et son King Crimson à la fin des années 90, Silver Chariot perd ses jambes et son avant-bras droit. Ils sont remplacés par des appendices en forme de pointes métalliques.[2]
Polnareff était capable d'utiliser Silver Chariot depuis qu'il était enfant, bien que son Stand soit aussi petit que lui et beaucoup plus faible.[3] À mesure que Polnareff vieillit, Silver Chariot se développe avec lui.
Comme son nom le suggère, Silver Chariot est souvent décrit comme étant couvert d'une armure argentée polie. Les exemples les plus notables d'une telle représentation sont l'anime et les jeux vidéo. L'OAV de Stardust Crusaders le montre plutôt comme portant une armure terne et grise avec des pièces d'armure d'or ici et là.
Palettes
Les palettes changent souvent entre les médias. L'information ci-dessous ne devrait pas être considérée comme canonique.
Corps
(Argent et or avec bijou vert)
Corps
(Armure grise et rouge, argent)
Corps
(Gris métal, armure argentée)
Corps
(Gris foncé et or, armure argentée avec bijou cyan)
Yeux
(Sclérotique jaune clair et iris bleu)
Corps
(Gris foncé, armure argentée avec bijou turquoise)
Personnalité
Comme la plupart des Stands, Silver Chariot est dépourvu de toute volonté ou personnalité, servant Polnareff sans faille - bien qu'il affiche une capacité d'apprentissage élevée, car Polnareff lui donne rarement des ordres directs. Le cri de combat de Silver Chariot est "Hora Hora Hora",[4] et il semble avoir eu tendance à crier "Pami" quand Polnareff était enfant.[3]
Silver Chariot est un stand dédié au combat à courte portée. Il représente la carte de tarot du char, qui symbolise l'invasion et la victoire. [5]
Pouvoirs et compétences
Silver Chariot est un puissant Stand à courte portée dédié au combat qui combat principalement avec la rapière dont il est équipé.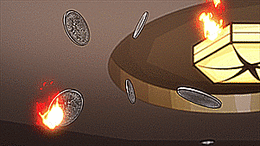 Tous les pouvoirs de Silver Chariot l'aident directement pour le combat, mais son utilisation est limitée dans d'autres cas. C'est un Stand incroyablement agile, capable d'attaquer les ennemis avec des barrages de coups d'épée et des coups avant que l'adversaire ne puisse réagir. Il peut également utiliser son agilité et son épée pour défendre et dévier les attaques dirigées contre lui ou Polnareff. Silver Chariot ne s'éloigne généralement pas loin de Polnareff, mais a toujours la capacité de s'éloigner de plusieurs mètres de lui pour attaquer.[6] Silver Chariot a la faiblesse distincte de ne pas être en mesure de voir ce que son utilisateur ne peut pas voir, ce qui le rend faible si Polnareff est bloqué, aveuglé ou autre.

Vitesse:

Silver Chariot est un Stand incroyablement rapide. Il peut apparaître à plusieurs endroits à la fois car il se déplace à une vitesse plus rapide que l'œil humain ne peut percevoir et peut créer des images rémanentes illusoires.[4] Cependant, Silver Chariot est alourdi par son armure et doit le perdre pour atteindre sa pleine vitesse.[4] Sa vitesse est suffisamment élevée pour pouvoir embrocher plusieurs pièces et boules de feu qui tombent en alternance avec un coup d'estoc, détourner des balles tirées à bout portant, couper Hanged Man qui est censé aller à la vitesse de la lumière, dévier des lasers tirés par Sun et même égaler Star Platinum et son barrage de coups de poing.[7]
Puissance: Même si la majorité de la puissance de Silver Chariot est dans sa vitesse étonnante, il a toujours un grand pouvoir destructeur, car ilest capable de fendre instantanément la roche.[8] La force de Silver Chariot est dépeinte de manière assez incohérente. Durant son apparition, il était capable de soulever Polnareff[9] durant le combat contre Mohammed Abdul mais s'est avéré à peine assez fort pour tirer lentement son manieur contre Vanilla Ice.[10] 
Précision:La vitesse de Silver Chariot n'a d'égale que sa précision. Après avoir entraîné son Stand pendant plusieurs années, Polnareff a suffisamment de contrôle sur le mouvement de Silver Chariot pour pouvoir combattre globalement comme un escrimeur expérimenté, trancher une balle de pistolet ou percer plusieurs pièces et boules de feu quand ils s'alignent, d'un coup d'estoc.[5] 
Armure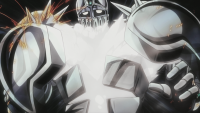 La propriété la plus unique de Silver Chariot est qu'elle est vêtue d'une armure lourde en argent.
L'armure réduit la vitesse de Silver Chariot mais le protège naturellement des coups et blessures, car Polnareff ne reçoit pas les mêmes blessures que l'armure tant qu'elle est enfilée. L'armure est notamment capable de résister à une chaleur extrême sans fondre.[4] L'inconvénient de cette capacité semble être que l'armure fonctionne en échange de l'incapacité de Polnareff à voir à travers les yeux de Silver Chariot. Polnareff est capable de perdre l'armure de Silver Chariot pour gagner plus de vitesse (suffisamment pour que des images rémanentes apparaissent), mais cela rend son Stand plus vulnérable aux attaques en tant que compromis.[9]
Tir de l'épée
La seule capacité à distance de Silver Chariot et une technique secrète.[11] Elle consiste pour Silver Chariot en la projection de la lame de son épée avec une grande force et précision depuis la garde, et elle capable de ricocher sur d'autres objets et de frapper avec suffisamment de force pour percer un corps humain. L'inconvénient majeur de cela est que Silver Chariot ne peut matérialiser qu'une seule épée, donc Polnareff doit récupérer son arme avant de pouvoir attaquer à nouveau.
Chapitres / Episodes

Manga Appearances
Chapters in order of appearance

Anime Appearances
Episodes in order of appearance
Galerie d'Images
Both Chariot & Polnareff enraged after being provoked by Hanged Man mentioning his sister's death (Ep. 5)
Détails
Comme Star Platinum avait une apparence humaine, Araki a voulu faire de Silver Chariot un Stand robotique et avec une épée pour contraster son apparence et style de combat.[1]
On voit Silver Vhariot avec deux épés dans JoJo Sono Chi no Kioku ~end of THE WORLD~, le second opening de l'anime de Stardust Crusaders, vraisemblablement faisant référence à la fois où Anubis a possédé Polnareff.
Le casque de Silver Chariot ressemble au masque de Jagi, un personnage de Ken le Survivant.
La rapière de Silver Chariot ressemble techniquement à une "épée", une lame à double trachant assez petite et mince utilisée dans l'escrime moderne.
Références