Bad Company
Jump to navigation
Jump to search
"
Tu vas mourir sur le champ de bataille créé par mon Stand si bien ordonné : Bad Company !
"
Bad Company (バッド・カンパニー (極悪中隊), Baddo Kanpanī) est leStand de Keicho Nijimura figurant dans Diamond is Unbreakable. Bad Company n'est pas qu'un Stand, c'est une petite armée de soldats miniatures et de véhicules de combat prêt à déployer toute leur puissance de feu.
Description
Bad Company est composé d'un bataillon de 60 petits soldats en tenue de combat rappelant les uniformes américains de la guerre du Vietnam, un nombre indéterminé de bérets vert qui sont des forces spéciales (probablement incluses dans les 60 bonhommes), 4 hélicoptères modelés d'après le Boeing AH-64 Apache

, et 7 chars d'assaut modelés d'après le M1 Abrams

,[2]. Comme les figurines

sur lesquelles ils sont basés,[3], toutes les unités de Bad Company sont réduit à la taille de petits jouets.
Chaque soldat a une tête robotique avec des yeux robotiques, une bouche, des stries horizontales et des bandes colorés partant des yeux et descendant sur les joues comme des larmes.
Ils obéissent aux ordres de Keicho sans hésiter et on les entends parler se parler entre eux pour se coordonner pendant leurs manœuvres.
La plupart des médias montrent Bad Company en uniforme vert, avec des véhicules vert. Les soldat ont plutôt une peau métallique.
Pouvoirs
Bad Company est le premier stand de type colonie à être présenté dans la série. En tant que tel, il est composé de nombreuses unités qui sont faibles individuellement mais dont la puissance s'additionne lorsqu'elles sont combinées pour un résultat dévastateur. Les dommages subis par un individu ne sont pas transférés au manieur, bien que l'on ignore si tuer «tous» les soldats, hélicoptères et chars tuerait également Keicho.
Bad Company est une force de combat petite mais imposante car elle est capable de déployer une grande puissance de feu, tout en utilisant des tactiques militaires subtiles. Commandée par le méticuleux Keicho, qui utilise l'espace confiné de sa maison pour piéger Josuke, Bad Company se révèle extrêmement dangereuse.
Puissance de feu
Bad Company est un groupe de soldats et de véhicules de guerre et peut déployer une grande puissance de feu digne d'une véritable armée.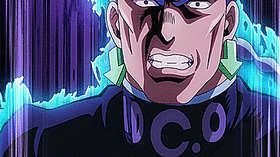 Chacun des soldats de la Bad Company est armé d'un fusil d'assaut M16, d'un parachute et d'un couteau de combat.[4] Les Bérets verts ont le même équipement que les soldats, mais avec l'ajout d'une corde de rappel qui leur permet de grimper sur des objets.[5] Les hélicoptères sont armés de mitrailleuses et de missiles,[4]et les réservoirs ont des obus à l'échelle.[4] De plus, Bad Company est également équipée de mines assez puissant pour gravement blesser une jambe.[6]
Malgré leur taille réduite par rapport à une armée réelle, les armes de Bad Company sont toujours dangereuses. Les M16 miniatures de l'infanterie sont capables de percer la peau humaine, créant des trous de balle petits mais profonds;[4] et l'explosion d'une mine terrestre suffit à blesser gravement une jambe et une paire de missiles de l'un des hélicoptères était suffisant pour blesser le bras de Crazy Diamond.[6]
Bad Company est plus efficace lorsque toutes ses unités tirent en même temps. D'un point de vue défensif, le tir discipliné de l'infanterie que Keicho décrit comme un «mur d'acier» peut abattre n'importe quel projectile tant qu'ils ont le temps de le voir venir. Offensivement, le tir combiné de l'infanterie et de tous les véhicules crée un pluie de projectiles capables d'annihiler un mur.[5] Cependant, cette méthode engage toutes les unités à l'offensive et laisse Keicho sans défense aux contre-attaques. Ainsi, l'armée n'a pas été en mesure d'abattre un missile que Josuke a renvoyé à Keicho car elle était trop concentrée à essayer de tirer sur Josuke.[6]
The information below derives from a source not written by Araki. As such, it may or may not be considered canon

.
Dans le film live-action de Diamond is Unbreakable, Bad Companya une autre faiblesse. Lorsque Keicho donne un ordre à Bad Company, celui-ci ne peut qu'appliquer cet ordre et l'ordre ne peut pas être changé tant que l'ordre précédent n'aura pas été rempli.
Chapitres / Episodes

Apparitions Manga
Apparition dans les chapitres

Apparitions Animé
Apparitions dans les épisodes
Galerie
Références