Mohammed Abdul
Jump to navigation
Jump to search
"
J'espère que vous ne pensez pas que les flammes de Magician's Red ne brûlent que vers le haut ou avec le vent. Je ne suis pas lié par les lois de la nature. Je peux contrôler le feu comme je le souhaite.
"
Mohammed Abdul (モハメド・アヴドゥル, Mohamedo Avuduru) est un allié majeur dans la troisième partie de JoJo's Bizarre Adventure, Stardust Crusaders.
Présenté comme un ami égyptien de Joseph Joestar, il rejoint le groupe dans leur voyage pour vaincre DIO, fournissant des connaissances et des conseils sur les manieurs de Stand ennemis et les cultures locales en cours de route. Abdul est un manieur de Stand aussi et manie le Stand qui manipule le feu, Magician's Red.
Apparence
Avdol est un Égyptien de taille supérieure à la moyenne et de corpulence moyenne à lourde.
Sa tenue principale consiste en un long pardessus ou une robe à manches longues (il échange cette robe par une robe similaire aux manches plus courtes découvrant les avant-bras) et une écharpe autour du cou. Il a deux cicatrices identiques qui parcourent en zigzag sur ses joues. Il porte un bandeau enroulé autour de son front et attache ses cheveux en petits chignons ressemblant à des nœuds bantous, ainsi qu'une longue queue de cheval. Il porte une seule longue chaîne de médaillons, ressemblant à un collier mais qui s'attache à ses oreilles. Le plus grand de ces médaillons est gravé du symbole ankh égyptien; un gros gland pend de ce médaillon, reposant sur sa poitrine. Les petits médaillons sont gravés de divers autres symboles. Il porte plusieurs épais bracelets métalliques sur ses deux poignets.
Avant le combat contre Cameo, il porte un vêtement égyptien traditionnel connu sous le nom de jellabiya (ou galabeya) sous sa robe extérieure, mais à partir de son retour, il porte une chemise et un pantalon. De plus, Abdul garde une cicatrice au milieu de son front (couverte par son bandeau) que Hol Horse lui a donné ainsi qu'une cicatrice sur le haut du dos à cause de Hanged Man.
Palettes
Les palettes changent souvent entre les médias. L'information ci-dessous ne devrait pas être considérée comme canonique.
Outfit
(Top et pantalon marron clair, pardessus beige, accessoires dorés)
Tenue
(Vêtements marron, pardessus blanc, accessoires rouges)
Tenue
(Vêtements verts, pardessus brun clair, accessoires roses)
Tenue
(Vêtements jaunes, pardessus auburn, accessoires dorés ternes)
Tenue
(Pardessus, collier et pantalon jaunes, écharpe verte, haut orange, bracelets roses, chaussures marron)
Tenue 1
(Robe grise, écharpe et emballages bleus, pardessus brun rougeâtre, collier en or, bracelets en argent)
Tenue 2
(Haut et pantalon gris, écharpe orange, pardessus brun rougeâtre, collier doré, bracelets en argent)
Tenue
(Haut et pantalon crème, écharpe orange, pardessus brun rougeâtre, collier doré, bracelets noirs)
Personnalité
"
Tu défierais un diseur de bonne aventure à une bataille de prédiction? Qui penses-tu être?
"
Abdul se présente généralement comme un individu sérieux, responsable et juste. En conséquence, il est très soucieux de maintenir son "image" (comme il l'affirme à plusieurs reprises dans le combat contre Mariah) en tant que personne mature et responsable.
Abdul possède un "fort sens du devoir et de la loyauté".[8] Il est très déterminé à arrêter DIO en tant que l'un des deux premiers membres du Groupe Joestar. Il est notamment le seul à ne pas le combattre pour des raisons personnelles mais par principes. Lorsque Tower of Gray a tué de façon injustifiée des passagers d'avions sans lien avec eux, Abdul était furieux.[9] En outre, Abdul est prêt à mourir pour ses camarades. À deux reprises, il s'est mis en danger de mort pour sauver Jean Pierre Polnareff et Iggy.[10][11] Au cours de leur duel, Abdul a salué la propre chevalerie de Polnareff et lui a rendu les gestes d'honneur du Français, comme lui expliquer le pouvoir de son Stand.[12] Sa loyauté est telle que lorsque Polnareff l'a accusé d'avoir fui DIO comme un lâche,[13] Abdul a presque perdu son sang-froid et frappé Polnareff.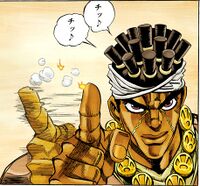 Abdul est un stratégiste et un manieur de Stand compétent. Abdul essaie souvent d'agir comme la voix de la raison pour le reste de l'équipe, bien que son tempérament "émotionnel" qu'il décrit ne le rend pas toujours adapté à ce rôle (comme lors de la D'Arby the Gambler arc, quand Abdul déclare que ses émotions fortes le rendent impropre au poker). Abdul est régulièrement vu en train de réfléchir au prochain mouvement du groupe. Agissant en tant que commandant en second de Joseph et étant le deuxième homme le plus âgé du Groupe Joestar, Abdul est conscient du danger auquel ils sont confrontés et il préconise fréquemment la prudence pendant leur voyage.
Contrairement à son habituelle calme, Abdul peut être sujet à la panique dans des situations inattendues, comme utiliser presque ses flammes dans un avion contre Tower of Gray avant que Noriaki Kakyoin ne l'arrête, et s'exclamant que le groupe doit apprendre rapidement la plongée sous-marine dans l'arc High Priestess, incitant Joseph à lui demander d'arrêter de paniquer.
Cependant, outre son désir de se présenter comme une personne sérieuse, Abdul peut être un individu jovial. Il apprécie l'atmosphère tumultueuse de l'Inde par exemple,[14] et lorsqu'il est de très bonne humeur, il rira bruyamment et se livrera à des ébats enfantins (quand il se comportera dans de cette manière, en réapparaissant devant Polnareff,[15] ce dernier note qu'il semble que la personnalité d'Abdul soit complètement renversée).
Abdul connaît ses forces et affiche une grande confiance en elles. Le diseur de bonne aventure n'est pas au-dessus de se vanter du pouvoir du Rouge Magicien,[12] répond facilement aux vantardises de l'ennemi, et montre un sourire satisfait chaque fois qu'il réussit quelque chose. Il possède un geste caractéristique imitant un allume-feu : avec le pouve levé, il tourne sa main en s'exclamant "Yes I am! Tch! Tch! Tch!".
Pouvoirs et compétences
Main article: Magician's Red
Le Stand d'Abdul est Magician's Red, un Stand humanoîde capable de générer des flammes extrêmement puissantes et de les contrôler subtilement.
Le feu de Magician's Red diffère du feu dans la nature qui ne monte ou ne suit que là où le vent souffle. Au contraire, les flammes de Magician's Red obéissent à la volonté d'Abdul.
Magician's Red
(
マジシャンズレッド(魔術師の赤)
)


Maîtrise
Comme Abdul est né avec Magician's Red, il a eu amplement le temps de maîtriser son pouvoir. Abdul démontre la polyvalence de sa pyromancie en contrôlant extrêmement bien les flammes de Magician's Red. Il peut leur donner des formes précises et contrôler l'intensité du feu. Par exemple, il peut recréer l'image d'une horloge sur une table ronde avec des chiffres et des aiguilles de flammes. Il a également montrée d'autres propriétés inattendues et a utilisé ses flammes comme un moyen de ligoter les gens et a même créé un radar à partir du feu.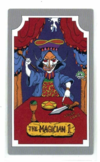 Connaissance ésotérique
En tant que diseur de bonne aventure professionnel, Abdul connaît bien le symbolisme des cartes de tarot qu'il utilise.
De plus, il semble en savoir beaucoup sur les Stands, agissant en tant qu'expert en matière de Stands pendant son voyage et connaît un nombre notable de manieurs de Stand qui DIO a envoyé après lui et ses compagnons (à savoir Gray Fly, Devo le Maudit et Midler). Cependant, ses connaissances sont limitées, car il pensait à tort que le nombre d'utilisateurs de Stand était limité par le Tarot et ne connaissait pas les Egypt 9 Glory Gods ainsi que tous les autres manieurs de Stands cachés à travers le monde.
Relations
Alliés
Jotaro Kujo: Sa première rencontre avec Jotaro n'était pas très amicale, mais après que Jotaro commence à vraiment comprendre Star Platinum et les Stands, ils deviennent rapidement des alliés fidèles. Pendant le voyage, Abdul joue le rôle du mentor, fournissant au reste du groupe des informations sur les ennemis tels que Gray Fly, Devo the Cursed et Midler. Jotaro commémorera plus tard sa mort avec Polnareff et Joseph.
Joseph Joestar: Hors du groupe, Joseph et Abdul se connaissaient le plus longtemps, s'étant rencontrés en Égypte avant les événements de la partie 3. Depuis lors, Joseph s'est lié d'amitié avec l'Égyptien et avait même fait confiance lui pour aider Jotaro à libérer le plein potentiel de son Stand par la force. Au cours de leur voyage ultérieur en Égypte, les deux se sont battus côte à côte à plusieurs reprises, l'un des exemples les plus mémorables étant leur bataille contre Mariah. À la fin de la série, Joseph commémorera sa mort.
Jean Pierre Polnareff: Peut-être son meilleur ami tout au long du voyage. Polnareff a d'abord rencontré le diseur de bonne aventure sous le contrôle de DIO (car il avait un germe de chair dans la tête) et l'a défié à une bataille. Abdul a reconnu son âme chevaleresque et Polnareff a ensuite été sauvé. Au départ, Polnareff pensait également moins à Abdul quand il a appris qu'il avait fui DIO plutôt que de l'affronter, mais le "sacrifice" d'Abdul a considérablement amélioré sa vision de lui. Après qu'Abdul a révélé qu'il était vivant, les deux sont devenus de grands amis malgré leur tempérament opposé. En fait, un thème récurrent pour Abdul était qu'il devait souvent sauver Polnareff du danger comme avec J. Geil et Hol Horse, Cameo avec son stand Judgment, et Cream. Pendant les deux décès d'Abdul, Polnareff a profondément pleuré la perte de son compagnon et a tenté de souhaiter le retour à la vie d'Abdul à partir de Judgment.
Iggy: Abdul a rencontré Iggy pour la première fois alors que le chien causait des problèmes à New York et l'a capturé. Abdul recruterait plus tard Iggy dans le groupe Joestar et utilisait de la gomme à café pour le calmer. Après Abdul s'est sacrifié dans la bataille contre Vanilla Ice, Iggy est devenu déterminé à le venger. En fin de compte, Iggy n'a pas réussi à venger Abdul mais a inspiré Polnareff à le faire à la place.
Ennemis
Dio Brando: Contrairement à Kakyoin et Polnareff, Abdul a reconnu qui était DIO lors de sa rencontre, car il avait entendu parler de DIO par Joseph. Ainsi, Abdul savait que l'homme était un ennemi immédiatement et a réussi à lui échapper avant qu'il ne puisse être placé sous son contrôle. Avec DIO menaçant la vie de Holy en raison de l'activation de tous les stands de la lignée Joestar, Abdul, ainsi que Jotaro, Joseph et Kakyoin ont décidé de se rendre en Égypte pour vaincre Dio.
Vanilla Ice: Bien qu'il ne l'ait jamais rencontré officiellement, Abdul a été choqué d'apprendre que ni son Stand ni l'odorat d'Iggy ne pouvaient détecter Vanilla Ice et Cream. Ice a dévoré Abdul instantanément. Ice a blâmé Abdul pour ses blessures parce qu'il a sauvé Iggy et Polnareff.
Citations

Citations
"

Mr. Joestar, I may have to get a little rough. Sometimes suffering is the only way to make a fool see reason.

"

"

Care to come out now, JoJo? Was is not Aesop who said 'cold wind adds clothes but heat makes you scream"?

"

"

Mr. Polnareff, I hope you don't think the flames of Magician's Red only burn upward or with the wind. I am not bound by the laws of nature. I can control fire as I wish.

"

"

You'd challenge a fortune-teller to a battle of prediction? Who do you think you are?

"

"

Cameo of the Judgement card, is it? I'll finish you off and give you hell!! Hell 2 U!

"

"

You see? This is more in character for Muhammad Avdol.

"

"

Je sais que vous vouler qu'on le sorte d'ici à tout prix, mais vous ne voulez peut-être pas qu'il passe d'abord à l'hôpital ?

"

"

Mon Stand est le Magician's Red, il est la matérialisation d'un pouvoir psychique appelé pyrokinésie, la maîtrise du feu.

"

"

Est-ce parce que tu es pressé que tu veux nous tuer avant minuit ? Ou parce que ton tas de ferraille va se transformer en citrouille ? Qu'en penses-tu, blondinet ?

"

"

- Je m'apppelle Jean Pierre Polnareff. - Ravi de l'apprendre, nous saurons quoi écrire sur ta pierre tombale.

"

"

Tu ignores tout des pouvoirs de mon Magician's Red. Le feu et les flammes sont soumis à l'exercice de sa force psychique. Tu vas donc avoir beaucoup de mal à le prendre par surprise et à respecter tes horaires, mon cher Jean Pierre.

"

"

Ton esprit est fier et ton honneur est chevaleresque, c'est la marque des esprits qui échappent au contrôle de DIO.

"

"

Polnareff, ce pays et ses habitants sont peuplés de mille richesses qui bien souvent ne se monnaient pas.

"

"

Alors, Stand de l'eau, tu m'as assez entendu ? Qu'est ce que tu attends ? Attaque-moi et tu vas découvrir l'enfer des flammes.

"

"

D'Arby, tu ne peux comprende ce que nous faisons. Tu es un stratège et tu ne fais confiance à personne; tu n'as pas d'autre force que la tienne et tu mènes tes combats seul. C'est celà qui fait de nous des êtres différents. Moi, je ne suis pas joueur et mon coeur méprise les paris stupides. Si je devais jouer contre toi, je te tuerai. Mon ami Jotaro lui maîtrise ses nerfs et accepte les règles idiotes du jeu que tu proposes. Il est admirable pour celà. Et s'il choisit de parier mon âme sans regarder ses cartes, qu'il le fasse. Qu'il mise mon âme ou autre chose, je lui fait confiance.

"

"

Le combat que nous avons tant attendu va commencer. Peu importe ce qu'il adviendra de moi, je ne regretterai rien. Je le jure. Je suis venu ici pour ne rien regretter.

"
Chapitres / Episodes

Apparition dans le Manga
Chapitres (ordre chronologique)

Apparitions dans l'Anime
Episodes (ordre chronologique)
Détails
La façon dont Abdul est mort a été changé dans l'OAV. Lorsque les héros atteignet le cercueil de DIO, celui-ci téléporte Abdul directement dans le cercueil et c'est là que Vanilla Ice le désintègre.
Dans 'Genesis of Universe' , il est dit comme ayant des connaissances en astrologie alors que, dans le manga et l'anime, sa bonne aventure semble limitée aux cartes de tarot.
Références