Nukesaku
Jump to navigation
Jump to search
"
E... Espèce de ... Tu m'as appelé "demeuré" ... comment est-ce qu'il sait ? (
ひとつ問いてもいいですか?どうしてわたしのアダ名が「ヌケサク」ってわかったんですか?
Hitotsu toite mo ī desu ka? Dōshite watashi no adamei ga "Nukesaku" te wakatta ndesu ka?
)
"
Nukesaku (ヌケサク, Nukesaku, lit. "Idiot"), aussi appelé "demeuré" dans la version J'ai Lu, et "sac à patates" dans la version Tonkam, est un antagoniste secondaire figurant dans la troisième partie de JoJo's Bizarre Adventure, Stardust Crusaders.
Nukesaku est un des Agents de DIO et un de ses serviteurs basé dans son manoir. Lorsque le Groupe Joestar entre dans le manoir et après qu'il aient vaincu tous les autres serviteurs de DIO, Nukesaku essaie d'attaquer Jotaro. N'étant pas un manieur de Stand,[2] il est rapidement vaincu et est forcé de devenir le guide des héros. Nukesaku est le dernier Vampire qui apparaît dans la série.
Apparence
Nukesaku est un vampire de petite taille et à la peau pâle.[2] Il des les cheveux en bataille et a une seconde face de femme à l'arrière de la tête, ainsi que des seins dans le dos qu'il cache avec un gilet. Nukesaku porte une combinaison moulante sombre avec son gilet, un haut qui sert aussi de pagne, des anneaux aux poignets et aux cheville. En guise de chapeau, il porte un taqiyah tigré.
Quand il prétend être une femme, il enlève son gilet et porte une robe, met des boucles d'oreilles, et porte une ceinture.
Personnalité
Nukesaku souffre d'un complexe d'infériorité, étant méprisé par les autres serviteurs de DIO à cause de sa faiblesse. D'ailleurs, il n'a pas de Stand. Nukesaku se réjouit quand ils sont tous vaincus. Nukesaku saute alors sur l'occasion d'essayer d'assassiner les héros pour prouver sa valeur. Cependant il fait preuve de stupidité en oubliant d'inverser ses mains en utilisant son déguisement. Même lorsqu'il est forcé de servir de guide aux héros et mène Jotaro et ses compagnons à Dio, Nukesaku continue de croire aveuglément que DIO va seulement tuer les héros et prétend les avoir sciemment menés à lui. Il est surpris quand DIO le découpe en morceaux.
Nukesaku est imprudent et parfois idiot, son nom (si c'est son véritable nom) voulant littéralement dire "idiot" en Japonais. Lorsque Jotaro l'insulte en l'appelant un demeuré, Nukesaku demande alors qui il sait qu'on l'appelle comme ça, ce qui prouve qu'il est vraiment lent à la détente.
Pouvoir et Compétences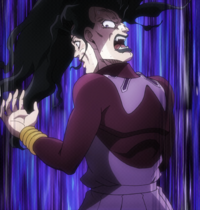 En tant que Vampire, Nukesaku bénéficie de certaines qualités surhumaines. Il est exceptionnellement agile et peut sauter jusqu'au plafond. Il est aussi très résistant et peut résister à un barrage de coups de poings de Star Platinum (bien que Jotaro se soit retenu et que Nukesaku est visiblé gravement blessé). Sa capacité spéciale et qu'il a modifié son corps pour que l'arrière ressemble à une femme, ayant même un second visage à l'arrière de la tête.
Visage de femme : l'arrière du corps de Nukesaku ressemble à une femme. En effet, non seulement, il possède une face de femme qui peut bouger et parler, il a aussi des seins sur le dos. Avec ce déguisement, Nukesaku est capable de duper d'autres gens et faire croire qu'il est inoffensif. Cependant, il oublie d'inverser ses mains pour compléter son déguisement, ce qui ruine cette astuce.
Histoire
Passé
Nukesaku est un des Agents de DIO. Apparemment, il était méprisé par les autres serviteurs de DIO, étant traité par ses "alliés" comme étant un poids mort car il n'a pas de Stand, ayant d'ailleurs un surnom humiliant (selon l'édition, ce sera "demeuré" par J'ai Lu ou "sac à patates" par Tonkam). Même lorsqu'ils ne sont plus qu'une poignée de serviteurs, ils menacent de tuer Nukesaku s'il se met en travers de leur route. Après la défaite de Telence T. D'Arby, Kenny G. et Vanilla Ice, Nukesaku voit l'occasion de prouver sa valeur.
Stardust Crusaders
Nukesaku attend les héros en embuscade et va à la rencontre de Jotaro, Joseph et Kakyoin en prétendant être une prisonnière grâce à son déguisement. Cependant, les héros voient son jeu et Star Platinum lui donne un violent coup de poing. Jotaro explique que Nukesaku a oublié d'inverser ses mains, ce qui a rendu son déguisement évident. En colère, Nukesaku décide d'attaquer Jotaro de front et bondit sur lui dans l'espoir de le mordre et de sucer son sang. Cependant, Star Platinum l'attrape et lui assène une volée de coups de poings, le vainquant pour de bon.
Nukesaku est ensuite forcé de devenir le guide des héros. Il les conduit jusqu'au sommet d'une des tours du manoir. Il est forcé d'ouvrir le cercueil au sommet de la tour et croit aveuglément que DIO va tuer les héros. Cependant, DIO découpe Nukesaku en morceaux pour le punir d'avoir échoué, et le place dans son propre cercueil. Le sort de Nukesaku est ambigu, sachant qu'en tant que Vampire, il y a des chance qu'il ait survécu à l'attaque de DIO.
Chapitres / Episodes

Apparition dans le Manga
Chapitres (ordre chronologique)

Apparitions dans l'Anime
Episodes (ordre chronologique)
Jeux Vidéo
Nukesaku apparait dans une cinématique du jeu, lorsque le groupe découvre un cercueil appartenant à DIO. Comme dans le manga, il réapparait soudainement dans le cercueil coupé en tranches. Nukesaku est un personnage "jouable" optionnellement. En effet, si le personnage d'Alessi utilise son pouvoir sur DIO, celui-ci se transforme en fait en Nukesaku au lieu de rajeunir. Il ne peut que s'enfuir et donner des coups de poing médium.
Dans certaines version censurées du jeu, la cinématique où Nukesaku se retrouve dans le cercueil est modifiée, enlevant alors le fait qu'il a été découpé en morceaux.
Nukesaku apparaît dans l'arène du manoir de DIO. Si les joueurs activent le gimmick du stage, Nukesaku apparait durant une courte cinématique sautant au plafond, excité de pouvoir attaquer. Il va alors bondir dans l'arène dans une location équidistante des deux combattants, mais allant vers le joueur ayant le plus de vie. Si Nukesaku atteint quelqu'un, alors il inflige des dommages. Nukesaku peut touché et n'importe quel coup l'envoie bouler hors du terrain. Il bondit périodiquement dans l'arène jusqu'à la fin du match.

Nukesaku

Woman-Disguising Vampire ver.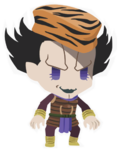 Rarity:

Max Power: 905
Favorite Gift and Voiced Gift Reactions:

Skill:
It was me

Erases all Nukesaku panels and makes them not appear for some seconds

Skill Lv 1
Effect Duration (in seconds):
4
Cooldown:
80

Skill Lv 2
Effect Duration (in seconds):
8
Cooldown:
80

Skill Lv 3
Effect Duration (in seconds):
8
Cooldown:
70

Skill Lv 4
Effect Duration (in seconds):
12
Cooldown:
70

Skill Lv 5
Effect Duration (in seconds):
12
Cooldown:
60
Galerie d'Images
Trivia
Dans le numéro 22/23 du Weekly Shonen Jump 1997, Araki confirme que Nukesaku est un vampire et qu'il n'a pas de Stand dans un de ses commentaires de chapitres.[2]
Dans la version de l'histoire dans Over Heaven, Nukesaku est juste un Zombie.
Références