Steely Dan
Jump to navigation
Jump to search
"
Maître DIO ne fait confiance à personne. Je fais en sorte que
vous
ne parliez pas. Et quant à vous quatre, je m'en vais vous "ôtez la vie".
"
Steely Dan (鋼入りのダン, Sutīrī Dan) est un antagoniste mineur figurant dans la troisième partie de JoJo's Bizarre Adventure, Stardust Crusaders, dans l'arc narratif "Lovers".
Steely Dan est un manieur de Stand et possède Lovers le Stand microscopique. Steely Dan est envoyé pour tuer la vieille Enya et confronte le Groupe Joestar à Karachi en Pakistan.
Apparence
Steely Dan porte une chemise sombre à manches longues déboutonnée qui laisse sa poitrine à découvert, et dont la couleur est identique à son pantalon. Il porte un gilet clair qui est assez long pour dépasser sa ceinture et couvrir son entrejambe comme un pagne. Steely Dan a des long cheveux sombres qui lui tombent sur les épaules et qui se déploient en piques courbant vers le haut au bout des mèches. Ses yeux sont dessinés de façon particulière, avec une strie circulaire dans l'iris. Ses sourcils sont très fins, au point qu'il semble qu'elles sont en pointillé.
Palettes
Les palettes changent souvent entre les médias. L'information ci-dessous ne devrait pas être considérée comme canonique.
Cheveux
(Noir aux reflets bleus)
Tenue
(Gilet beige, maillot de corps et jambières noirs, jean bleu et ceinture à boucle dorée)
Tenue
(Gilet rouge clair, chemise et pantalon violets, ceinture marron, chaussures blanches)
Tenue
(Gilet gris, pantalon marron, chemise et jambières noires, bottes marron)
Personnalité
Steely Dan a une personnalité cruelle, mesquin et sournois.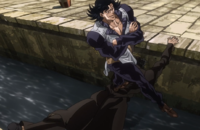 Lorsqu'il se montre au Groupe Joestar, Steely Dan agit de manière arrogante et exhibe une grande confiance en son Stand. Il tue Enya de manière cruelle, lui disant que DIO a ordonné son exécution et se moquant d'elle après sa mort. Steely prend ensuite Joseph en otage et clame haut et fort comment il compte le tuer, étant confiant que les héros ne peuvent pas l'arrêter du fait de son pouvoir de réflexion des dommages.
Steely Dan agit généralement de manière odieuse. Il frappe un petit garçon juste parce que ce dernier l'a tapoté avec un baton. Lorsque Jotaro est forcé de lui obéir, Steely Dan exploite sa position de force pour humilier Jotaro constamment. Par exemple, il lui dit de faire le pont sur un caniveau pour lui marcher dessus, lui marchant aussi sur les mains. Il se sert aussi de Jotaro comme d'un bouc émissaire pour voler un bijou. Il tourmente aussi Joseph à travers son pouvoir.
Steely Dan est généralement confiant en son Lovers mais dès qu'il est blessé, il essaie de fuir et supplie Jotaro de l'épargner, allant jusqu'à lécher les chaussures de Jotaro. En même temps, il essaie de ramener Lovers à lui pour infiltrer Jotaro par surprise, puis essaie de prendre une petite fille en otage. Quand Jotaro contrecarre ses plans, Steely Dan essaie encore de s'en sortir en suppliant Jotaro et en lui promettant de le payer.
Steely Dan a aussi arnaqué Joseph en lui vendant des kebabs à un prix plus haut qu'ordinaire, exploitant le fait qu'il est un touriste en Pakistan.
La sournoiserie de Steely Dan lui vaut un tabassage en règle de la part de Star Platinum.
Pouvoir et Compétences
Main article: Lovers
Le Stand de Steely Dan est Lovers, un Stand microscopique qui peut aller dans le cerveau des gens et manipuler leur sens de la douleur. Si on attaque Steely Dan, la victime dans laquelle est Lovers ressentira une douleur équivalente, mais à l'intensité démultipliée.
Lovers
(
ラバーズ(恋人)
)


Pouvoir(s)
Synchronisation de la douleur
Histoire
Stardust Crusaders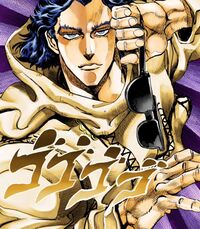 Dan est envoyé par DIO pour exécuter Enya afin qu'elle ne révèle pas le secret du Stand de DIO. Il attend les héros à Karachi, déguisé en marchand de kebab, et Joseph Joestar va à sa rencontre pour lui acheter de quoi manger. Il en profite pour marchander avec Joseph et l'arnaque, lui vendant ses kebab au prix fort. Peu après, Enya se réveille et le reconnait. C'est alors qu'il envoie Lovers dans le cerveau d'Enya pour activer le germe de chair dans son cerveau, ce qui la tue. Steely Dan se moque d'elle après sa mort, ce qui énerve Jotaro particulièrement. Jotaro lui donne un coup de poing violent, ce qui blesse Joseph car Steely Dan a envoyé Lovers dans Joseph ensuite. Steely Dan explique alors son pouvoir, et prétend alors que les héros ne peuvent rien faire contre lui. Pour le prouver, il paye un petite garçon balayeur pour le frapper légèrement dans la jambe, et Joseph est à l'agonie car il ressent une douleur atroce à sa jambe.
Steely Dan annonce que Joseph mourra de toute manière si quelqu'un l'attaque et sait que les héros ne courront pas ce risque. Joseph fuit avec Noriaki Kakyoin et Jean Pierre Polnareff lui de Steely Dan, qui s'en fiche car son Stand a une portée considérable. Jotaro est forcé de rester et d'obéir à Steely Dan, sinon ce dernier se blessera tout seul et tuera Joseph. Profitant de sa situation de force, Steely Dan commet un certain nombre d'exactions visant à humilier Jotaro. Dan lui prend son argent, puis s'en sert comme d'un pont au-dessus d'un caniveau, s'essuyant les semelles sur sa veste et lui marchant sur les mains. Dans une bijouterie, Dan force Jotaro à voler un bijou et le dénonce. Alors que Jotaro se fait battre par les propriétaires, Dan vole un bracelet. Steely Dan s'amuse, mais Jotaro prend note de chaque humiliation. A un moment, Hierophant Green blesse Lovers à la tête et le Stand ennemi bat en retraite hors du corps de Joseph.

Jotaro remarque la blessure de Steely Dan, qui essaie de s'enfuir mais est arrêté facilement. Steely Dan supplie Jotaro de l'épargner, gagnant du temps pour que Lovers entre dans l'oreille de Jotaro. Malheureusement pour lui, Jotaro est sur ses gardes et Star Platinum attrape Lovers, lui écrasant les bras et les jambes. Jotaro décide de relâcher Steely Dan, qui essaie de prendre une petite fille en otage et prévoit de poignarder Jotaro, qui devrait se laisser faire pour sauver la fille. Cependant, Steely Dan n'a pas remarqué qu'une tentacule de Hierophant Green a ligoté Lovers, et Star Platinum extrait facilement Lovers de l'oreille de la fille. Coincé, Steely Dan supplie encore Jotaro de l'épagner, mais ce dernier invoque Star Platinum et le tabasse avec une volée de coups de poing particulièrement violente et longue, l'envoyant se fracasser contre un mur. Avec cela, Jotaro a réglé ses comptes avec Steely Dan et part.
Chapitres / Episodes

Apparitions Manga
Apparition dans les chapitres

Apparitions Animé
Apparitions dans les épisodes
Citations

Citations
"

Lord DIO never trusts anyone. I've come to make sure you never speak...ever again. And as for you four over there, I'll be taking your lives as well.

"

"

My name is Dan, Steely Dan. My Stand is represented by the card of "The Lovers". Soon, you will all meet the same fate as old Enya.

"

"

To be honest with you... my Stand, Lovers, is very weak... It doesn't even have the strength to move a single strand of hair... It is the weakest Stand to have ever existed. But! You don't need raw power to kill someone, do you understand, gentlemen?

"

"

I know that I don't have the power or the speed to fatally hurt either of you. Everything begins once you've acknowledged your own weaknesses! [...]Heh heh heh! The weakest of all is also the most most most most most most most MOST TERRIFYING STAND OF ALLLL!!! KREEEEEEE!!!!!

"
Jeux Vidéo
Steely Dan ou plutôt Lovers est l'un des boss du jeu. En Inde, après la victoire des héros contre Enya, elle déclare que Joseph est infecté par Lovers. Les héros doivent aller dans le plus proche bureau de la Fondation Speedwagon et utilisent une télé pour voir dans le cerveau de Joseph.
Jotaro, Polnareff, Kakyoin et Abdul envoient leurs Stands dans le cerveau de Joseph pour combattre Lovers.

Steely Dan (nommé "S-Terry Dan" dans la version PSX américaine") est un ennemi qui apparaît dans le mode Super Story. Son combat est un mini-jeu se passant dans le cerveau de Joseph. Le joueur contrôle Hierophant Green et Silver Chariot qui vont aller détruire Lovers. Le jeu est un shooter se déroulant automatiquement de gauche à droite.
Steely Dan est ensuite tabassé par Jotaro dans une cinématique.
Galerie d'Images
Détails
Étant l'un des ennemis les plus lâches et les plus perfides auxquels le groupe Joestar est confronté, il subit le plus long tabassage de la part de Star Platinum de toute la série jusqu'à ce moment: trois pages et demie, ce qui équivaut à environ 20 secondes dans l'anime. Ce record ne sera dépassé qu'avec le tabassage que Giorno Giovanna inflige à Cioccolata sur sept pages (ou 30 secondes dans l'anime) dans Vento Aureo.
Références
↑ Lovers - Vol.4 "Shueisha Jump Remix Stardust Crusaders Edition" P124 The Secret of JOJO Characters