Midler
Jump to navigation
Jump to search
"
Jotaro
, tu es mon type de gars... Je regrette d'avoir à te tuer...
"
Midler (ミドラー, Midorā) est une antagoniste secondaire figurant dans la troisième partie de JoJo's Bizarre Adventure, Stardust Crusaders, dans l'arc narratif "High Priestess".
Midler est la dernière des assassins de DIO que les héros rencontrent avant d'atteindre l'Egypte. Elle est une manieuse de Stand et son High Priestess attaque le groupe alors qu'ils traversent la Mer Rouge dans un sous-marin.
Apparence

On ne voit actuellement pas Midler dans le manga, si ce n'est au plus une figure couchée au loin au visage caché. Elle semble être une jeune femme svelte qui porte une simple robe et des talons-hauts et avec des cheveux longs. Après sa défaite, Polnareff constate qu'elle a le visage fracassé par Star Platinum et qu'elle a perdu toutes ses dents.
Midler reçoit un redesign exclusif au jeu vidéo Heritage for the Future. Elle a l'apparence d'une jeune femme mince et de taille moyenne, habillée comme une danseuse orientale. Elle porte un foulard, un voile transparent couvrant le bas du visage; des bandes aux bras, aux poignets, aux cuisses et aux chevilles. Elle a des talons hauts; un soutien-gorge de style bikini avec des bonnets en forme d'étoile, et un pagne ample à ses hanches. Midler a des cheveux foncés et bouclés enveloppés dans un foulard, décorés avec 5 épingles aux bouts en forme d'étoiles dans ledit foulard/
Dans les images promotionnels du jeu JoJo's Bizarre Adventure Super Famicom, Midler a des cheveux blonds et conserve sa tenue du manga, de couleur bleue.
Palettes
Les palettes changent souvent entre les médias. L'information ci-dessous ne devrait pas être considérée comme canonique.
Tenue
(Robe et bracelet jaunes, talons hauts cyan)
Tenue
(Robe bleu clair, bracelet doré, talons hauts rouges)
Tenue
(Bandeau jaune avec étoiles bleues, voile jaune, soutien-gorge bleu, boucles d'oreilles, talons hauts, bandes, ceinture jaune et bleu)
Personnalité
Midler est présentée comme un assassin mystérieux à la solde de DIO et qui utilise son Stand High Priestess pour assassiner les héros.
Un peu comme Mariah, Midler est un peu agicheuse, flirtant avec Jotaro et disant qu'il est son type de gars et qu'elle regrette d'avoir à le tuer alors qu'ils auraient pu être en couple. Elle trouve cependant DIO encore plus attirant que lui. Le groupe essaie de la persuader de les épargner en la flattant, mais cela ne sert qu'à l'énerver car elle déteste qu'on lui mente.
Pouvoir et Compétences
Main article: High Priestess
High Priestess, le Stand de Midler, peut se transformer en n'importe quel matériau minéral et se déformer pour devenir n'importe quel objet. High Priestess a une grande portée et Midler peut donc rester sur la côte alors que son Stand plonge au fond de la Mer Rouge pour attaquer les héros.
High Priestess
(
ハイプリエステス(女教皇)
)


Pouvoir(s)
Transmutation Minérale
Histoire
Stardust Crusaders (1988)
Midler est une célèbre manieuse de stand (vu qu'Abdul la connaissait de réputation) qui est embauchée par DIO pour tuer le groupe Joestar. Attendant sur la côte Ouest de la Mer Rouge, et fait plonger son Stand High Priestess dans l'eau. High Priestess attaque alors le sous-marin de Mohammed Abdul. Profitant de cet espace clos, High Priestess prend la forme de différentes choses pour harceler le groupe tandis que Midler les raille en parlant à travers son Stand. Les héros évacuent le sous-matin mais High Priestess fusionne avec le fond de la mer pour devenir une tête géante qui aspire les héros dans sa bouche. En position de force, Midler dit qu'elle les écrasera avec ses dents plus dur que des diamants et en profite pour flirter avec Jotaro. Les héros essaient de la flatter pour qu'elle les épargne, mais elle voit vite leur jeu et se met en colère. La langue géante de High Priestess se déchaîne et elle essaie d'écraser Jotaro avec ses dents. Cependant, Star Platinum détruit tous les dents de High Priestess et le groupe s'échappe. Sur la côte d'Egypte, Jean Pierre Polnareff va voir Midler pour savoir si elle est belle ou pas, mais constate que son visage a été ravagé par Star Platinum et qu'elle a perdue toutes ses dents. Il dit alors à ses amis que ce n'est pas la peine d'aller la voir.
Chapitres / Episodes

Apparition dans le Manga
Chapitres (ordre chronologique)

Apparitions dans l'Anime
Episodes (ordre chronologique)
Jeux Vidéo
Le combat contre High Priestess se passe différemment que dans le manga. Midler se déguise en hôtesse de l'air et attaque les héros dans un avion en même temps que Death Thirteen. Son Stand apparaît d'abord comme la poignée de la porte des toilettes.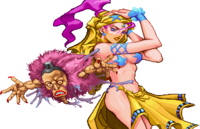 Midler appears as a playable character in the Capcom game. She was part of the original roster in JoJo's Venture, and is an Active Stand user. Midler was redesigned for the game, as she only appears briefly towards the end of her fight unconscious.
Moveset & Gameplay
Midler is a very versatile character, with powerful super moves and spacing but lacks combo potential. As a playable character, Midler's Stand makes her a great medium-to-long-range fighter. While her normal attacks have a fairly good range, most of her attacks use High Priestess' ability to change into something, such as scissors, razor blades, harpoons, a tractor, cars, and an anvil.
Stand Appearance Attack

+

NORMAL
Harpoon Shot

+

Motor Head
+

Iron Wild

+

Mega Harpoon Strike

+

Motor Show
+

Dinner Time

+

(Notes: Can double jump while in Stand Mode.)
Story Mode
Midler is an assassin sent by DIO to destroy Jotaro Kujo and his companions. She appears as typical enemy in the Joestar Group's Story Modes.
In Super Story Mode on the PS1 version, Midler is the 17th Stage and the battle mirrors the one in the manga.
Expand/Collapse All

1
Stage 1
(Joseph Joestar Stage 1)
2
Stage 2
(Kakyoin Stage 2)
3
Stage 3
(Muhammad Avdol Stage 3)
5
Stage 5
(Polnareff Stage 5)
6
Stage 6
(Jotaro Kujo Stage 6)
7
Stage 7
(Vanilla Ice Stage 7)
Expand/Collapse All

17
Diamond Molars
(ダイヤモンドの奥歯 Daiyamondo no Okuba)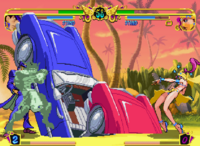 After arriving at Jiddah, the group takes a well-deserved coffee break. However, the group soon realizes they are holding six cups instead of five, and Joseph is taken out by a Stand within the extra cup named High Priestess. As the Stand can possess metal objects, the group deduces that the Stand is hiding underground and splits up. Soon after, Jotaro finds the Stand's user, Midler. After the fight, Jotaro narrowly dodges an attack from High Priestess, who claims that its teeth are as hard as diamond; Jotaro proceeds to smash the Stand's teeth, soundly defeating it.
Secret Factor: Those teeth were hard, but I knocked them all out. (硬い歯だったがたたき折ってやったぜ)

End the fight with Jotaro's Ora-Ora special move.
Palettes


Color A


Color B


Color C


Color Stand
| A | B | C | Stand | Start |
| --- | --- | --- | --- | --- |
| | | | | |
| | | | | |
Bien qu'elle n'apparaisse pas dans le jeu elle-même, Midler's Stand, High Priestess, apparaît comme l'un des nombreux Metal Strikers disponibles. Son coup FINISH est un coup de griffe régulier effectué sur le Metal Striker de l'adversaire vaincu.
Galerie d'Images
Détails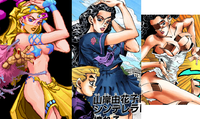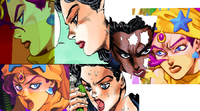 Quand Capcom a produit le jeu Heritage for the Future, l'équipe de développement avait choisi Midler comme personnage jouable et a demandé à Araki de lui créer un design ressemblant à une danseuse orientale. Cette nouvelle apparence est reproduite dans l'artbook JOJO A-GO!GO!.

Les artworks d'elle dans le jeuHeritage for the Future sont basés sur ceux de Yukako Yamagishi.
Certaines de ses répliques viennent de Mariah, notamment la réplique

"Malheureusement, tu dois mourir"

(

残念だけど死んでもらうわ

,

Zan'nen dakedo shinde morau wa

), qui est utilisé par Midler dans le jeu.
Références
↑ Death 13 - Vol.5 "Shueisha Jump Remix Stardust Crusaders Edition" P152 The Secret of JOJO Characters