The wiki is currently experiencing extreme amounts of traffic ever since the release of Stone Ocean.
We apologize for the downtime and slowness.
Arabia Fats
Jump to navigation
Jump to search
"
Le stand de la carte du "soleil". Il nous a donné du fil à retordre mais maintenant qu'on connaît le truc, il est ridicule en fait.
"

Arabia Fats (アラビア・ファッツ, Arabia Fattsu) est un antagoniste secondaire figurant dans la troisième partie de JoJo's Bizarre Adventure, Stardust Crusaders, dans l'arc "Sun".
Il fait partie des Agents de DIO et est un manieur de Stand qui possède Sun, qui ressemble à un soleil. Il embusque le Groupe Joestar dans le désert d'Arabie.
Apparence
Arabia Fats est un petit homme dodu avec des cheveux courts en bataille. Il a un gilet et un pantalon ordinaire, son vêtement le plus distinctif est son t-shirt portant un symbole de soleil rayonnant.
Palettes
Les palettes changent souvent entre les médias. L'information ci-dessous ne devrait pas être considérée comme canonique.
Tenue
(Veste orange, maillot de corps rouge et jaune, pantalon kaki, chaussures marron)
Tenue
(Veste blanche, maillot de corps rouge et orange)
Tenue
(Veste et pantalon gris, maillot de corps rouge et blanc)
(
Luminosité augmentée
)
Tenue
(Veste bleu clair, maillot de corps rouge et jaune, jean bleu, chaussures marron)
Personnalité
La personnalité d'Arabia Fats est inconnue, sachant qu'il embusque les héros de loin et n'apparait que dans une case, étant alors inconscient après que Star Platinum ait violemment jetée une pierre sur lui.
Vu qu'il a patiemment embusqué Jotaro et ses compagnons dans le désert et a utilisé une tactique d'usure tout en veillant à ne rien leur laisser comme eau ou moyen de mieux analyser la situation, on peut penser qu'Arabia Fats était plutôt malin.
Arabia Fats a préparé son coup avec minutie, s'équipant avec une voiture doté d'un grand miroir pour se camoufler et d'équipement divers pour supporter la chaleur de Sun pour pouvoir battre les héros à l'usure.
Pouvoir et Compétences
Main article: Sun
Le Stand d'Arabia Fats est Sun, une grosse boule de feu ressemblant au Soleil. Sun émet une chaleur étouffante dans une grande zone et brille tellement qu'il semble faire jour tant que le Stand est activé. De plus, il tire des rayons d'énergie. Arabia Fats n'est pas immunisé aux effets de son Stand, et comme il doit rester près de son Stand, il doit s'équiper pour supporter la chaleur.
Sun
(
サン (太陽)
)


Pouvoir(s)
Réplication du soleil, Rayons d'énergie
Histoire
Stardust Crusaders
Arabia Fats avait suivi le groupe Joestar dans le désert dans une voiture équipée d'un climatiseur. Il est resté camouflé en utilisant un dispositif de miroir attaché à sa voiture qui reflétait l'image du sable dans le désert, afin que le groupe ne le remarque pas.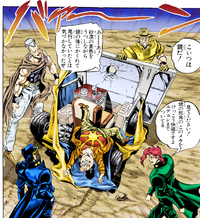 Souffrant de la chaleur produite par la capacité d'Arabia, le groupe a finalement soupçonné le soleil lui-même d'être un stand. Croyant qu'il était hostile, Noriaki Kakyoin l'a attaqué mais a reçu une contre-attaque de Sun, confirmant les soupçons du groupe. Donnant des problèmes au groupe Joestar au début, Arabia Fats a été découvert lorsqu'ils ont remarqué qu'il y avait deux du même rocher, avec leurs ombres pointant dans des directions opposées, montrant alors qu'il y avait un miroir. Jotaro Kujo a utilisé la précision de Star Platinum pour identifier exactement où se trouvait Arabia Fats et l'a mis immédiatement hors de combat en lançant une pierre sur son visage. Trouvant le corps d'Arabie Fats, Jotaro trouve alors son Stand plutôt ridicule même s'il a donné du fil à retordre au début. On ne sait pas si Fats a survécu au coup, mais étant donné l'apparence comique de son ecchymose, il est probable qu'il ait simplement été assommé.
Chapitres / Episodes

Apparitions Manga
Apparition dans les chapitres

Apparitions Animé
Apparitions dans les épisodes
SC Episode 18: Sun (Hors-combat)
Jeux Vidéo
Arabia Fats est l'un des nombreux boss présents dans le jeu. Lorsque le groupe atteind l'Égypte, ils sont coincés dans le désert qui semble infini et le joueur doit déclencher un combat en vérifiant le soleil. Alors Sun viendra attaquer le groupe. Ensuite, Arabia Fats se rendra, donnera de l'argent au groupe et leur parlera d'Iggy qui vit dans une ville voisine.
Arabia Fats apparaît dans un mini-jeu spécial. Le joueur prend le contrôle de Star Platinum à la première personne. L'objectif est de trouver sa cachette et de lancer une pierre sur Arabia Fats avant qu'il frappe le joueur avec la pierre de Sun; le joueur doit faire cela quatre fois pour épuiser la barre de vie d'Arabia Fats. Après le mini-jeu, Arabia Fats apparaît dans une cinématique, assommée alors que le groupe déclare que son stand était plutôt enfantin.
Galerie d'Images
Détails
Arabia Fats n'a été nommé que plusieurs années après la publication de la troisième partie, où il a été révélé dans le port PlayStation de Heritage for the Future et finalement confirmé dans JOJO A-GO!GO!.
Araki a créé Arabia Fats pour qu'il apparaisse comme un ennemi très fort et intimidant pour faire croire aux lecteurs que la bataille durerait plusieurs semaines, avant qu'il soit vaincu presque instantanément après que le Groupe Joestar découvre son tour.[2]
Références
↑ Death 13 - Vol.5 "Shueisha Jump Remix Stardust Crusaders Edition" P152 The Secret of JOJO Characters
↑ JOJOVELLER: STANDS - Comments by Hirohiko Araki[1]