ZZ
Jump to navigation
Jump to search
"
Wheel of Fortune is gonna grind you into hamburger and splatter you all over these rocks!!
"
ZZ (ズィー・ズィー , Zī Zī) est un antagoniste mineur apparaissant dans la 3ème partie de JoJo's Bizarre Adventure, Stardust Crusaders, et plus particulièrement dans l'arc narratif "Wheel of Fortune".
ZZ est un autre des assassins de DIO confrontés au Groupe Joestar. C'est un manieur de Stand qui conduit son Wheel of Fortune.
Apparence
ZZ semblait initialement être un personnage intimidant de par ses bras larges et sa voix forte et imposante.
Mais à la surprise du groupe, ZZ se montre possédant des bras larges et musclés, tandis que le reste de son corps est relativement fin. il est montré comme un homme fin bien que possédant un ventre assez gros. Il possède un visage long arborant des cheveux se séparant en deux pointes faisant penser à une paire de cornes. ZZ porte un débardeur et un jean. D'après Araki, son corps à été formé comme tel juste pour faire une blague.[2]
Palettes
Les palettes changent souvent entre les médias. L'information ci-dessous ne devrait pas être considérée comme canonique.
Tenue
(Débardeur et bandeaux de poignets bleus-gris foncé, pantalons bleus et chaussures brunes.)
Cheveux
(Noirs avec des mèches vertes-olives)
Tenue
(Débardeur,bandeaux de poignets et chaussures bruns, pantalon vert.)
Tenue
(Chaussures et débardeur noirs, bandeaux de poignets bruns foncés et pantalon gris.)
Personnalité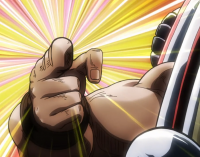 Arrogant et obstiné, ZZ se pense supérieur à ses ennemis et les compare souvent à des fourmis ou des insectes en général. Il est décrit comme un homme colérique comptant sur la force brute. Toutefois, il montre une certaine expérience du combat et se montre rusé, il réussit à duper le Groupe Joestar plusieurs fois et utilise sa voiture de diverses façons assez créatives. Son arrogance est sa faiblesse, à tel point qu'il fait part à ses ennemis de ce qu'il compte faire et le secret derrière sa technique.
Quand sa voiture est détruite, il montre qu'il est en réalité un lâche qui prétend seulement d'être fort, fuyant sans son stand pour le protéger.
Capacités
Main article: Wheel of Fortune
Le Wheel of Fortune de ZZ peut améliorer une voiture en une version monstrueuse d'elle même, lui permettant de faire des manœuvres de conduite impossibles et en général, d'avoir un contrôle total sur les pièces de la voiture.
Wheel of Fortune
(
ホウィール・オブ・フォーチュン(運命の車輪)
)


Pouvoir(s)
Transformation de voiture
Histoire
Stardust Crusaders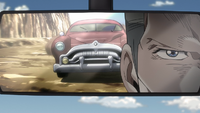 ZZ est vu pour la première fois conduisant lentement sa voiture le long de la route menant au Pakistan. Jean Pierre Polnareff,conduisant la Jeep du groupe, dépasse difficilement la voiture et éjecte quelques pierres avec la Jeep dans le but de railler le conducteur lent, mais le groupe réalise peu après qu'ils sont suivis par cette voiture. ZZ re-dépasse ensuite la Jeep et se remet à rouler lentement, puis peu après se range sur le coté et les invitent à repasser devant, les confrontant à un camion arrivant dans le sens inverse, Star Platinum les sauve en stoppant le camion et repousse la Jeep alors qu'elle est dans les airs. ZZ est ensuite aperçu changeant la direction du panneau indiquant la route vers le Pakistan dans le but de les prendre en embuscade sur le bout d'une route fermée.
Le groupe s'arrête pour prendre un peu de repos et aperçoit encore la voiture de ZZ, qui se met à les poursuivre. Plus tard,Noriaki Kakyoin réalise qu'ils font fausse route et Polnareff stope la Jeep à la fin de la route fermée. ZZ apparait par derrière et pousse éjecte la Jeep du groupe dans le vide. Le Hierophant Green de Kakyoin, toutefois, réussi à accrocher le harnais de la Jeep à la voiture de ZZ, arrêtant leur chute. Ensuite, Jotaro Kujo ordonne à Star Platinum de tirer la corde, forçant la voiture de ZZ à reculer, et après frappa la voiture, causant la chute de ZZ le long de la falaise.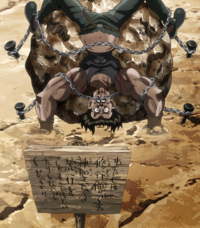 Toutefois, ZZ à survécu et révèle au groupe qu'il maniait un Stand, nommé Wheel of Fortune et sa connaissance du nom de Joseph Joestar. Il s'éjecta du sol dans sa voiture, frappe la Jeep, et transforme sa voiture en un style plus agressif. Il charge en direction du groupe et tire des projectiles d'essence à l'aide de sa voiture, tandis qu'il évite sans efforts les crevasses et fait pousser des pointes sur les roues le permettant de grimper la falaise. Après avoir grimpé la falaise, ZZ révèle que les projectiles d'essence étaient destinés à les enflammer et ensuite mis le feu à Jotaro. ZZ proclame sa victoire et crie qu'il a "Mis fin à la partie 3 tôt", pour être cofronté à la question de Jotaro qui demande qui va "le remplacer en tant que personnage principal" et révèle qu'il a creusé un tunnel avec Star Platinum et que la seule chose qui à été brulée est sa veste.[3] Maintenant sans défense, ZZ est incapable de se défendre lui même comme il a été éjecté de sa voiture et planté dans le sol avec le barrage de coups de Star Platinum. ZZ est ensuite sujet aux moqueries du groupe quand ils réalisent que son corps est fin et que la voiture qu'il conduisait qui paraissait imposante est devenue une petite voiture. Il est ensuite enchainé à un rocher avec une pancarte indiquant qu'il est en plein entrainement ascétique et qu'il n'aimerait pas être dérangé. Il se fait dérober son passeport et sa voiture, et laissé derrière condamné à mourir de faim.
Chapitres / Épisodes

Apparition dans le Manga
Chapitres (ordre chronologique)

Apparitions dans l'Anime
Episodes (ordre chronologique)
Quotes

Citations
"

There's no other path you can take! None for escape, none for safety, none for Egypt and none for a bright future! They're all blocked off to you! Wanna know why? Because Wheel of Fortune is gonna grind you into hamburgers and splatter you all over these rocks!

"

"

I win! Part 3 is now over! (

勝ったッ!第3部完!

Kattaǃ Dai san-bu kanǃ

)

"
Jeu Vidéo
ZZ est l'un des nombreux boss figurant dans le jeu. Comme dans le manga, ZZ attaque le groupe lorsqu'ils conduisent au nord de l'Inde. Le combat est en deux phases, premièrement Wheel of Fortune est dans sa forme normale mais se transforme au fur et à mesure dans sa forme finale après avoir pris suffisamment de dégats. ZZ est finalement vaincu.
Dans le chapitre "Deadly Traffic" du mode Histoire, Le groupe Joestar le rencontre sur la route menant au Pakistan en Inde. Cette partie de l'histoire se joue un peu comme dans le manga, bien que le joueur devra passer par plusieurs QTE pour pouvoir le battre.
Galerie d'Images
Anecdotes
ZZ n'avait pas de nom durant de nombreuses années après la publication de la partie 3, nom qui était révélé dans le portage de Heritage for the Future sur PlayStation et finalement documenté dans le JOJO A-GO!GO!.
Dans le doublage anglophone, ZZ et le narrateur sont doublés par le même comédien, David Vincent.
Dans le doublage français de l'animé, lorsque ZZ est sur le point de brûler Jotaro en utilisant ses câbles électriques, il chante "Il suffira d'une étincelle", un vers de la chanson "Allumez le feu" du chanteur français Johnny Hallyday.
Références