Nena
Jump to navigation
Jump to search
"
Quand je pense qu'une femme aussi laide était couverte par un furoncle à l'apparence humaine qui la camouflait sous les traits d'une belle jeune fille...
"
Nena (ネーナ, Nēna) est une antagoniste mineure figurant dans la troisième partie de JoJo's Bizarre Adventure, Stardust Crusaders, dans l'arc narratif "Empress".
Nena apparaît aux côtés de Hol Horse à Calcutta, et intervient plus tard pour infiltrer le groupe et tente d'assassiner Joseph Joestar à Bénarès. Elle est une manieuse de Stand et utilise Empress.
Apparence
A la surface, Nena ressemble à une belle jeune Indienne en tenue typique. Cependant, ce n'est rien d'autre qu'un déguisement et elle est en fait une petite femme obèse et repoussante portant un bikini. Le déguisement de Nena a un furoncle sur la langue.
Le déguisement de Nena portes une robe sans manche descendant jusqu'aux genoux, un hijab, un bindi sur le front, et porte plusieurs bijoux, dont des boucles d'oreilles en forme d'anneaux et un collier de perles.
Palettes
Les palettes changent souvent entre les médias. L'information ci-dessous ne devrait pas être considérée comme canonique.
(Déguisée)
Peau
(Peau tannée, bindi doré/magenta, lèvres rouges)
Tenue
(Robes et hijab couleur lavande avec une bordure rouge, bijoux en or.)
(Normale)
Peau
(Claires, lèvres rouges)
Peau
(Peau claire. Bindi violet clair, rouge à lèvres rose.)
Tenue
(Robes de lavande et hijab, chemise rouge, bijoux en or terne.)
(Déguisée)
Peau
(Peau tannée. Bindi magenta foncé et doré, rouge à lèvres rose saumon.)
Tenue
(Robes et hijab magenta bordé d'orange avec un motif de losanges orange et vert. Une écharpe et une ceinture roses.)
Bijoux
(Boucles d'oreilles et bracelets dorés et collier de perles rouges.)
(Normale)
Peau
(Peau grise. Eye-liner lavande et rouge à lèvres magenta.)
Personnalité
Nena est une servante maléfique de DIO.
On ne sait pas grand chose de Nena elle-même, mais tout ce qu'elle fait indique qu'elle est sournoise et meurtrière. Nena est un mercenaire assassin au service de DIO et d'Enya, qui note que sa spécialité est de tuer lentement ses victimes.[2] Nena cache sa vraie apparence en revêtant la peau d'une autre femme plus jolie, utilisant sa belle apparence pour tromper ses cibles. Celles-ci sont alors enclin à croire qu'elle est une jeune fille innocente, et Nena peut les approcher pour installer Empress sur elles. Nena conserve cette habitude même avec Hol Horse, qui pourtant était un autre assassin au service de DIO.
Durant son introduction, Nena prétend être amoureuse de Hol Horse et lui demande de se marier avec elle. Hol Horse n'est pas au courant de sa véritable identité et pense qu'elle est une fille de bonne famille qu'il a réussi à séduire. Nena utilise cette couverture pour s'approcher de Joseph Joestar, ce qui met en doute la sincérité de son amour pour Hol Horse.
Pouvoir et Compétences
Main article: Empress
Le Stand de Nena est Empress, un Stand parasite qui croît dans la chair de sa victime.
Empress
(
エンプレス(女帝)
)


Empress, ou "l'Impératrice", représente la fertilité dans le jeu du tarot divinatoire. L'Impératrice met en avant les qualités maternelles, la création de la vie, et signidie aussi l'attraction physique et la luxure. Nena elle même agit en tentatrice, utilisant son déguisement pour séduire, et le principe de maternité est symbolisé par le fait qu'elle insère secrètement son Stand Empress dans le corps de sa victime; Empress grandissant alors et se considérant comme l'enfant de sa cible (de façon ironique).
Histoire
Passé
Nena est une femme obèse et repoussante. Elle prétend être d'une famille aristocratique auprès de Hol Horse, mais elle est en fait une mercenaire engagée par DIO pour aller à l'encontre du Groupe Joestar et pour les assassiner. Elle séduit Hol Horse et arrive aux alentours de Calcutta avec lui. Hol Horse la laisse, persuadé que c'est lui qui l'a séduit.
Stardust Crusaders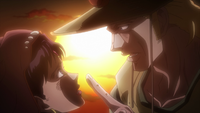 Initialement, Nena est montrée comme une victime des charmes de hol Horse, mais elle est en fait une autres des sept assassins envoyés par Enya. Alors qu'elle et Hol Horse arrives aux abords de Calcutta à dos d'éléphant, Nena demande à Hol Horse de se marier, mais il la répudie en prétendant qu'il ne peut pas la marier, mais qu'il l'aime quand même. Nena part, alors que Hol Horse explique à J. Geil qu'il pourra exploiter l'amour de Nena à l'avenir.
Après la défaite de J. Geil, Hol Horse est encerclé par les héros. Nena intervient alors, utilisant sa couverture en tant qu'amante de Hol Horse. Elle se jette aux pieds de Jean Pierre Polnareff et supplie Hol Horse de s'enfuir, ce qu'il fait. Durant sa lutte, et se blesse volontaire et asperge Joseph Joestar d'un peu de son sang, ce qui permet à Empress de s'enraciner sur son bras sous la forme d'un petit furoncle.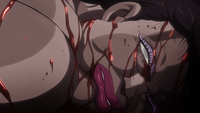 Le groupe pense que Nena est une victime innocente de Hol Horse et ne la suspecte pas. Elle les accompagne à Bénarès, où Polnareff essaie de lui expliquer que Hol Horse l'exploite. A Bénarès, alors qu'Empress a isolé Joseph et tente de l'assassiner, Nena erre dans les rues animées de la ville avec Polnareff, et le séduit, surtout pour le distraire et l'empêcher de voir que Joseph a besoin d'aide. Cependant, Joseph finit par déchiqueter Empress. Nena ressent le contrecoup et meurt de blessures graves, sortant par ailleurs de son déguisement.
Polnareff est traumatisé par ce qu'il a vu.
Chapitres / Episodes

Apparitions Manga
Apparition dans les chapitres

Apparitions Animé
Apparitions dans les épisodes
Citations

Citations
"

I am the "Empress", old man! And you Joseph will be the first to die!!!

"

"

I'm bigger now, but I still need you to feed me, "daddy"!!!

"
Jeux Vidéo
As a "quick-time event" enemy in Super Story Mode, the player must dodge a cop's bullet and her Stand Empress's punches.
If Polnareff wins against Hol Horse by Time Over, Nena holds Polnareff in place while Hol Horse runs away, just like in the manga and anime.
Hol Horse has an introduction animation with him coming down from an elephant mount, leaving Nena behind as the elephant leaves the stage, telling her, Ja na! aishiteru! (Bye! love ya!)
Galerie d'Images
Détails
Ironiquement, Nena et Hol Horse sont présentés comme des amants sachant que leurs carte de tarot respectifs (l'Empereur et l'Impératrice) forment un couple. Cependant, ils s'exploitent aussi mutuellement.
Références
↑ Lovers - Vol.4 "Shueisha Jump Remix Stardust Crusaders Edition" P124 The Secret of JOJO Characters
↑ Chapter 147: Empress, Part 2