Forever
Jump to navigation
Jump to search
"
Cette saleté de primate... ce n'est pas un singe ordinaire.
"
Forever (フォーエバー, Fōebā) est un antagoniste mineur figurant dans la troisième partie de JoJo's Bizarre Adventure, Stardust Crusaders, spécifiquement l'arc narratif "Strength".
Forever est un Orang-outan

malveillant au service de DIO Il navigue dans un cargo en mer de Chine et croise le chemin du Groupe Joestar et tente de les assassiner. Son navire est possédé par son Stand: Strength.
Apparence
Mis à part les deux rayures ou cicatrices de chaque côté de sa tête, il n'y a pas grand-chose à dire sur l'apparence de Forever. Il ressemble à un orang-outan échevelé ordinaire. Il porte cependant un uniforme de capitaine de navire après avoir révélé son Stand. Comme le dit Kakyoin, il a la force de cinq hommes, ce qui lui permet d'arracher facilement le bras d'une personne. Contrairement à la plupart des orangs-outans mâles, il ne semble pas avoir de coussinets sur les joues ou de poche sur la gorge. Son personnage est vraisemblablement inspirée du superèorang-outan intelligent mais malveillant du film, Link

.[2]
Forever fume des cigarettes et la pipe.
Palettes
Les palettes changent souvent entre les médias. L'information ci-dessous ne devrait pas être considérée comme canonique.
Tenue
(Costume blanc avec des bordures noires et des accessoires dorés)
Tenue
(Costume blanc avec des bordures noires et des accessoires dorés)
Personnalité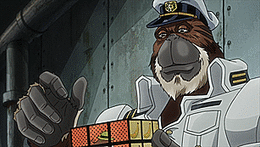 Forever agit parfois comme un être humain. Il semble être attiré par les femmes humaines - il regarde des magazines pornographiques et semble convoiter Anne. Il fume également des cigarettes et peut couper ses propres pommes, faisant preuve d'une intelligence inhabituellement élevée pour un orang-outan. De plus, il peut lire et résoudre rapidement des puzzle, comme un Rubik's cube.
Son intelligence quasi-humaine dénote avec sa nature bestiale et brutale: il tend à jouer avec ses victimes et confiant en sa capacité, mais si son fort sentiment de fierté est blessé, il perd son calme et devient rapidement violent. Cependant, lorsque Forever est acculé, il perd toute confiance et implore Jotaro d'avoir de la pitié en montrant son ventre, ce qui est un signe de soumission parmi les orang-outans.
Forever est au service de DIO et Enya l'a ordonné d'aller au devant de Jotaro et de ses amis avant qu'ils n'atteignent l'Egypte.
Pouvoir et Compétences
Main article: Strength
Le Stand de Forever est Strength (la Force), partageant son nom avec la carte de tarot. Cette capacité transforme un yacht en ruine en un énorme cargo pétrolier, que le singe peut alors contrôler à volonté.
Strength
(ストレングス(力))


Pouvoir(s)
Manipulation de Navire
Intelligence
Forever est un orang-outan particulièrement intelligent qui, bien qu'il soit incapable de parler le langage des humains, peut lire, résoudre un cube de Rubik et semble généralement avoir la capacité de réflexion d'un humain.
Histoire
Stardust Crusaders
Forever est l'un des sept manieurs de Stand que Enya envoie pour assassiner les membres du Groupe Joestar.
Forever va trouver Jotaro et compagnie dans la mer entre la Chine et Singapour en route pour l'Égypte, juste après la confrontation avec le Imposteur Capitaine Tennille. Jotaro, ses camarades et les marins du capitaine Tennille voient alors un gros pétrolier à la dérive et montent à bord. Ils ne rencontrent personne ni sur le pont ni dans les cabines. Le seul être vivant qu'ils rencontrent est Forever, un orang-outan apparemment normal, enfermé dans sa cage. Après la mort d'un des marins, causée par l'activation mystérieuse d'un crochet mécanique, le groupe de JoJo commence à soupçonner la présence d'un manieur de Stand.
Attiré par Anne, Forever quitte sa cage, tue tous les marins restants et confronte la petite fille sous la douche. Il est cependant arrêté par Jotaro, qui lui donne un coup de poing. Forever prend tout de même le contrôle de la situation en exploitant le fait que Jotaro et les autres n'imaginent pas que le Stand ennemi est le navire tout entier. En même temps, il parvient à ligoter tout le groupe Joestar, les écrasant lentement avec le métal du navire. Immobilisé par le primate maléfique, Jotaro parvient à provoquer son adversaire en lançant un bouton sur son uniforme, blessant sa fierté et le mettant à portée de son Star Finger.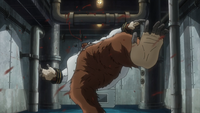 Pris par surprise par Jotaro, qui parvient à se libérer, Forever demande grâce. Jotaro ne prend pas en pitié le singe, affirmant que Forever a rejeté les règles du monde animal, devenant tout aussi corrompu qu'un être humain, et le tue avec un barrage de coups de poing de la part de Star Platinum. Avec la mort de Forever, le navire se désintègre, redevenant au bateau naufragé d'origine qu'il était. Les héros sont libres de continuer leur voyage.
Dans l'adaptation OAV, Jotaro demeure ligoté par Forever. C'est le personnage de Polnareff qui vient à la rescousse après qu'Abdul le vainc et le laisse pour mort. Polnareff découpe Forever avec Silver Chariot.
Chapitres / Episodes

Apparitions Manga
Apparition dans les chapitres

Apparitions Animé
Apparitions dans les épisodes
Jeux Vidéo
Les événements de l'arc «Strength» se produisent d'une manière différente. Le stand prend la forme d'un bâtiment au lieu d'un bateau, et la bataille se déroule au Japon au lieu de la mer près de Singapour comparé à l'histoire originale.
Forever apparaît comme un boss de mini-jeu pendant le mode SUPER STORY (présent uniquement sur les versions console du jeu).
Durant le mini-jeu dans le lequel il apparait, Forever apparaît sur un écran depuis plusieurs cachettes et lance des objets sur le joueur. Le joueur doit tirer sur Forever (représenté par la main de Star Platinum qui utilise "Star Finger"), tout en évitant de tirer sur Anne qui apparaît quelques fois.
Both Forever and Strength appear as two of the several characters who possess a Metal Striker in the game. Their FINISH MOVE makes the fan which was on the ship fly and cut the opponent.
Galerie
Détails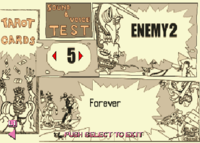 Forever ne sera nommé que des années après la publication de la partie 3, dans le jeu vidéo version PlayStation de "Heritage for the Future". Ce sera confirmé dans l'artbook JOJO A-GO!GO!. Le nom est dérivé du mot Orangutan (

オランウータン

Oranūtan) qui ressemble au nom Wu-Tang (

ウータン

Ūtan).
Le fait que Forever attaque Anne sous la douche est probablement une référence au film d'horreur 1986 Link dans lequel une scène similaire se passe.
Il a le même seiyuu que Shigekiyo Yangu.
Forever est le premier animal manieur de Stand qui apparaît dans la série.
Références