George Joestar I
Jump to navigation
Jump to search
"
Je me nomme
Joestar
, je vous remercie d'avoir sauvé ma vie. Dites moi votre nom avant que je ne perde connaissance. Je vous serait éternellement reconnaissant.
"
George Joestar I (ジョージ・ジョースターⅠ世, Jōji Jōsutā Issei) est un personnage secondaire de la première partie de JoJo's Bizarre Adventure, Phantom Blood, et le patriarche de la Famille Joestar.
George est marié à Mary Joestar et est le père de Jonathan Joestar. Après un malentendu, il adopte le jeune Dio Brando au sein de sa famille, annonçant les évènements des six premières parties.
Apparence
George Joestar est un homme mûre de constitution et de taille moyenne. Il a des cheveux sombres un peu bouclés peignés vers un côté, et une mèche sur le droit de son front. Il porte aussi une moustache.
George Joestar porte typiquement un costume trois pièces avec soit une cravate soit un noeud. Dans un flashback, il portait aussi un manteau pour les sorties.
Palettes
Les palettes changent souvent entre les médias. L'information ci-dessous ne devrait pas être considérée comme canonique.
Robes
(Robe de chambre rose bordée de rouge, chemise blanche et pantalon blanc avec accessoires bleus et dorés.)
Tenue
(Costume bleu marine, chemise blanche, veste verte à boutons dorés, ruban brun.)
Cheveux (vieux)
(Pervenche)
Tenue
(Manteau, pantalon et chaussures noirs, maillot de corps blanc, gilet bleu marine avec doublure noire, cravate ruban vert.)
Robes
(Robe de chambre bleue marine, vêtements bleus)
Personnalité
George est un gentil homme, bien qu'il soit mauvais juge de caractère. L'exemple le plus évident de ceci est lorsqu'il croit à tort que Dario Brando lui a sauvé la vie, alors que ce dernier essayait en fait de lui voler ses biens. [1] Même lorsque George a vent de la duplicité dans une certaine mesure et qu'il voit que Dario avait volé la bague de sa défunte femme, il montre sa générosité en affirmant qu'il a volontairement donné sa bague à Dario et le fait sortir de prison. Néanmoins, George honore toujours Dario en accueillant son enfant et ne remarque pas les méfaits de Dio. Même lorsque Dio le poignarde, George veut croire qu'il ne faut pas trop blâmer Dio.
George aime son fils, mais il est strict envers lui, surtout après l'arrivée de Dio qui était meilleur que Jonathan sur tout les plans, car il souhaitait faire de lui un gentleman. Bien qu'il utilise des punitions physiques et la privation de nourriture pour punir Jonathan,[2] ils reflètent plus les coutumes de son temps que son propre caractère. Il montre notamment son amour paternel en protégeant Jonathan d'un coup de poignard de Dio et meurt heureux dans les bras de son fils.
Histoire
Passé
Un homme de la noblesse anglaise, George a eu une carrière dans dans le commerce, rendant sa famille riche et capable de vivre dans un manoir luxueux. Il a ensuite épousé une femme nommée Mary et ils ont eu un bébé qu'ils nommèrent Jonathan Joestar.
Phantom Blood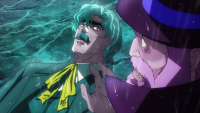 George perd tragiquement sa femme Mary dans un accident de carrosse en 1868. Lorsque le voleur Dario Brando arrive sur les lieux pour piller les objets de valeur des morts, George se réveille. Pensant que Dario vient le sauver, George se sent redevable envers lui. Plus tard, George rencontre à nouveau Dario en prison. Dario a été arrêté pour avoir tenté de vendre une bague qui a été identifiée comme étant la propriété de Mary, sa femme décédée. Cependant, George décide de mentir à la police pour sauver Dario de la peine de mort et dit à l'inspecteur chargé de l'affaire qu'il a donné la bague à Dario. Il remet ensuite la bague à Dario, lui disant qu'il comprend la raison du vol et qu'il doit devenir un bon père de famille. Même Dario ne peut pas comprendre la nature généreuse de George. George lui fournit aussi de l'argent pour fonder un hôtel qui fait finalement faillite.[3]
Pendant les douze années suivantes, George a élevé son fils unique, Jonathan, qui est devenu un garçon au grand coeur même s'il manque de manières. Il a donné un chien de compagnie à Jonathan, Danny, qui a sauvé Jonathan de la noyade et est devenu son meilleur ami.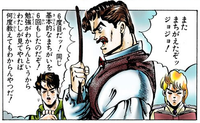 Après avoir reçu une lettre d'un Dario mourant, George honore sa «dette» en permettant au fils de Dario, Dio Brando, de vivre au Manoir Joestar et l'accepte inconditionnellement comme membre de sa famille. Après que Dio s'installe au manoir, George est impressionné par les manières supérieures et l'intelligence de Dio, ce qui le pousse à réprimander son propre fils Jonathan à plusieurs reprises. Cependant, George ne sait pas que Dio brutalise son fils.
Après que Dio embrasse de force la petite amie de Jonathan, Erina Pendleton, George et lui ont une conservation sur le chien de Jonathan, Danny. George raconte ainsi l'histoire de Danny et Jonathan, comment ils se détestaient au début mais qu'ensuite Danny a sauvé Jonathan de la noyade dans une rivière, démarrant une grande amitié. Lorsque Jonathan apprend ce qui est arrivé à Erina, il se précipite vers le manoir Joestar et combat Dio, remportant la lutte grâce à sa volonté. Jonathan parvient à réduire Dio aux larmes pour la première fois. George les surprend en train de se battre (sans remarquer le couteau avec lequel Dio avait prévu de poignarder Jonathan) et les envoie tous les deux dans leurs chambres, promettant de les punir après.
Dio emprisonne alors Danny dans un incinérateur, faisant brûler le chien vif. George et les autres membres de la maison ne soupçonnent pas Dio du crime, croyant qu'il s'agit plutôt d'un cambrioleur. Néanmoins, Jonathan soupçonne Dio d'être responsable mais n'a aucune preuve.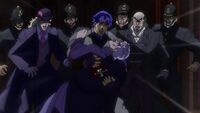 Huit ans plus tard, George tombe malade de façon mystérieuse. Jonathan découvre
une lettre de Dario
grâce à laquelle il apprend que Dio est probablement en train d'empoisonner son père. Jonathan se rend à
Ogre Street
pour obtenir des preuves et trouver un remède. George est alors guéri et apprend la traîtrise de Dio. Se sentant responsable d'avoir échoué dans son éducation de Dio, George se tient prêt alors que les gendarmes que Jonathan a fait venir s'apprêtent à arrêter Dio. Au dernier moment, alors que Jonathan se rend chez Dio pour le menotter personnellement, George surprend Wang Chan marmonner sur la chance de Dio et s'inquiète du fait que l'arrestation se passe trop bien.
Lorsque Dio tente de poignarder Jonathan pour utiliser le Masque de Pierre sur lui-même, George s'interpose entre les deux et protège son fils, se faisant poignarder mortellement dans le dos. George meurt dans les bras de Jonathan, encourageant son fils en disant qu'il est préférable pour un père de mourir dans les bras de son fils. Le corps de George est plus tard brûlé par le feu qui détruit le manoir Joestar.
Chapitres / Episodes

Apparition dans le Manga
Chapitres (ordre chronologique)

Apparitions dans l'Anime
Episodes (ordre chronologique)
Citations

Citations
"

You got it wrong again, JoJo! This is the sixth time! You've made the same basic mistake six times! I'll keep this up until you understand! Look at Dio! He answered all 20 questions correctly!

"

"

Do you call yourself a gentleman, JoJo!? Where are your manners?!

"

"

Ever since Dio arrived, I've realized that I've been spoiling you! Look at Dio! His table manners are perfect!

"

"

JoJo, it is not bad... to die in the arms... of your son...

"
Jeux Vidéo
George a fait sa première apparition vidéoludique dans le jeu vidéo «Phantom Blood». Comme il ne s'est pas battu dans l'histoire originale, il n'est évidemment pas un personnage jouable.
George apparaît comme un personnage de soutien de campagne aléatoire, offrant un boost significatif au joueur. Si le joueur perd un combat du mode campagne, il lui donne un boost pour assurer un rang S parfait dans n'importe quel combat, même si le joueur a perdu.
Comme Ghiaccio dans All-Star Battle, George guide le joueur dans le dictionnaire JoJo.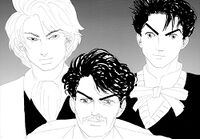 The information below derives from a source not written by Araki. As such, it may or may not be considered canon.
Dans le roman JORGE JOESTAR, Erina nomme son fils d'après George mais écrit son nom dans l'espagnol "Jorge" pour qu'on puisse l'appeler "JoJo".[4] Dans le passé, George était un ami du grand-père de Steven, Kenton, et Darlington Motorize.[5]
Il y a aussi une itération de George dans le 37e univers. Bien qu'il soit anglais, il vit en Amérique car l'Angleterre n'existe pas dans cet univers. Il est toujours un homme riche, propriétaire d'un grand domaine en 1881 où il vit avec son fils Jonathan et son fils adoptif Dio Brando. On ne sait pas si George dans cet univers meurt avant ses fils car Jonathan et Dio meurent tous les deux dans un accident de train lorsque Jonathan tente d'empêcher Dio de cambrioler ledit train.[6]
Galerie d'Images
George in the ending credits from Episode 2 onwards, discolored to represent his advanced age and/or death
Détails
George confondant Dario avec son sauveur ressemble à une scène similaire du roman de Victor Hugo Les Misérables. Dans ce roman, le père de Marius prend l'aubergiste Thénardiers comme son sauveur et envoie Marius lui demander de l'aide sur son lit de mort. George affirme également qu'il a donné sa bague à Dario Brando, qui a été emprisonné pour avoir volé ladite bague, ce qui ressemble à la scène où l'évêque Myriel affirme la même chose pour Jean Valjean, qui a tenté de voler son argenterie.
Références