Roses
Jump to navigation
Jump to search
"
I've been working for the
Joestar family
for 30 years. I've known Lady
Holy
since she was in elementary school. I know I have to tell
her
the truth, but I don't have the heart to tell her...
"
Roses (ローゼス, Rōzesu) est un personnage tertiaire figurant dans la troisième partie de JoJo's Bizarre Adventure, Stardust Crusaders.
Roses est le majordome, chauffeur mais aussi garde du corps de Joseph Joestar et de Suzi Q. Il apparait brièvement dans Stardust Crusaders alors qu'il accompagne Suzi Q à Tokyo.
Apparence
Roses est un vieil homme qui est grand est musclé malgré son âge, avec un visage fin, un nez aquilin, une large moustache. Il est plutôt ridé mais est en bonne forme physique. Il a une touffe de cheveux sous une casquette et porte un costume avec une cravate.
Palettes
Les palettes changent souvent entre les médias. L'information ci-dessous ne devrait pas être considérée comme canonique.
Cheveux
(Cheveux gris, moustache noire)
Tenue
(Costume vert, chemise blanche, cravate noire)
Cheveux
(Cheveux gris, moustache brune)
Tenue
(Costume gris, chemise jaune, cravate bleue)
Personnalité
Roses est le majordome et chauffeur de Joseph Joestar et de Suzi Q. En tant qu'employé de longue date de la famille, il est très fidèle à la Famille Joestar. Il est très inquiet quand Holy Kujo tombe malade et devient encore plus nerveux quand Suzi Q veut aller visiter Holy, ne voulant pas que cette dernière souffre en sachant que sa fille va mal. Roses, connaissant les us et coutumes du Japon, essaie de prévenir de ne pas causer de problème et va même la gronder quand elle va imprudemment filmer un type louche, qui va essayer de l'agresser. Il essaie de supporter la nonchalance de Suzi Q, et bien qu'il ne semble pas être un combattant, il est assez expérimenté pour la protéger quand il le faut.[2]
Pouvoirs
En tant que garde du corps de Suzi Q, Roses est un combattant expérimenté malgré son apparence inoffensive et son âge. Il vainc aisément un yakuza très grand d'un violent coup de pied.[2]
Histoire
Passé
Roses travaille en tant que majordome pour la Famille Joestar depuis environs 1958, depuis que Holy était une enfant. En 1988, alors que Holy tombe malade et que Joseph va en Egypte pour régler le problème, Roses s'occupe de Suzi Q.
Stardust Crusaders
---
---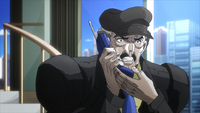 Joseph reste en contact avec Roses tout au long de son voyage pour l'information de sa situation et poser des questions sur l'état de Holy. Juste avant d'arriver en Egypte, Joseph appelle Roses depuis son sous-marin mais Suzi Q répond au téléphone à la place. Lorsque Suzi Q demande à Joseph quelle robe elle doit porter, Roses parvient à la faire quitter la pièce en lui disant de pencher pour sa robe bleue. Après le départ de Suzi Q, Roses dit à Joseph que Holy insiste sur le fait qu'elle n'a qu'un rhume, mais son état actuel s'aggrave de jour en jour. Roses demande s'il devrait dire la vérité à Suzi Q mais Joseph refuse, disant qu'ils ne devraient en aucun cas le faire. Suzi Q revient ensuite et propose du thé à Roses, mais il dit que c'est lui qui devrait la servir à la place.[3]
Plus tard dans la nuit, Roses écoute Suzi Q parler avec Jotaro Kujo au téléphone. Suzi Q se demande pourquoi Jotaro voyage avec son grand-père, Roses est ému par le fait ques hommes de la famille Joestar se battent pour sauver Holy.[3] Le lendemain, Roses dit à Suzi Q que c'est le premier fois qu'un tel évènement s'est produit au cours de ses trente années de travail pour leur famille, mais Suzi Q lui dit qu'il réagit de manière excessive car ce n'est qu'un voyage d'affaires.[4]
---
Fin de la section non-canonique.
---
Alors que le Groupe Joestar se bat contre les serviteurs de DIO dans son manoir. Roses et un membre de la Fondation Speedwagon accompagnent Suzi Q à Tokyo, alors que cette dernière fait du tourisme et veut rendre visite à sa fille. Quand le membre de la fondation lui demande discrètement s'il a expliqué la situation à Suzi Q, Roses révèle qu'il n'a pas pu se résoudre à annoncer la mauvaise nouvelle à Suzi Q de peur de la voir attristée. De fait, Holy Kujo est si malade qu'elle risque de mourir à cause de son propre Stand dans les prochains jours.
Comme il est possible que Joseph échoue dans sa mission, Roses se résoud à révéler la vérité à Suzi Q en chemin. Pendant ce temps, Suzi Q filme les rues de Tokyo et s'attire des problèmes en filmant un yakuza, ce dernier se mettant en colère. Lorsque le yakuza pose la main sur Suzi Q, Roses lui assène un violent coup de pied à la tête et le vainc. Plus tard dans la voiture, Suzi Q révèle qu'elle sait que Holy est malade, mais elle a confiance en Joseph et Jotaro, disant qu'il sait comment résoudre n'importe quelle situation. Roses est ému par la détermination de la famille Joestar.[2]
Chapitres / Episodes

Apparition dans le Manga
Chapitres (ordre chronologique)

Apparitions dans l'Anime
Episodes (ordre chronologique)
Citations

Citations
"

Madam, you mustn't! That is an establishment for common businessmen! A lady doesn't patronize an establishment like that in Japan! Madam Joestar, you mustn't!

"

"

I've been working for the

Joestar family

for 30 years. I've known Lady

Holy

since she was in elementary school. I know I have to tell

her

the truth, but I don't have the heart to tell her...

"
Galerie d'Images
Détails
Des concept arts de Roses existent dans le jeu Heritage for the Future, ce qui indique qu'il devait apparaitre à un moment mais il est inutilisé dans les versions en vente.
Références