Suzi Q
Jump to navigation
Jump to search
"
Dis, JoJo... tu es plus mignon que je pensais.
"
Suzi Q (スージーQ, Sūjī Kyū), connue sous le nom de Suzi Q Joestar (スージーQ・ジョースター, Sūjī Kyū Jōsutā), est un personnage secondaire apparaissant dans la deuxième partie de JoJo's Bizarre Adventure, Battle Tendency et la troisième partie Stardust Crusaders. Elle est la servant de Lisa Lisa et n'a pas de pouvoirs. Suzi Q devient plus tard l'amoureuse et la femme de Joseph Joestar.
Apparence
Dans Battle Tendency, Suzi Q est une jeune femme de taille et de corpulence moyenne, avec des cheveux blonds qu'elle garde attachés en chignon à l'exception de quelques mèches debout sur le côté de sa tête. Elle porte une tenue de femme de chambre avec une robe sombre et un tablier, ainsi qu'un bandeau à franfreluche sur la tête.
Durant Stardust Crusaders, Suzi a bien sûr âgée, ayant un visage ridé et portant désormais des petites lunette. Ses cheveux ont blanchies. Seulement, elle conserve une silhouette svelte.
Personnalité
Suzi Q est une fille un peu insouciante qui aime ses amis et sa famille. Sa personnalité insouciante n'a pas diminué en vieillissant, même après les événements de «Stardust Crusaders». On la voit visiter avec enthousiasme le Japon en filmant tout ce qu'elle croise avant de visiter sa fille Holy Kujo. Elle a une foi solide en son mari, affirmant comment il a toujours réussi à traverser les pires situations et à ne jamais la laisser tomber. Elle a aussi une certaine intuition et avait devinée déjà que Holy n'allait pas bien et que Joseph était parti pour la sauver, tout en conservant une façade de naïveté afin de garder le moral de tous. Bien que généralement très joyeuse, elle fût très en colère quand elle a découvert que Joseph l'avait trompée, ce qui a conduit à la naissance de son fils illégitime Josuke. Elle lui pardonne malgré cela, sachant qu'elle ne le divorce pas.
Elle partage également l'amour de Joseph pour les farces et aime se moquer des autres de manière ludique, pas au même degré que lui.
Histoire
Battle Tendency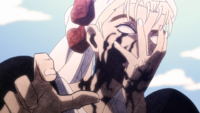 Suzi Q est présentée comme la femme de chambre de Lisa Lisa qui flirte avec Joseph. Lorsqu'elle apparaît pour la première fois, AC/DC (qui est un cerveau à ce moment) l'attaque et prend contrôle de son corps. En utilisant le corps de Suzi Q, elle vole la Pierre Rouge d'Aja et l'envoie en Suisse, là où se trouve Cars. Elle revient dans la salle de bain de Lisa Lisa ​​et attaque ses amis. Grâce à une attaque combinée de Caesar et de Joseph, elle est sauvée ne souffre que de légère blessures causée lorsque AC/DC essaie de faire bouillir son sang. Lisa Lisa consulte ses souvenirs pour découvrir où est la Pierre Rouge. Suzi Q est présente pour voir partir Joseph, César, Lisa Lisa et Messina, plaisantant et flirtant à nouveau avec Joseph.
Joseph révèle que Suzi l'a retrouvé après sa chute du volcan et soigné ses blessures. Suzi réapparaît à la fin de la partie, après avoir épousé Joseph en 1939 lors de sa convalescence. Elle mentionne avoir oublié d'envoyer le message télégraphique pour prévenir ses proches de sa survie, le mettant en colère à son retour.
Stardust Crusaders
Suzi Q apparaît brièvement durant Stardust Crusaders, alors qu'elle va visiter Holy à Tokyo alors que le Groupe Joestar combat dans le Manoir de DIO. Elle est accompagnée de son majordome Roses ainsi qu'un membre de Fondation Speedwagon. Apparemment inconsciente de la maladie de Holy, Suzi Q arrête la voiture dans les quartiers les plus sordides de Tokyo et filme les parties «pittoresques» de la ville. Suzi Q a des ennuis quand elle filme un voyou qui se met en colère, mais Roses lui met K.O. d'un coup de pied. Quand Roses prend le courage de lui dire la vérité, Suzi dit qu'elle sait déjà pour sa fille et qu'il ne devrait pas s'en inquiéter, et qu'elle sait que Joseph et Jotaro vont la sauver . Alors qu'elle arrive au chevet de Holy, elle et sa fille attendent patiemment que les hommes de la Famille Joestar la sauvent.
Suzi Q voit bientôt Holy se remettre de sa maladie.
Dans l'adaptation animée, Suzi Q réapparaît d'abord à New York, tandis que le Groupe Joestar traverse la mer Rouge dans un sous-marin. Suzi se prépare pour un événement caritatif organisé par l'actuel maire de New York, Smokey Brown, et a du mal à choisir une robe. Avec un téléphone satellite, Joseph est capable de l'appeler et de la tenir informée de son voyage, bien qu'il ne révèle rien sur l'état de Holy. Au cours de la bataille contre la High Priestess de Midler, elle rappelle le sous-marin mais c'est Jotaro. Jotaro dit seulement qu'il est avec Joseph, mais cela suffit pour que Suzi se rende compte que quelque chose ne va pas. Néanmoins, elle fait confiance aux hommes de la Famille Joestar.
Jotaro mentionne Suzi Q et révèle qu'elle est choqué et en colère après avoir découvert l'enfant illégitime de Joseph, Josuke. Elle s'énerve aussi quand Joseph va lui présenter Shizuka à la famille, demandant si c'est un autre des ses enfants illégitimes.
Une homologue de Suzi Q est mentionnée dans la seconde continuité de la série, et elle se marie aussi avec un certain Joseph Joestar.
Chapitres / Episodes

Apparitions Manga
Apparition dans les chapitres

Apparitions Animé
Apparitions dans les épisodes
Citations

Citations
"
Who... who are you?! Where... where did you come from?! A-A stranger on the island~!
"
"
Say, JoJo... you're cuter than I thought.
"
"
JoJo! Your wounds aren't healed yet, so don't get soaked by the rain. Here, take cover.
"
"
His wife... sounds funny... being introduced that way... it's a bit... WAH ♡ It's a bit embarrassing...
"
Jeux Vidéo
Suzi Q appears in Diamond Records as an assist character in both the Action Battle and Tactical Battle game modes. She has a 3 star assist, and a 4 star assist, both of the 'Unity' type. Her 3 star assist does not include an assist ability, as 3 star assists only function as stat boosts for the playable statue they are equipped to. Like all assist characters, when the active assists link together, her assist ability may provide extra effects (Action Battle mode only).
Galerie
Références