Agents de DIO
Jump to navigation
Jump to search
SPOILER WARNING: Part 1-6 spoiler details may follow.
"
Il existe quelque rares personnes dépourvues de ces entraves du bien... Elles constituent l'élite du mal ! C'est mon cas... et le tien... Qu'en dis-tu?Vas-tu devenir mon serviteur ?
"
Les Agents de DIO (DIOの手下, DIO no Teshita)[1][TL Note 1] sont la principale force antagoniste dans l'univers original de JoJo's Bizarre Adventure, avec ses membres apparaissant dans Phantom Blood, Battle Tendency, Stardust Crusaders, Diamond is Unbreakable et Stone Ocean.
Le groupe est composé des nombreuses personnes que Dio Brando a rassemblées autour de lui par pur charisme et/ou en raison de ses divers désirs de dominer le monde, trouver "le paradis", et de détruire le Groupe Joestar. Même après la mort de DIO, les survivants de son groupe apparaissent dans des parties ultérieures. Dans Stone Ocean, les partisans de DIO servent d'antagonistes majeurs et essaient de poursuivre son héritage.
Histoire
Phantom Blood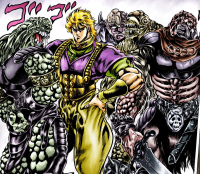 Dio rencontre Wang Chan, qui devient son premier fidèle subordonné après avoir donné à Dio du poison pour tuer lentement son père et George Joestar I. Plus tard, Dio vole le Masque de Pierre duManoir Joestar et l'utilise pour devenir un Vampire avec le sang de George. Il crée ensuite une armée de Zombies sous son contrôle, notamment Jack l'Éventreur, Bruford, Tarkus, Doobie, Adams, Page, Jones, Plant et Bornnam.
Le groupe de Dio a été presque exterminé par le Joestar Group à Windknight's Lot dans la nuit du 2 décembre 1888. Son dernier serviteur connu, Wang Chan, décède lors du naufrage d'un navire en direction de l'Amérique, laissant Dio piégé à l'intérieur de son cercueil avec le corps de Jonathan.
Battle Tendency
Bien que Dio soit censé être mort après les événements de Phantom Blood et que ses partisans tués par Jonathan Joestar et les autres manieurs d'Onde, certains sbires ont survécu, y compris un zombie suceur de sang qui se déguisa en chef d'esquadrille dans la Royal Air Force. Il est plus tard tué par Lisa Lisa pour se venger du meurtre de George Joestar II.
Après avoir été témoin du pouvoir de Dio il y a cinquante ans, Straizo décide de trahir les manieurs d'Onde et de devenir un Vampire pour avoir la jeunesse éternelle. De plus, Cars est révélé comme étant l'homme responsable de la création des Masques de Pierre qui ont provoqué la montée en puissance de Dio.
Stardust Crusaders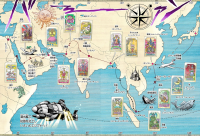 Près de cent ans plus tard en 1983, DIO refait surface lorsque son cercueil est sorti des profondeurs de l'océan par un groupe de chasseurs de trésors. Il obtient un Stand grâce à Enya lorsque Diavolo vend ses cinq Flèches à Enya. Avec Enya comme conseillère, DIO forme un nouveau groupe, composé principalement d'humains manieurs de Stand et de quelques vampires seulement. En secret, il se lie d'amitié avec un prêtre nommé Enrico Pucci et imprègne sans le savoir au moins quatre femmes avec ses enfants. Il recrute des membres de partout dans le monde, principalement des mercenaires, et manipule bon nombre d'entre eux avec de grosses sommes d'argent comme Hol Horse. D'autres de ses serviteurs sont simplement fanatiquement dévoués à sa personne comme N'Doul, la vieille Enya ou bien Vanilla Ice Pour les adeptes plus hésitants ou peu fiables, comme Noriaki Kakyoin et Jean Pierre Polnareff, DIO utilise des germes de chair pour contrôler leurs esprit. Cependant, même Enya avait un germe implantée secrètement dans son cerveau.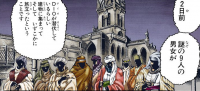 Pendant les cinquante jours qu'il faut au troisième Groupe Joestar pour se rendre en Égypte, les sbires de DIO sont vaincus un à un alors qu'ils tentent d'assassiner les héros. Bien que DIO n'atteigne pas son objectif et que la majorité de son groupe soit à nouveau battue, lui et Vanilla Ice réussissent à tuer la moitié du groupe Joestar avant leur mort. Après que Jotaro et Joseph ont laissé le corps de DIO dans le désert pour s'évaporer avec le soleil levant, Jotaro trouve le Journal de DIO et apprend ce que DIO avait prévu. Considérant le journal comme dangereux, Jotaro le brûle pour que personne d'autre ne puisse jamais le lire.
Bien que certains membres du groupe de DIO soient confirmés comme morts, le sort des autres agents n'est pas connu après leurs défaites.
Diamond is Unbreakable
Yoshihiro Kira et M. Nijimura ont été recrutés par DIO dans le passé et ont tous deux récupéré une Flèche auprès d'Enya. En conséquence, de nombreux citoyens de Morioh ont gagné des Stands, y compris les fils des personnes susmentionnées.
En raison de la mort de DIO, le germe de chair à l'intérieur de Nijimura éclate et il souffre d'une transformation horrible le laissant incapable de mourir. Yoshihiro fait défaut dans le groupe de DIO et tourne son attention pour aider son fils à atteindre ses objectifs à la place.
Alors que M. Nijimura se lie d'amitié avec le groupe Joestar de Morioh, Yoshihiro et son fils sont tués pendant la bataille avec Josuke Higashikata et ses alliés.
Vento Aureo
Environ 12 ans après que Polnareff fut libéré du lavage de cerveau de DIO et quitte l'organisation, il devient un allié du fils de DIO, Giorno Giovanna. Durant le combat contre Diavolo, Polnareff est tué juste au moment où son Stand devient hors de contrôle. Cependant, en raison de son nouvelle pouvoir, l'âme de Polnareff est échangée avec une tortue et il reste vivant malgré la mort de son corps d'origine.
Stone Ocean
Les derniers serviteurs restants du groupe de DIO sont Enrico Pucci et Johngalli A., qui veulent venger DIO en tuant Jotaro Kujo et sa fille, Jolyne Cujoh. Pucci souhaite poursuivre le rêve de DIO de trouver le paradis et recrute les fils de DIO (sauf Giorno) ainsi que le personnel de la prison et les détenus pour l'aider à vaincre le groupe Joestar. Au contraire de DIO, Pucci n'interagit pas directement avec ses agents et préfère leur parler au travers de Whitesnake. Lorsqu'il a directement instruit Miraschon d'aller attaquer Jolyne, il a pris soin d'effacer une partie de sa mémoire pour que Jolyne ne découvre pas son identité au cas où Jolyne examinerai la mémoire de Miraschon. Après avoir dévoilé son identité, Pucci interagit directement avec les fils de DIO.
Pucci réussit à tuer les Joestars et leurs alliés, et parvient presque à créer un monde où tout le monde verra son Destin comme le voulait DIO. Cependant, Emporio le tue avant qu'il ne puisse compléter la boucle temporelle, libérant ainsi le monde de l'influence de DIO. Dans l'univers alternatif, les Joestars décédés et leurs amis renaissent comme homologues alternatifs, avec des vies et des souvenirs différents.
Comme la précédente incarnation du groupe, alors que certains de ses membres sont confirmés décédés, le sort des autres membres reste ambigu, notamment celui des fils de Dio, Ungalo et Rikiel.
Membres
Les Zombies de Dio
SPOILER WARNING: Part 1-2 spoiler details may follow.
Description des symboles 
★: Leader
(✩: Leader Successeur / ✦: Leader de sous-faction)
†: Décédé
(👻: Demeure en tant que fantôme)
☮: A démissionné
⚓: "Retired" (neutralisé) et/ou leur sort est inconnu

Les Agents de DIO
ATTENTION AUX SPOILERS: Des spoilers pour la partie 3-6 sont à prévoir.
Description des symboles 
★: Leader
(✩: Leader Successeur / ✦: Leader de sous-faction)
†: Décédé
(👻: Demeure en tant que fantôme)
☮: A démissionné
⚓: "Retired" (neutralisé) et/ou leur sort est inconnu

Les Agents de Pucci
ATTENTION AUX SPOILERS: Des spoilers pour la partie 6 sont à prévoir.
Description des symboles 
★: Leader
(✩: Leader Successeur / ✦: Leader de sous-faction)
†: Décédé
(👻: Demeure en tant que fantôme)
☮: A démissionné
⚓: "Retired" (neutralisé) et/ou leur sort est inconnu

Agents Non-canons
Agents de DIO (Eyes of Heaven)
Dans Eyes of Heaven, Heaven-Attained DIO parvient à posséder divers alliés venant des 8 parties de JoJo's Bizarre Adventure pour tenter d'attaquer le Groupe Joestar. Alors que Diego Brando et Dio Brando étaient à l'origine en alliance avec Heaven-Attained DIO, Diego a dit à Jotaro Kujo que leur alliance n'était que temporaire et qu'ils finiraient par le tuer.
Voici une liste de tous les personnages qui étaient possédés par Heaven-Attained DIO, ou qui étaient en alliance avec lui sans être possédés.
Agents de DIO dans Eyes of Heaven
Ennemis
Voir aussi
Translation notes
↑

Le terme "Agent de DIO" est utilisé comme dénomination factuelle, et non comme terme officiel.
Références