Jump Remix P3 Vol.11 (March 2002)
Jump to navigation
Jump to search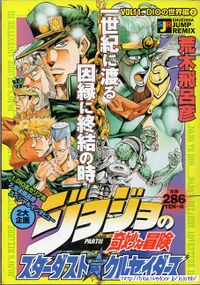 An interview with Hirohiko Araki found in Shueisha Jump Remix Part 3 Volume 11.
Interview
"
Did you think Polnareff would appear in "Golden Wind"?
First of all, Polnareff and Jotaro's personalities were always meant to be opposites. Jotaro has an imposing, cool personality and doesn't really move around that much, so to contrast that I wanted an impulsive character that would run around like crazy. It's like the difference between being 'static' and being 'dynamic' you know? Polnareff was also quite fun to draw and it was easy to manipulate his movements, so I ended up using him quite a lot.
His hairstyle also turned out pretty good. The other characters all have fairly flat heads, so if Polnareff is also in the panel, it ends up creating a perfect balance overall. During Part 4: Diamond is Unbreakable, I got a ton of letters from fans asking where Polnareff was and what he was doing. And so, a part of the reason why Polnareff ended up showing up in Golden Wind was because I wanted to answer that question, of what he had been up to after Stardust Crusaders. I wanted to say that just like Jotaro, he has been fighting hard this whole time.
"
"
エジプトを目指す旅にしたのはどうして?
 当時の担当が、エジプトにものすごく詳しかったんですよ。エジプトの古文書とか遺跡とかの文字も読めるくらい。「これはいい!」と。それと、やっぱりエジプトって神秘的な感じがしたからですね。最終目的地はエジプトというのを先に決めて、それからルートを決めていきました。『スターダスト・クルセイダース』の後に、『電波少年』で猿岩石が旅したルートも大体同じでしたね。だから、間違ってはいなかったのかな?取材でエジプトやアジアの国なんかにも行ったけど、あまり好きじゃあないんです(笑)。マンガにも描きましたけど、エジプト人は見るからに怪しいし。ホントにスタンド使いみたいでした(笑)。  う~ん、好きな国はやっぱりイタリアなんですよ。イタリアにさえ行ければ、他の国にはもう金輪際、行けなくてもいいくらいです。イタリアは、やっぱり美術館にいけるのがいいんです。印刷物とは違って、有名な絵画の実物がある!これは何度でも足を運ぶ価値がありますね。他の人が、演劇とかに行くのと同じ感覚だと思います。でも演劇は、そのときどきに違ったりするけど、美術館はもう、絵画の究極の姿があるわけだから、何度でも行きたくなります。ダ・ヴィンチとか、ロダンとかが好きですね。  よく自分の絵柄は独特だといわれるんですけど、自分からすると基本に忠実な絵だと思っています。ルネッサンスが絵画のオリジナルですから、僕はそれに忠実に描いているだけです。自分からすると、他のマンガ家さんのほうが異端だなぁと思いますね。
どうして承太郎を学ランにしようと思ったのか?
 何度も行ってますけど、やはり『バビル2世』のイメージが強い。学生服で砂漠に立っているというインパクト。今考えても、『バビル2世』のあのコマはすごい。もしあの絵をリトグラフとかで売ってるんだったら、ぜひとも部屋に飾りたいですね。日常と非日常が同時に存在している、というところがいいんですよ。  承太郎のは、普通の学生服だとつまらないんで、いろいろアクセサリーを付けたりしてみました。ホントはあんな学生服ありませんけどね。僕も中学高校は学ランでした。でも、承太郎みたいなあんな長ランは着てません(笑)。
ジョセフはどうして連続登場した?
 ジョセフは第2部『戦闘潮流』との橋渡し役なんですよ。毎回、部が変わるごとに、橋渡し役と出すようにしています。『戦闘潮流』の頭にはスピードワゴン、そしてジョセフ、承太郎、康一・・・というようにね。それに、ジョースター家は短命で、一生涯一人の女性しか愛さないと言われてるけど、ジョセフだけは例外だという設定にもしたかったんですよ。性格的にもジョースター家の中では異端ですしね。
アブドゥルはいったいどんな役割?
 アブドゥルは参謀役ですね。本当は、一番年のいったジョセフがそんな役回りをやるんだろうけど、ジョセフの性格じゃあできないだろうと思ったから登場させました。スタンドという新しい概念も登場させたので、スタンドの事について詳しい解説役でもあります。
花京院の死の直前に生い立ちが明らかになったのは?
 花京院には戦う動機というのを、ちゃんと考えてあげたかった。花京院が仲間になってからずっと、それは考えていたんですよ。承太郎、ジョセフはホリィを助けるためだし、ポルナレフは妹の件があったりする。でも花京院には何もなかったから、その理由をつけてやりたかった。命を賭けてまで戦う理由を・・・死ぬ間際にそれを描く事が出来てよかったです。このことは、第5部『黄金の風』の仲間たちも同じなんですよ。ブチャラティやナランチャたちの戦う理由をちゃんとつけてあげたかった。だから、それぞれ過去の話、どうしてギャングになったのかをちゃんと考えたんです。
ポルナレフは『黄金の風』に登場すると思っていた?
 まずポルナレフは、承太郎と対称的なキャラクターにしたかったんですよ。承太郎はクールでどっしり構えていて、あまり走らせたりもしないと決めていたので、走りまくる、直情的なキャラクターが欲しかった。静と動ですね。ポルナレフは、かなり描いてて楽しかったし、動かしやすかったですね。だから結果的に、かなり活躍してます。あと、髪形もよかった。他の仲間たちがぺしゃんこな頭ばかりだったので、コマの中にポルナレフがいるとメリハリも効いて絵になるんですよ。『スターダスト・クルセイダース』が終って、第4部『ダイヤモンドは砕けない』になってから、ポルナレフはどうしているのという読者からのはがきがとても多かったんです。だから『黄金の風』ではポルナレフが『スターダスト・クルセイダース』の後、どうしているかも描く意味で登場させました。承太郎と同じように、彼も戦っていたんだよ、というのを描いてあげたかった。
犬をどうしてスタンド使いに?
 僕は、弱そうなヤツが実は強いというのが好きなんですね、基本的に。ちっちゃくてブサイクな犬が強いというのは面白いんじゃないか?と思って、イギーを登場させました。助っ人として現れて、人間だったら普通じゃないですか。それが犬だったら面白いな、とも思いましたね。『ダイヤモンドは砕けない』では、さらにそこにこだわりました。本体は弱そうでも、スタンドは強い。ドブネズミのスタンドとか、重ちーとかもそうですね。
ホル・ホースを仲間にする気はあった?
 ホル・ホースは、仲間にしようかと思ったりもしました。でも、仲間になるヤツばっかりだと面白くないなと思い直して・・・仲間になりそうでならないヤツがいてもいいんじゃないかと。ホル・ホースの性格を考えると、仲間にはならないですよ。けっこういいかげんな性格で、あっちへふらふらこっちへふらふら。コウモリみたいなヤツ。でも、ホル・ホースはもっと登場させたかったですね。ポルナレフと同じくらい、動かしやすいキャラだったし、描いてて面白かった。あと何回か、登場させてあげたかったですね。
DIOはいったいどんな存在?
 『ファントムブラッド』の頃から、3部構成で・・・ということは考えていて「3部の最後はDIOを倒すんだろう」とは漠然と思っていたんですよ。『警察署長』というTVドラマにもなった小説があって、代々警察署長の家系の話なんですよ。それでも、最初におきた事件を子孫が解決したりしている。それをやりたかったんです。善のジョースター家に対して、シリーズ全て通して悪の存在がDIO。圧倒的な悪。『スターダスト・クルセイダース』でDIOは倒されましたけど、その後の物語でも、DIOの悪の精神は残っていて・・・ジョースター家は代々、その邪悪な精神と戦っているんです。『ストーン・オーシャン』でも、DIOは出てきませんが、DIOが残した邪悪な精神と徐倫は戦っています。DIOを描く時は、いつも気合が入りましたね。DIOが出てくると、雰囲気もなんか変わるんですよね。マンガの中の空気がこう、張りつめるというか・・・。生き物本来の弱肉強食の世界からすると、DIOのやってることは正しいことなんです。人間が生き延びていきやすくするために作った 、社会の常識ということからは外れてますけどね。弱肉強食の世界から考えると、DIOは普通の行動をしている。DIOを描く時は、自分もDIOの気持ちになってます。・・・こんなこというと、反社会的だっていわれるかもしれないけど、ある意味DIOは自分の憧れの存在です(笑)。
"
[1]
References