Stardust Crusaders Bunko Vol. 10 (October 2002)
Jump to navigation
Jump to search
Published October 18, 2002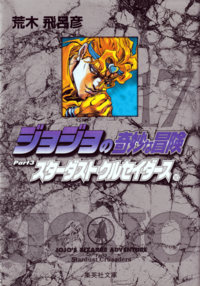 Hirohiko Araki's afterword, written in the last volume of the Bunkoban version of Stardust Crusaders.
Interview
"
To Ryosuke Kabashima, Editor-in-chief of Weekly Shonen Jump: I could never thank you enough, but...I'd like to take this opportunity to express my gratitude. Your every word gives me courage. JoJo's Bizarre Adventure would have never existed without you.
When I was little I often fought with my two younger sisters, they're twins, and every time I was bickering with one of them the other one, sooner or later, would start crying. "Why are you crying!?", I always asked, angrily, but in the end it was always me who got in trouble and was scolded for whatever reason.
This strategy was really just the result of my sister's teamwork and they used it to create a situation where, no matter what I said to my parents to justify my action, the fault was mine regardless. I swear I tear up every time I hear the story of someone who goes to prison because they get charged for a crime they didn't commit on the news! I was always praying for those brats to disappear; I got to the point where I was sure there was a curse on me that caused people to always misunderstand me. It happened at school too; whenever something bad happened, the teachers were always putting me in the "suspects' list" and this got me thinking that maybe it was because of how I normally behaved!
However, while the second part of JoJo's Bizarre Adventure was being serialized in Weekly Shonen Jump magazine in 1988, I was desperate to find an original idea (I admit it's a bit weird for me, being the author, to talk about these kind of things, but since is an afterword it's okay to dwell on memories, right?). I was looking for something that didn't represent physical strength, but a more spiritual thing that came from the heart. Up to that moment, when the topic was "superpowers", it was always the same thing: the characters opens their eyes wide, the character starts sweating, the character's veins start building, the character destroys rocks, etc. In JoJo, we have an extra corporeal projection that manifests, takes form, and it's this manifestation that breaks the rock, not the character... 'Yes, this could work! I can represent a soul's strength this way! More than superpowers this is "spiritual strength"! That's it, this is new! There's no other way to transmit this!'
My manager gave me permission and it's with this concept that I started drawing part three, but...as soon as the first chapters came out all the readers' comments were like: "I don't really understand," or "what's happening here?"
I was desperate, it was like that part of me that was condemned to always be misunderstood was coming out again. I didn't know what to do, since no one understood me. Maybe I didn't explain well enough, or maybe the change had been too sudden, but how was I otherwise supposed to represent these types of powers?
It looks like when I left Sendai for the first time to live in Tokyo to be a mangaka, my grandmother started praying in front of the Buddhist alter she has at home, every time she heard about an homicide in Tokyo, hands joined, she started praying for the culprit to not be me...I really don't understand this. I think no one in my family actually ever understood me and , even worse than that, maybe not even my readers could!
At that time my manager told me that it's important to have faith in yourself and draw what you really prefer: this is what it means to be mangaka! You only need a whole lot of courage!
(Even now I don't really think that manager understood me either...Well, at least more than my sisters, for sure.)
"
[Translated by
@macchalion
]