Stardust Crusaders - Episode 20
Jump to navigation
Jump to search
"
It's about time for your punishment, baby.
(

さあ、お仕置きの時間だよ ベイビー

)
"
Death Thirteen, Part 2 (死神13 その2, Desu Sātīn Sono 2)[1] is the twentieth episode of Stardust Crusaders and the forty-sixth episode of JoJo's Bizarre Adventure: The Animation. It covers Chapter 171 through a few pages of Chapter 174 of the manga.
The Joestar Group have crashed in the desert because of Kakyoin. Kakyoin suspects the baby Mannish Boy to be the enemy and master of Death Thirteen, but his companions believe he's going mad. Thus, he must find a way to defeat Mannish Boy on his own.
Summary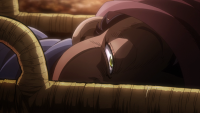 Death Thirteen's ambush continues. The group has crashed into the desert and must camp for the night. Kakyoin has become suspicious of the baby that's accompanying them but his erratic actions make the others suspect that he hasn't had all his head. While Joseph prepares a dinner for the baby, Kakyoin sees the baby kill a scorpion that had crept into his basket and begins to openly accuse him of being the enemy. However, the baby manages to hide the evidence so that the others do not believe him. After failing to convince everyone with the message on his arm, Kakyoin attempts to attack Mannish Boy, but he is knocked out by Polnareff, who believes he has gone insane. Everyone is now asleep and ready to be killed in their sleep.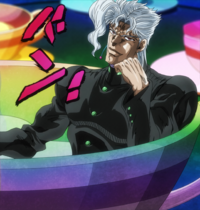 Jotaro, Joseph, and Polnareff end up in the dream amusement park, which Polnareff remembers, and where they are all subjected to the whims of Death Thirteen. Even Jotaro cannot call for Star Platinum and Death Thirteen takes pleasure in having a fake pummel Jotaro.
Fortunately for them, Kakyoin, who had summoned Hierophant Green before he was knocked out, is able to bring him into the dream world to fight against Death Thirteen. Mannish Boy attempts to use the dream world to his advantage and slice Hierophant Green in half, but Kakyoin manages to instead send his Stand into Death Thirteen's ear, forcing Mannish Boy to heal his wounds and accept defeat. The next morning, as everyone else forgets what happened in the dream, Kakyoin decides to spare Mannish Boy and leave him in a nearby town, making sure that he does not dare try anything again by mixing the child's feces into his food that Joseph later feeds him. As the group crosses the Red Sea, Joseph makes a detour towards an island to meet someone important.

Appearances
Credits
Staff
Animation Director Cooperation
(作画監督協力)
Assistant Animation Director
(作画監督補)
Assistant Action Animation Director
(アクション作画監督補)
Yuji Tsuchiya
Nozomi Sakamoto
Yoshiko Takemoto
Yoko Fukushima
Yui Kinoshita
Yuki Tsugihashi
Takafumi Mitani
Keiji Shigesawa
Eri Kojima
Toshiharu Sugie
Nagisa Takahashi
Sato Tominaga
Masashi Nomura
Akihiro Yamamoto
Hideyuki Kanesaka
Ko Seong Woon
Haru Watanabe
Tsukasa Sorimachi
Koji Maruoka
Shoji Yamada
Masashi Yamada
Masaya Sekizaki
Kyohei Oyabu
土屋 友次
(Key)
阪本 望実
竹本 佳子
福島 陽子
木下 由衣
次橋 有紀
三谷 高史
繁澤 敬二
小島 えり
杉江 敏治
高橋 渚
富永 里都
野村 雅史
山本 晃宏
金坂 秀行
Ko Seong Woon
渡邊 葉瑠
反町 司
丸岡 功治
山田 将司
山田 まさし
関崎 昌也
大藪 恭平
Sae Akama
Takahiro Okawa
Chika Ishida
Miyuki Nakayama
Daisuke Saito
Tamaki Ishii
Yuzuru Jogashima
Masami Gohda
Tomoki Uekado
Kasumi Takeuchi
Hitomi Shiroki
Kumiko Kawahara
Yuri Yamamura
Kenta Mimuro
Fumiaki Kouta
Shunichi Ishimoto
Studio Wanpack
Kino Production
Asunaro Studio
SinaionTriple A
赤間 紗枝
大川 貴大
石田 千夏
中山 みゆき
斎藤 大輔
石井 珠樹
城ヶ島 譲
郷田 真さ美
上門 友喜
竹内 花純
白木 仁美
河原 久美子
山村 有理
三室 健太
光田 史亮
石本 峻一
ワンパック
きのプロダクション
あすなろスタジオ
SINAION
Triple A
In-between Animation
(動画)
Digital In-Between Animation
Makoto Yaguchi
Mai Oshima
矢口 真琴
大島 舞
---
David Production
Yusaku Nagahama
Rie Takahashi
Chie Nakagami
長濱 佑作
高橋 梨恵
中神 智絵
---
White Line
Triple A
Sunshine Corporation
Anitus Kobe
WHITE LINE
Triple A
サンシャインコーポレーション
アニタス神戸
Design Cooperation
(デザイン協力)
David Production
Kenichi Higaki
Aiki Watanabe
檜垣 賢一
渡辺 藍希
Momomo Works
(もももワークス)
Motonobu Kawashima
Saori Goto
川島 基展
後藤 沙央里
David Production
工藤 かよ
Puavaranukroh Taweeporn
Eyecatch Illustration
(アイキャッチ原画)
Music
Manga/Anime Differences
A scene of Jotaro pondering on his journey and how much time he's left to save Holy as he looks at the Arabian night sky has been added.
Mannish Boy smoking was removed in the anime.
The number of times the fake Star Platinum bashes its own face with a frying pan is increased. A new face is also added as a likely reference to the titular character of the Anpanman series.
In other languages
Language
Title
Translation
Japanese
死神13 その2
Death Thirteen, Part 2
English
Death 13, Part 2
Spanish
Death 13 Segunda parte
Death 13 Part 2
Portuguese
Death 13 - Parte 2
Death 13 - Part 2
French
Death 13, Partie 2
Death 13, Part 2
German
Der Tod 13, Teil 2
Death 13, Part 2
Arabic
الموت، الجزء 2
The Death, Part 2
Italian
Death 13, Parte 2
Death 13, Part 2
Danish
Død 13, Del to
Death 13, Part two
Hebrew
מוות 13, חלק 2
Death 13, Part 2
Polish
Śmierć 13: część 2
Death 13: part 2
Commentary
"
Here is the next part of the fight against Death 13. In the dream world, Polnareff's haircut is abused again, it seems it will be customary (laughs). At the same time, Joseph's artificial hand and Jotaro's chain get the same treatment. To each their iconic items!
Death 13 is still terrifying with its nightmarish grim reaper looks.
For the fight resolution scene, we decided to make the sky black. And even then the theme park is bathed in a particular light with no real sunlight. That is why we chose this green sky, with a lot of hesitation.
This episode also features a white-haired Kakyoin, you couldn't have missed that. Yuko Sato, the color coordinator, really wanted to include this effect. And I must say that this color schemes makes a good contrast with the black sky of the theme park.
Then comes the scene where Kaykoin finally punishes Mannish Boy. I am deeply sorry for those who were eating at this moment...
"
Gallery
References