Devil (story arc)
Jump to navigation
Jump to search
Devil
(悪魔 Debiru)
is the seventh story arc in
Stardust Crusaders
.
It narrates the ambush of Polnareff by Devo the Cursed and his Ebony Devil just as Polnareff enters his Singapore hotel room.
Summary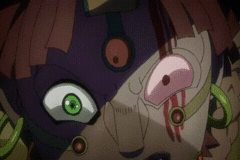 In Singapore, now accompanied by the runaway, Anne, the Joestar group decides to pass the night at a hotel.
In his room, Jean Pierre Polnareff is attacked by a famous assassin and Stand user Devo the Cursed.[1] Tricked into making Devo hate him, Polnareff has a hard battle against a demonic doll bound with Ebony Devil before finally overpowering the enemy, cutting its leg.
Polnareff demands information on the man with two right hands, but when Devo denies knowing anything about him, Polnareff completely destroys the Stand, killing Devo.
The group, unaware of Polnareff's victory, discuss a way to beat Devo before Polnareff enters the room and falls unconscious.[2]

Appearances
Stands

Chapters
Volumes
Episodes
References