Agents of DIO/pt-br
Jump to navigation
Jump to search
ALERTA DE SPOILERS: Spoilers da Parte 1 à 6 podem estar presentes abaixo.
"
Existem aqueles raros homens que não têm uma tira de bondade ... a elite do mal! Como eu ... e como você ... Então, que tal? Você vai se tornar meu servo?
"

Os Agentes de DIO (DIOの手下, DIO no Teshita)[1][TL Note 1] são a força antagonista primária dentro do universo original de JoJo's Bizarre Adventure, com seus membros aparecendo em Phantom Blood, Battle Tendency, Stardust Crusaders, Diamond is Unbreakable e Stone Ocean.
O grupo é composto de várias pessoas que Dio Brando juntou em volta dele através de puro carisma e/ou seus muitos desejos de dominação global, encontrar o "Céu", e destruir o Grupo Joestar. Mesmo após a morte de DIO, os restos de seu grupo aparecem em outras partes. Em Stone Ocean, os seguidores de DIO servem de antagonistas principais que continuam seu legado.
História
Phantom Blood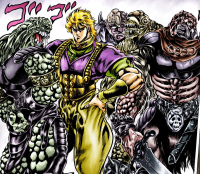 Dio conhece Wang Chan, que se torna seu subordinado leal principal após prover Dio com veneno para lentamente matar seu pai e George Joestar I. Mais tarde, Dio rouba a Máscara de Pedra da Mansão Joestar e a usa para se tornar um vampiro com o sangue de George. Ele então cria um exército de zumbis sob seu controle, incluindo Jack o Estripador, Bruford, Tarkus, Doobie, Adams, Page, Jones, Plant, e Bornnam.
O grupo de Dio foi quase exterminado pelo Grupo Joestar em Windknight's Lot durante a noite de 2 de Dezembro de 1888. Seu último servo conhecido, Wang Chan, morreu durante o afundamento de um návio que ia em direção aos Estados Unidos, deixando Dio preso dentro de seu caixão com o cadáver de Jonathan Joestar.
Battle Tendency
Embora Dio havia supostamente morrido durante os eventos de Phantom Blood e seus seguidores foram pensados terem sido mortos por Jonathan Joestar e seus aliados, alguns de seus capangas sobreviveram, incluindo um were some minions that survived, incluindo um zumbi sanguessuga, que se disfarça como um líder importante dentro da Força Aérea Real

. Ele é mais tarde morto por Lisa Lisa como vingança pela morte de George Joestar II.
Após presenciar o poder dominativo de Dio cinquenta anos atrás, Straizo é não-intencionalmente convencido pelas ações de Dio a trair o Grupo Joestar e se tornar um vampiro para ganhar juventude eterna. Adicionalmente, Kars é revelado como o homem responsável pela criação das máscaras de pedra que levaram à ascensão de Dio.
Stardust Crusaders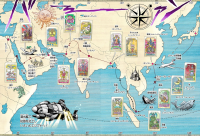 Nearly a hundred years later in 1983, DIO resurfaces when his coffin is pulled out of the ocean's depths by a group of treasure hunters. He obtains a Stand from Enya the Hag when Diavolo sells his five Arrows to Enya. With Enya as his adviser, DIO forms a new group, mainly consisting of human Stand users and only a few Vampires. In secret, he befriends a priest named Enrico Pucci and unknowingly impregnates four women with his children. He recruits members from all around the world who are primarily mercenaries, and manipulates many of them with large sums of money like Hol Horse and also has a number of devoted followers, like N'Doul, Enya the Hag or Vanilla Ice. For more hesitant or untrustworthy followers, such as Noriaki Kakyoin and Jean Pierre Polnareff, DIO uses flesh buds to enthrall them. However, even Enya had a spore secretly implanted in her brain.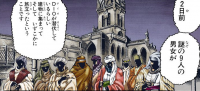 During the fifty days it takes for the third Joestar Group to travel to Egypt, DIO's minions are defeated one at a time as they attempt to assassinate the Joestars. Although DIO fails to achieve his goal and the majority of his group is defeated once again, he and Vanilla Ice succeed in killing half of the Joestar Group before their deaths. After Jotaro and Joseph leave DIO's body out in the desert to evaporate with the rising sun, Jotaro finds DIO's Diary and learns of what DIO had planned. Considering the journal dangerous, Jotaro burns it so that no one else could ever read it.
While some members of DIO's group are confirmed to be deceased, the fates of the other agents are unknown after their defeats.
Diamond is Unbreakable
Yoshihiro Kira and Mr. Nijimura were recruited by DIO in the past and both retrieved a Bow and Arrow from Enya. As a result, many citizens of Morioh gained Stands, including the sons of the aforementioned.
Due to DIO's death, the flesh bud inside Nijimura bursts and he suffers from a horrific transformation leaving him unable to die. Yoshihiro defects from DIO's group and turns his attention to helping his son achieve his goals instead.
Whereas Mr. Nijimura befriends Morioh's Joestar group, Yoshihiro and his son are killed during the battle with Josuke Higashikata and his allies.
Vento Aureo
Around 12 years after Polnareff is freed from DIO's brainwashing and leaves the organization, he becomes an ally of DIO's son, Giorno Giovanna. During the fight against Diavolo, Polnareff is killed just as his Stand goes out of control. However, due to his Stand's new ability, Polnareff's soul is swapped with a turtle's and he remains living despite his original body dying.
Stone Ocean
The final remaining servants of DIO's group are Enrico Pucci and Johngalli A. with the goal of avenging DIO by killing Jotaro Kujo and his daughter, Jolyne Cujoh. Pucci desires to continue DIO's dream of finding Heaven and recruits DIO's sons (except Giorno) as well as the prison staff and inmates to help him defeat the Joestar Group. Pucci prefers to hide his identity and thus prefers to interact with his agents through Whitesnake. He's sometimes directly instructed other inmates such as Miraschon but on these occasions he erases the memories of said agent in case they are defeated and someone looks at their memory. Pucci does interact directly with DIO's sons.
Pucci does succeed in killing the Joestars and their allies, and almost manages to create a world where everyone will see their Fate just as DIO wanted. However, Emporio kills him before he is able to do so, making the world free of DIO's influence. In the alternate universe, the deceased Joestars and their friends are reborn as alternative counterparts, with different lives and memories.
Like the previous incarnation of the group, while some of its members are confirmed deceased, the fates of other members are left ambiguous, including the fate of Dio's sons, Ungalo and Rikiel.
Members
Dio Brando's Zombies
SPOILER WARNING: Part 1-2 Spoiler details may follow.
DIO's Agents
SPOILER WARNING: Part 3-6 Spoiler details may follow.
Pucci's Agents
SPOILER WARNING: Part 6 Spoiler details may follow.
Non-Canon Agents
Heaven Ascension DIO's Agents
In JoJo's Bizarre Adventure: Eyes of Heaven, Heaven Ascension DIO manages to possess various allies throughout the 8 parts of JoJo's Bizarre Adventure to try and attack the Joestar Group. While Diego Brando and Dio Brando were originally in alliance with Heaven Ascension DIO, Diego said to Jotaro Kujo that their alliance is only temporary and they'll eventually finish him off once and for all.
Below are a list of all of the characters who were possessed by Heaven Ascension DIO, or were in alliance with him without being possessed.
Heaven Ascension DIO's Agents
Enemies
See also
Translation notes
↑

O nome "Agentes de DIO" nunca foi reconhecido como oficial e não deve ser tratado como tal e sim como uma denominação factual que foi usada dentro do cânon.
References