Enrico Pucci
Jump to navigation
Jump to search
"
Au nom de Dieu, je vais te détruire ! (神の御命においてしりそける!Kami no mimei ni oite shiri so keru!)
"
Enrico Pucci (エンリコ・プッチ, Enriko Putchi) est l'antagoniste principal de la sixième partie de JoJo's Bizarre Adventure, Stone Ocean, et est le conquième antagoniste principal de la série.
Fidèle adepte et ami de DIO, Pucci aspire à mettre en œuvre un plan élaboré depuis longtemps par DIO pour "atteindre le paradis". Travaillant comme aumônier

à Green Dolphin Street, il fait secrètement accuser Jolyne Cujoh de meurtre et l'utilise comme appât pour attirer Jotaro Kujo et voler ses souvenirs du Journal de DIO.
Pucci est un manieur de Stand et manipule l'esprit et l'âme à travers son Stand, Whitesnake.
Apparence
Pucci est un homme à la peau foncée de taille moyenne à supérieure à la moyenne et de taille mince.
Pucci a des cheveux blancs très courts avec des lignes rasées formant deux hexagones allongés de cheveux entre son cuir chevelu et ses tempes, joignant chaque sourcil avec une mèche de cheveux en zigzag. Dans les premières apparitions, l'autre côté de ces hexagones rejoignait le reste des cheveux avec une autre mèche de cheveux en zigzag et des lignes rasées formaient un triangle derrière chaque oreille de manière à ce que la plus grande masse de cheveux forme un grand signe "plus" à l'arrière de sa tête. Les apparitions ultérieures ont les lignes rasées de chaque hexagone se rejoignant et allant à la base de son crâne en formant une ligne à un chevron. Il a des favoris minces, s'étalant au bord du milieu de sa mâchoire.
Dans les premières représentations, ses iris étaient divisés avec une croix.
Pucci porte une robe mince et noire, dans le style d'un vêtement de prêtre. Une croix dorée est imprimée sur le torse, couvrant sa poitrine et parcourant la longueur de la robe avec deux doubles croix dorées aux poignets de ses manches. La robe est accompagnée d'un pantalon qui coûterait 800 $[6] et des mocassins. Il a ensuite ajouté une ceinture sur sa robe.
Pucci de la nouvelle lune
Après avoir fusionné avec le bébé vert, l'apparence de Pucci changes en plusieurs points superficiels.
Des mèches de cheveux se joignent à ses sourcils, formant une étoile à cinq branches sur son front et ses favoris droits se joignent à lui. Ses cheveux changent de design avec trois lignes rasées allant de sa tempe gauche à la base de son crâne. Il fait pousser des queues de cheval ou des dreadlocks, qui s'enfilent dans les trous de son collier.
Une tâche de naissance Joestar en forme d'étoile apparaît sur son épaule.[7]
Dans les premières représentations, ses cils se transforment en pointes et sa peau est recouverte de lignes comme le bébé vert et il remplace sa ceinture précédente par une double ceinture beaucoup plus grande, et ses poignets ont maintenant des bandes dorées. Il a cinq queues de cheval, ses favoris ont 4 lignes allant à ses sourcils avec une allant au sourcil gauche et les lignes rasées suivent le haut de son cuir chevelu.
Les représentations ultérieures n'ont que 3 queues de cheval, 3 lignes reliant ses favoris à son sourcil droit et les lignes rasées suivant sa tempe gauche.
Palettes
Les palettes changent souvent entre les médias. L'information ci-dessous ne devrait pas être considérée comme canonique.
Tenue
(Robe violette avec des pierres rouges sur le col et une croix dorée sur le devant, une ceinture bleue avec des décorations dorées et des chaussures noires.)
Tenue
(Robe violette avec des décorations dorées sur le col et une croix dorée sur le devant, une ceinture dorée et des chaussures olive.)
Tenues
(Robe violette avec des décorations dorées sur le col et une croix dorée sur le devant, une ceinture dorée et des chaussures noires.)
Personnalité
"
2...3...5...7...11...13...17...19.... Du calme... Compte les nombres premiers pour t'occuper la tête... Un nombre premier sont solitaire, ils ne se divisent que par 1 et eux-mêmes... Celà me donnera du courage...
"
Le prêtre Enrico Pucci est un fanatique dévoué à une interprétation hérétique de la volonté de Dieu, et au plan de DIO.
Adolescent, Enrico Pucci était un homme de bon cœur, qui faisait de son mieux pour suivre sa foi de futur prêtre. Même alors, Pucci était déjà intéressé par le destin car il était curieux de savoir pourquoi il vivait alors que son frère jumeau Domenico Pucci était mort. Ces questionnements l'ont incité à vouloir devenir prêtre et à chercher des réponses.[8] Lorsqu'une série tragique d'événements a conduit au suicide de sa sœur bien-aimée Perla, Pucci est tombé dans le désespoir, puis est allé consulter DIO, qu'il avait rencontré auparavant.[9]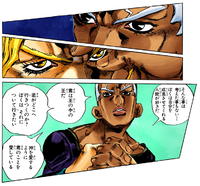 Enrico Pucci est alors devenu un croyant radical après avoir fréquenté DIO, dont le principal credo était que les humains étaient impuissants devant de nombreuses forces qui régnaient sur l'Univers. Parmi ces forces, la volonté et le destin de Dieu - que Pucci surnomme «gravité» - ont été les plus évoqués. L'histoire de Pucci, pleine de coïncidences quasi-impossibles et de rebondissements du destin, et la mort de Perla dont la responsabilité ne pouvait être imputée à personne en particulier, ont amorcé sa croyance.[9] Sujet aux bavardages , probablement un relent de ses nombreuses discussions avec DIO, Pucci apporte souvent plusieurs anecdotes pour alimenter sa parole: observant Miraschon essayer de voler une croix d'or, Pucci a expliqué comment Miraschon ne pouvait pas échapper à sa nature.[10] De la même manière, Pucci a expliqué à Jolyne comment une certaine espèce d'hirondelles téméraires mourrait jeune parce qu'elle ne réalisait pas ses limites, une métaphore de la lignée Joestar.[11] En mélangeant cette croyance avec le plan de DIO pour "atteindre le paradis", Pucci a cherché à faire connaître à chaque être humain son destin avec le pouvoir de Made in Heaven et à leur donner le "résolution" d'accepter leur sort, le qualifiant de "bonheur". Essentiellement, Pucci souhaitait que les humains réalisent qu'ils ne pouvaient pas combattre le destin et les mettre en paix avec leur statut d'esclaves du destin.[12]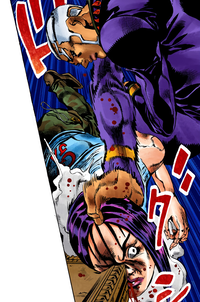 Dans sa quête pour atteindre le paradis, Pucci a utilisé de nombreuses méthodes immorales dont le meurtre, la manipulation et la corruption. Pucci était particulièrement insensible aux vies humaines, considérant qu'il travaillait de toute façon pour le plus grand bien et que ces sacrifices étaient insignifiants. Le plan de DIO comprenait notamment le sacrifice de 36 vies humaines, et Pucci a également cherché à assassiner quiconque croiserait son chemin, même Emporio Alniño qui était un enfant sans défense et a utilisé des sbires qu'il recruterait avec manipulation ou promesses de faveurs en tant que prêtre de Green Dolphin Street. Les tactiques sournoises ne sont pas en dessous de lui: Pucci favorise l'imposition de choix cruels à ses ennemis, par exemple en jetant le DISC de mémoire de Jotaro dans Anasui qui était en train de mourir[13] et demandant à Jolyne si elle voulait l'arrêter ou sauver Jotaro, car le DISC disparaîtrait si Anasui mourrait. Pucci força Jotaro à faire un choix similaire dans sa bataille finale.[14]
En général, Pucci est une personne amorale, n'ayant aucun scrupule à être violent (par exemple il écrase la face de Miraschon contre une table après avoir découvert son vol)[15] ou à collaborer avec divers criminels, les considérant comme des pions pour faire avancer ses plans. En tant que fanatique religieux, Pucci n'aime ni ne déteste les nombreux actes immoraux qu'il commet, se concentrant sur son plan avant tout. Comme le prévoyait DIO, son ami Pucci ne s'intéresse aucunement aux préoccupations matérielles telles que la richesse ou le sexe, et ses seules motivations sont son amitié avec DIO et sa croyance[16] bien que, lors de leur première réunion, DIO ait remarqué un mal naissant chez le prêtre qui lisait un livre sur un ecclésiastique qui commettait un adultère et qui fuyait son bureau pour devenir un artiste.[9] Dans ses efforts d'obtenir les plans de DIO, il a sacrifié Johngalli A, le seul de ses alliés d'origine à gauche et le fils de DIO Donatello. Son frère jumeau Wes lui a dit, quand il a retrouvé la mémoire, qu'il était "le pire des maux: un homme mauvais qui ne savait pas qu'il était mauvais".[17]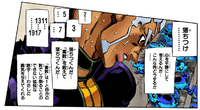 D'un naturel plutôt réservé, Pucci est devenu de plus en plus exalté à mesure que son plan approchait de son achèvement, ayant des explosions occasionnelles d'enthousiasme et célébrant la conception du bébé vert. Avant d'acquérir Made in Heaven, Pucci était une personne anxieuse et avait l'habitude de réciter les nombres premiers[18] ce qui le calmait grâce à leur indivisibilité. En éveillant Made in Heaven, Pucci est devenu extrêmement confiant et a commencé à exprimer ses émotions plus librement, exaspéré par la persistance de Jolyne à lui résister et criant avec colère son nom lorsqu'elle entravait son chemin.[19]
Fait intéressant, le premier stand de Pucci Whitesnake possède sa propre personnalité qui peut être décrite comme méprisante et vicieuse. Whitesnake exprime les émotions intérieures de Pucci plus librement que son utilisateur, notamment sa colère.
Pucci apprécie "Messiah"

, un oratorio du compositeur anglais George Frederic Handel, et on le voit emporter le disque de musique avec lui.

Pouvoirs et compétences
Whitesnake
Main article: Whitesnake
Whitesnake est le premier Stand de Pucci. Il peut voler et manipuler l'âme des gens sous la forme de disques. Il peut aussi produire des illusion qui piègent ses victimes dans un rêve et un acide qui dissout lentement des gens.
Whitesnake
(ホワイトスネイク)


Pouvoir(s)
Création de Disques, Illusions
Whitesnake va évoluer en deux Stands supplémentaire durant Stone Ocean.
C-Moon
Main article: C-Moon
Pucci développe grâce aux instruction dans le Journal de DIO et avec l'os de DIO. C-Moon manipule la gravité, créant un champ antigravitationnel autour de Pucci et pouvant faire imploser les objets qu'il frappe de ses poings.
C-Moon
(シー・ムーン)


Pouvoir(s)
Manipulation Gravitationnelle
Made in Heaven
Main article: Made in Heaven
Pucci éveille finalement Made in Heaven en complétant le plan de DIO. Made in Heaven accelére le temps, ce qui aboutit à la fin de l'univers et la naissance d'un autre univers.
Made in Heaven
(メイド・イン・ヘブン)


Pouvoir(s)
Accélération du Temps
Compétences personnelles
Pucci est capable de faire un noeud de queue de cerise avec sa langue.
Relations
Alliés
Ennemis
Relations dans Over Heaven
(Ce qui est décrit dessous n'a pas été écrit par Araki et ne devrait pas être considéré canon.)
Chapitres

Apparitions Manga
Apparition dans les chapitres
Citations

Citations
"
The difference between man and animal... it's the desire to "go to Heaven". Humans think about it...However, dogs and parrots can't grasp this concept. The idea of "Heaven". Humans should spend their lives trying to attain "Heaven". That is the beauty of humans.
"
"
To do something for others is usually built upon what you can benefit from it. To be kind to others is to expect kindness from others as well. There is no such thing as unconditional love. Unconditional love is the expectation that you will eventually go to Heaven.
"
"
2...3...5...5...11...13...17...19.... prime numbers are solitary numbers that can only be divided by 1 and themselves... they give me strength.
"
"
Shit! There are frogs on my $800 pants.
"
"
You frightened me there for a second... but there is no way that mere frogs can defeat a snake.
"
"
I'm going to obtain the way to Heaven! Celebrate it... what was born here is Heaven itself. Celebrate the dawning of the new world...!
"
"
The reason that people fail... is due to the feeling of shame. People die because of shame. They think that they could have done things differently in the past, or they wonder why they did the things that they did. Because of their regrets, people feel shame. They slowly become weak and they fail. It wasn't a mistake on my part for not noticing that she stole the guard's radio. This is a test... I have to turn things over in my favor, to earn my victory.
"
"
I've never even thought of [betraying you]. I like people who help me, encourage my growth... You are the king of kings. Where will you end up? I want to see it through to the end. I love you as I love God.
"
"
Now I can finally enter your world, DIO!!!
"
"
Do you believe in gravitational forces between humans? That certain people attract certain others? I believe this, now.
"
"
To be born is to be chosen. And the chosen one, even in his struggle against the others, is merely being pushed upwards and even protected by the fighting figures beneath it. The people who are drawn to me through Fate! They exist only to push me upwards towards my goal, attaining Heaven! If Jolyne Cujoh has truly escaped from prison and is heading towards me... she will merely become another existence that I will have to step over!
"
"
If you're still unable to see your ability, that can't be helped. Don't try to struggle against things which are beyond your understanding. To get to Heaven, you must ally yourself with those unseeable powers.
"
"
Versus! You're nothing more than a shack made of straw! Don't think that you can invade upon the fortress that DIO and I have created!
"
"
Don't you dare act out of your lowly and insignificant feelings! Humans must strive to attain Heaven! The one who strives to find it will be able to lead all of mankind to it.
"
"
"Domine quo vadis?" You're going to be crucified!!!
"
"
Every beginning originated from gravity! Even this Earth began with gravity! Because of gravity this Earth continues to revolve! On this Earth... where am I headed?! What is going to happen next...?! Within my body and my spirit, gravity exists! And it must also exist, at the end of it all...!
"
"
Our Lord Jesus Christ was fated to be put on the cross. Our Holy Mother Mary was fated to lose her son. In order for humans to attain happiness, they have to overcome destiny... And for DIO and I, the thing we must overcome is the Joestar bloodline!
"
"
It can't be, the Joestar bloodline... the Kujo bloodline! Is that what is trying to hinder me, and DIO's plans?!
"
"
To me, you are less significant that Sun Wukong flying around the Buddha's hand.
"
"
The time for Heaven has finally arrived...
"
"
Two steps. You were late by two steps... The Joestar bloodline drew strength from their pride and courage to conquer their fate... but! The weakness is also in their blood. Jotaro Kujo, your daughter is your weakness.
"
"
A new world! Humanity has finally reached a common end... a new dawn!
"
"
You might think that knowing the ill fortunes of the futures is despair, but it's the opposite! Even if you knew you were going to die tomorrow, it is this resolution that makes one happy! One's resolution eradicates despair! Humanity will change! This is what is strived for! This is Made in Heaven!
"
"
In the name of God, I will smite you! Your actions, Emporio... you're just making so your screams become the trumpets of Hell!
"
"
In front of my honorable ambitions, realize your insignificance as you crumble away!
"
"
Stop!!!!! You don't understand anything!!! You insignificant brat!!! Aaghhhh!!!!
"

Citations
"
God is the word. The word has meaning. Thus, everything in this world has meaning.
"
Détails
Références