Johngalli A.
Jump to navigation
Jump to search
"
Les scientifiques prétendent que les mouvements de l'air ne peuvent être prédits. C'est un fait. En revanche, rien n'empêche de lire en eux.
"
Johngalli A. (ジョンガリ・A, Jongari Ē) est un antagoniste secondaire de la sixième partie de JoJo's Bizarre Adventure, Stone Ocean. Il apparaît dans l'arc narratif "Le Visiteur".
Johngalli A. est un tireur d'élite aveugle et le responsable direct de l'incrimination de Jolyne Cujoh et son incarcération dans la Prison de Green Dolphin Street. Il est l'un des derniers Agents de DIO et un manieur de Stand dont le Manhattan Transfer peut lire les courants d'air. Johngalli A. tend un piège à Jolyne et Jotaro Kujo et essaie de les abattre avec son Stan et son fusil sniper.
Apparence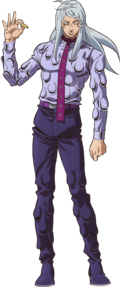 Johngalli A. est un homme de taille supérieure à la moyenne et une carrure moyenne. Il a de longs cheveux raides de couleur claire, avec une petite natte sur le côté gauche de la face. Il a une sorte de tatouage donnant l'impression d'une entaille avec de l'encre qui coule sous ses yeux. Johngalli a la cataracte et ses yeux sont blancs laiteux, le rendant aveugle.[3] Il a aussi un tatouage de la planète Terre sur le dos.
Johngalli porte une simple chemise et un pantalon de couleur sombre. Sa chemise est parsemée de coupe qui font un cercle presque complet, ce qui causent la présence d'un certain nombre de bouts de tissu circulaires pendant de son haut. Il porte aussi une cravate trouée le long du milieu et au bout carré.
Palettes
The series is known for alternating colors between media, the information presented below may or may not be canon.
Peau
(Peau claire, tatouages noirs.)
Yeux(Blanc laiteut (dû à la caratacte))
Tenue
(Chemise bleu bébé, cravate magenta avec boutons gris, pantalon bleu marine.)
Peau
(Peau claire, marques et tatouages noirs)
Tenue
(Chemise lavande, cravate violette avec boutons violet clair)
Personnalité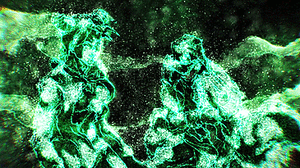 Johngalli A. est un des loyaux serviteurs de DIO, et a coopéré avec Enrico Pucci après la mort de DIO pou se venger de Jotaro Kujo. A un moment, on voit Johngalli A. exprimer son désir de venger DIO parce que selon lui, la famille Joestar lui aurait dérobé le support de son coeur, DIO.[4] Cependant, comme la majorité des scènes de Johngalli A. se passent lorsque Jolyne et Jotaro étaient dans un état comateux, vivant alors un rêve convaincant.
Johngalli A. fera tout ce qu'il faut pour atteindre son objective. Dans son désir de vengeance contre la Famille Joestar, Johngalli A. exécute un plan élaboré pour que Jolyne Cujoh soient faussement condamnée pour meurtre et envoyée dans la Prison de Green Dolphin Street pour attirer Jotaro Kujo dans un piège[5] sachant que lui et Enrico Pucci étaient postée depuis un long temps dans cette prison. Johngalli A. est impitoyable et n'hésite pas à vouloir tirer sur Emporio Alnino, un petit garçon[6] ou bien sur un garde de la prison pourvu qu'il atteigne les Joestar.[7]
Johngalli A. est un ancien soldat et a été condamnée à 7 ans ferme pour meurtre.[8] En tant que sniper, Johngalli est de tempérament plutôt calme et méthodique au combat, analysant les courants d'air et estimant la trajectoire de ses balles avec précaution avant de tenter de tuer ses ennemis d'un tir.[9]
Pouvoirs et Compétences
Main article: Manhattan Transfer
Le Stand de Johngalli A. est Manhattan Transfer, un petit satellite flottant qui lui permet de lire les courants d'air. Ainsi, il peut lire les mouvements de l'air et en déduire la position de ses cibles. Manhattan Transfer peut aussi ricocher les balles.
Johngalli A. est aveugle, mais est tout de même un sniper expérimenté. Il porte avec lui un fusil sniper qu'il déguise en canne.
Manhattan Transfer
(
マンハッタン・トランスファー
)


Pouvoir(s)
Détecteur de turbulences, redirection des balles.
Histoire
Passé
Johngalli A. était l'un des serviteurs de DIO, étant fanatiquement dévoué au Vampire. Johngalli était aussi un ancien soldat tireur d'élite, et a développé une cataracte qui l'a rendu pratiquement aveugle.
Voulant venger la mort de DIO et tuer Jotaro Kujo, Johngalli se fit condamner pour meurtre exprès et fut emprisonné dans la Prison de Green Dolphin Street tandis que son allié Enrico Pucci y devenait un aumônier. Johngalli ordonna alors à plusieurs criminels de jeter un homme quelconque sur une route de telle façon que Romeo Jisso et Jolyne Cujoh lui roulent accidentellement dessus. Johngalli paya aussi un avocat véreux pour devenir l'avocat de Jolyne et s'assurer qu'elle perde son procès pour meurtre, l'emprisonnant aussi à Green Dolphin Street dans l'espoir d'attirer Jotaro.
Le Visiteur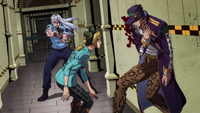 Le jour où Jotaro Kujo se présente pour rendre visite à sa fille, Johngalli A. et Enrico Pucci démarrent leur plan pour vaincre Jotaro. Johngalli A. est dans la douche des hommes, attendant le bon moment pour se poster au bon endroit pour tendre une embuscade. Pendant ce temps, Whitesnake piège Jotaro et Jolyne dans un rêve. Les Joestars parviennent cependant à se réveiller et Jotaro mène alors Jolyne dans les couloirs pour s'évader de prison.
Johngalli A. se déguise alors en garde et part vers les salles de visites. Croisant Jotaro et Jolyne, il tire sur un garde pour se débarrasser d'un témoin mais révèle aussi son jeu. Johngalli A. tire tandis que son Stand Manhattan Transfer flotte derrière un pilier pour faire ricocher les balles à un moment opportun. De plus, Whitesnake surgit de derrière pour encercler Jotaro. Jotaro choisit de sauver Jolyne des balles de Johngalli mais s'expose à Whitesnake, qui lui vole alors les DISQUES mémoire et Stand. Johngalli A. s'apprête à vider son chargeur sur Jolyne, mais celle-ci créé un filet spécial pour dévier les balles, puis fait tournoyer Johngalli en lui ligotant les pieds et en tirant sur le fil. Désorienté, Johngalli feint de se rendre mais tire en fait vers le haut vers Manhattan Transfer, qui est allé au plafond. Jolyne va cependant lui asséner une volée de coups et le vainc. Elle le laisse à terre et essaie de s'enfuir avec Jotaro.
C'est alors que Whitesnake prend le pistolet de Johngalli A., qui lui demande de vite le ramener au quartier des hommes pour qu'on le soigne. Whitesnake lui tire dessus afin de faire croire à un suicide. Ainsi, Enrico Pucci s'assure que l'on ne pourra pas remonter sa trace à travers Johngalli A.
Chapters / Episodes

Apparitions Manga
Apparition dans les chapitres

Apparitions Animé
Apparitions dans les épisodes
Citations

Citations
"

Muscles can't be trusted. When skin is exposed to the wind, muscles become stressed and begin to subtly expand and contract. The body can't control these movements. A rifle should be supported with bone. Bones sense the stability of the ground and unify the gun with it. That's the kind of anchorage one can trust.

"

"

Meteorologists sat the wind's movements are unpredictable. They have a point. But the wind isn't completely unreadable. Is this fly just flying around aimlessly? No. It's sensing scents and the flow of the air as it flies. The fly's movements are the wind.

"

"

My Stand, Manhattan Transfer, is completely tracking your movements inside that meeting room! The time has come to finish off your bloodline! Now my life can finally begin! You robbed my heart of its support, and for that, I must take revenge!!

"

"

Target changed to Jolyne! Full body confirmed! Locked on the head! Shoot!

"
Galerie d'Images
Références
↑ [citation needed]
↑ SO Chapter 12: The Visitor, Part 2
↑ SO Chapter 14: The Visitor, Part 4, p.8
↑ SO Chapter 12: The Visitor, Part 2, p.10
↑ SO Chapter 15: The Visitor, Part 5, p.3-4
↑ SO Chapter 18: The Visitor, Part 8, p.9
↑ SO Chapter 21: Ermes's Sticker, Part 1 tailpiece, Johngalli A.'s bio
↑ SO Chapter 15: The Visitor, Part 5, p.3, p.14; SO Chapter 14: The Visitor, Part 4, p.8