Journal de DIO
Jump to navigation
Jump to search
Le Journal de DIO (DIOの日記, DIO no Nikki), aussi connu sous le nom de La voie vers le Paradis (天国へ行く方法, Tengoku e Iku Hōhō) est un artefact clé apparaissant dans la sixième partie de JoJo's Bizarre Adventure, Stone Ocean.
Jotaro Kujo trouve ce journal après les évènements de Stardust Crusaders, l'examina, et le brûla car il le considérait dangereux. Cependant, le journal continue de jouer un rôle important car Enrico Pucci est capable de voler les souvenirs de Jotaro sous la forme d'un DISQUE et donc de consulter indirectement le Journal.
Le Jounal contient des instructions pour permettre d'atteindre le paradis.
Sommaire
Comme Jotaro se le remémore, le journal de DIO contient les mots suivants :[1]
"
Il faudra mon Stand "
The World
".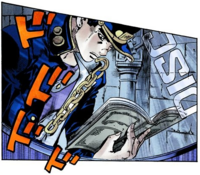 Le chemin pour devenir bien plus qu'un être humain passe par lui. Il faudra un ami de confiance. Quelqu'un capable de contrôler ses propres désirs, quelqu'un d'intéressé ni par la fortune, la renommé ou le sexe... Quelqu'un plaçant la volonté de Dieu au-delà des lois humaines... Mais pourais-je, moi DIO, trouver une telle personne ?
Il faudra la vie de plus de trente-sic humains ayant commis des péchés, parce que l'âme de pécheurs contient plus de force...
Il faudra retenir 14 phrases :
Escalier en spirale (

らせん階段

Rasen Kaidan)
Scarabée rhinocéros (

カブト虫

Kabutomushi)
Ville en ruines (

廃墟の街

Haikyo no machi)
Tarte aux figues (

イチジクのタルト

Ichijiku no taruto)
Scarabée rhinocéros (

カブト虫

Kabutomushi)
Via Dolorosa (

ドロローサへの道

Dororōsa e no michi)
Scarabée rhinocéros (

カブト虫

Kabutomushi)
Point de singularité (

特異点

Tokuiten)
Giotto (

ジョット

Jotto)
Angel (天使 Enjeru)
Hydrangea (

紫陽花

Ajisai)
Scarabée rhinocéros (

カブト虫

Kabutomushi)
Point de singularité (

特異点

Tokuiten)
Empereur secret (

秘密の皇帝

Himitsu no Kōtei)
Je vais graver ces mots dans mon Stand pour ne pas les oublier.
Il faudra du courage, le courage de détruire mon Stand provisoirement... afin de lui permettre d'absorber les âmes des trente-six pécheurs... pour donner naissance à quelque chose de nouveau... Ce qui naitra s'éveillera... Il reconnaîtra les quatorze phrases que mon ami prononcera... mon ami me fera confiance et je deviendra son ami...
La dernière chose qu'il faudra, c'est un endroit... 28°24' de latitude Nord, 80°36' de longitude Ouest. C'est là-bas, à la nouvelle
lune
que
le temps du Paradis
viendra...
"
"
必要なものは『わたしのスタンド』である。
『ザ・ワールド』
。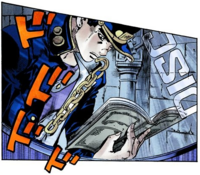 我がスタンドの先にあるものこそが人間がさらに先に進むべき道なのである。必要なものは信頼できる友である。彼は欲望をコントロールできる人間でなくてはならない。権力欲や名誉欲金欲のない人間で。彼は人の法よりも神の法を尊ぶ人間でなくてはならない。
いつかそのような者にこのDIOが出会えるだろうか?
必要なものは『極罪を犯した36名以上の魂』である。罪人の魂には強い力があるからである。
必要なものは『14の言葉』である:
わたし自身を忘れないようにこの言葉をわたしのスタンドそのものに傷として刻みつけておこう。必要なものは『勇気』である。わたしはスタンドを一度捨て去る。『勇気』を持たなければならない。朽ちていくわたしのスタンドは36の罪人の魂を集めて吸収。そこから『新しいもの』を生み出すであろう。
「生まれたもの」は目醒める。信頼できる友が発する14の言葉に知性を示してい…『友』はわたしを信頼しわたしは『友』になる。
最後に必要なものは場所である。北緯28度24分西経80度36分へ行き…
次の「新月」の時を待て……
それが
『天国の時』であろう
……
"
"
Hitsuyōna mono wa "Watashi no Sutando" dearu. "
Za Wārudo
".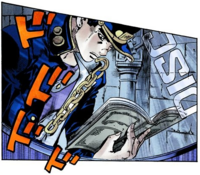 Waga Sutando no saki ni aru mono koso ga ningen ga sarani saki ni susumubeki michina no dearu. Hitsuyōna mono wa shinraidekiru tomo dearu. Kare wa yokubō o kontorōru dekiru ningen de nakute wa naranai. Kenryoku yoku ya meiyo yoku kin'yoku no nai ningen de. Kare wa hito no hō yori mo kami no hō o tattobu ningen de nakute wa naranai.
Itsuka sono yōna mono ni kono DIO ga deaeru darou ka?
Hitsuyōna mono wa "Kyoku-tsumi o okashita sanjūroku-mei ijō no tamashī" dearu. Tsumibito no tamashī ni wa tsuyoi pawā ga arukara dearu.
Hitsuyōna mono wa "Jūyon no kotoba" dearu:
Rasen Kaidan
Ichijiku no taruto
Kabutomushi
Kabutomushi
Enjeru
Kabutomushi
Tokuiten
Himitsu no Kōtei
Watashi jishin o wasurenai yō ni kono kotoba o watashi no Sutando sonomono ni kizu to shite kizamitsukete okou. Hitsuyōna mono wa "Yūki" dearu. Watashi wa Sutando o ichido sute saru. "Yūki" o motanakereba naranai. Kuchite iku watashi no Sutando wa sanjūroku no tsumibito no tamashī o atsumete kyūshū. Soko kara "Atarashī mono" o umidasu dearou.
'Umareta mono' wa me sameru. Shinraidekiru tomo ga hassuru jūyon no kotoba ni chisei o shimeshi tei… "Tomo" wa watashi o shinraishi watashi wa "Tomo" ni naru.
Saigo ni hitsuyōna mono wa basho dearu. Hokui nijūhachi-do nijūyonpun seikei hachijū-do sanjūroppun e iki…
Tsugi no 'Shingetsu' no toki o mate…
Sore ga '
Tenkoku no toki' dearou
…
"
Galerie d'Images
References
Eléments correspondant dans la Partie 6
L'"ami de confiance" que désirait DIO est Enrico Pucci.
Les trente-six âmes de pécheurs seront prises parmi les détenus du quartier disciplinaire de la Prison de Green Dolphin Street.
Les 36 prisonniers sont transformés en arbres, d'où ressort Le Bébé Vert.
Après la naissance du Bébé Vert, ce dernier peut reconnaitre les 14 mots de Pucci et fusionne avec ce dernier.
When born, the "14 phrases" indeed induce an effect on the Green Baby.
"Les coordonnés "latitude 28 degrés, 24 minutes Nord, longitude 80 degrés, 36 minutes Ouest", plus la nouvelle lune, correpsondent au Centre Spatial Kennedy
Le temps du Paradis se réfère à l'avènement de Made in Heaven, et aux conséquences de son pouvoir pour l'humanité.
Détails
On ne sait pas comment DIO a pu déterminer le moyen de détruire son Stand, absorber les âmes d'autres personnes pour obtenir son homonculus et de recréer un Stand différent.
La méthode employée par Enrico Pucci fonctionne grâce à l'Os de DIO qui contient un petite portion de l'esprit de DIO et donc son pouvoir Stand. Ressuscité par Sports Maxx et son Limp Bizkit, l'Os semble manifester sa propre volonté.
DIO mentionne qu'il a gravé 14 mots sur son Stand, The World, pour qu'il ne les oublie pas. On ne sait pas comment DIO aurait pu graver ces phrases ou comment il les a caché.
Le Journal de DIO est présenté dans une forme complète dans le roman de fiction JoJo's Bizarre Adventure Over Heaven, qui est sensé être une restauration du journal.

Selon Over Heaven, les 14 mots choisis par DIO ont été choisis à partir d'une berceuse que sa mère lui chantait.
Références