Doobie
Jump to navigation
Jump to search
"
I bit 'em! I bit 'em! Bit 'em lots! (
噛んじゃった!噛んじゃった!いっぱいかんでやったぜーッ
Kan jatta! Kan jatta! Ippai kan de yatta ze!
)
"
Doobie (怪人ドゥービー, Kaijin Dūbī, lit. "Doobie le fantôme") est un antagoniste tertiaire figurant dans la première partie de JoJo's Bizarre Adventure, Phantom Blood.
Doobie est un Zombie particulièrement monstrueux au service de Dio Brando. Alors qu'il essaie d'attaquer la Soeur de Poco, Jonathan Joestar vient la défendre et un combat entre eux s'ensuit.
Apparence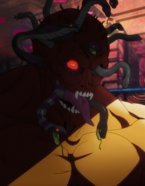 Doobie est un
Zombie
musculeux avec une grande taille et très large. Il possède des griffes et des crocs. Lorsqu'il apparait, Doobie porte un sac qui lui couvre le visage avec deux seuls petits trous pour ses yeux. Le sac cache son visage horrible. Il est chauve, mais en plus son crâne sert de nid pour des serpents venimeux. Il porte aussi une casquette gavroche sur la tête et une écharpe. Sur son corps, il porte des brassards et des manchettes de cuir, des épaulières, une large ceinture à la taille et des protège-tibias en tissus. Cependant, son torse est laissé à découvert. Il semble que son corps soit couvert de liquide, pour une raison inconnue.
Le crâne de Doobie est partiellement évidé, ce qui lui permet d'abriter non seulement des serpents mais aussi des vers dans sa tête, ces derniers sortant du haut de son crâne comme des cheveux. Il a notamment le trou d'oeil gauche évidé pour laisser la place à un serpent, ainsi qu'un large trou au front. Doobie a des cernes très prononcés et striés en dessous des yeux.
Palettes
Les palettes changent souvent entre les médias. L'information ci-dessous ne devrait pas être considérée comme canonique.
Tenue
(Echarpe jaune clair, armure brune, épaulières sarcelles)
Tenue
(Echarpe grise, armure brune)
Yeux
(Yeux rouges, iris verts)
Tenue
(Echarpe grise, armure bleue-violette)
Personnalité
Doobie est un zombie sauvage et vicieux. Au moment où Dio laisse la Soeur de Poco à la merci de Doobie, ce dernier saute sur elle pour l'agresser. Le fait qu'il déchire sa robe et lui caresse la joue suggèrent qu'il est un pervers. Il semble être peu intelligent, car il ne fait que crier ou répéter des mots simples.
Pouvoirs
En tant que Zombie, la force, la durabilité et la vitesse de Doobie sont surhumains. Il est assez agile pour grimper au plafond, et il est assez résistant pour survivre quand on laisse tomber une enclume sur sa tête, ne ressentant qu'une douleur passagère.[4]
Manipulation de Serpents
Doobie abrite des serpents venimeux, dont des cobras et autres serpents qui dévorent directement la chair, dans sa tête et peut les contrôler. Il les cache avec un sac couvrant sa tête pour prendre ses ennemis par surprise. Les serpents attaquent tous ceux qui sont proche et en les mordant, injecter leur venin.
Cette technique est inefficace contre les guerriers de l'Onde comme Jonathan Joestar, qui peut repousser le venin de son corps avant qu'il ne fasse effet.
Histoire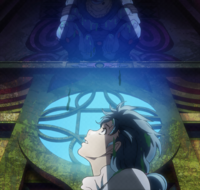 Le 1er décembre 1888, Dio Brando transforme Doobie en zombie dans la ville de Windknight's Lot. Doobie se tient sur un rebord au-dessus d'une fenêtre alors que Dio tente de persuader la Soeur de Poco de le rejoindre. Après que cette dernière refuse en giflant Dio, il la présente à Doobie, qui saute du rebord et attrape la sœur de Poco, lui enserrant le cou pour qu'elle ne puisse pas s'échapper puis lui arrachant sa jupe. Joestar intervient et lance une enclume qui perce le front de Doobie.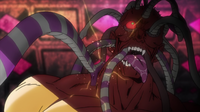 Doobie se tient la tête de douleur en se demandant qui l'a attaqué. Lorsque Jonathan saute pour l'attaquer, il projette soudainement plusieurs serpents à travers le trou de son masque, mordant Jonathan au visage et lui injectant du venin. Doobie applaudit car il croit avoir réussi à mordre Jonathan et enlève le sac de sa tête pour révéler son visage. Doobie charge Jonathan pour tenter de le mordre à nouveau, mais Jonathan attrape les serpents de Doobie et éjecte le venin de son corps en utilisant l'énergie qu'il a héritée de Will Anthonio Zeppeli. Jonathan manipule ensuite le serpents avec son Onde pour les contrôler et ces derniers deviennent fous, dévorant alors Doobie. Dévoré par ses serpents et réduit en bouillie par l'onde, Doobie se demande pourquoi ses serpents l'ont trahi.
Chapitres / Episodes

Apparition dans le Manga
Chapitres (ordre chronologique)

Apparitions dans l'Anime
Episodes (ordre chronologique)
Citations

Citations
"

I bit 'em! I bit 'em! Bit 'em lots! (

噛んじゃった!噛んじゃった!いっぱいかんでやったぜーッ

Kan jatta! Kan jatta! Ippai kan de yatta ze!

)

"

"

Roon! Roon! Roon! Nuhehehe, surprised?! (

ルン!ルン!ルン!ヌウフフフフ、たまげたかァああ!

Run! Run! Run! Nuufufufufu, tamageta ka!

)

"

"

Wh- What are you doing, my snakes?! Th- They're eating me! N- No way... (

なっ!なにをするヘビども…!く 喰われる!…そ そんなあ!!

Na! Nani o suru hebi-domo...! Ku, kuwareru! ...So, son'na!!

)

"
Jeux Vidéo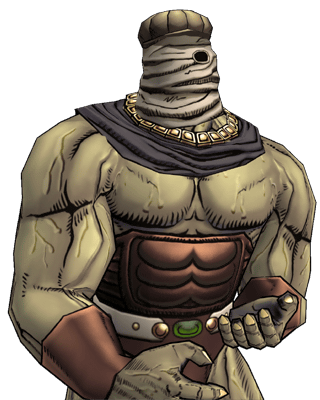 Doobie appears in Chapter 19 as one of the last enemies faced before Dio. Doobie's special attack uses the snakes from his face to attack and poison the enemy. Several "cat-birds" and "dog-men", Dio's chimeras, fight alongside Doobie. He is a playable character in Extra Battle Mode and 77 Rings Knights Mode.
In Dio Mode, there is an extra event where he teams up with Adams to defeat Dio.
Doobie




















Running

Running



during damage

(LV0)

(LV1-3)
Available Stages: Extra Battle 16
77 Rings Knights Mode: Living Corpses
Galerie d'Images
Détails
Le chapeau et le sac de Doobie font référence à Joseph Merrick,[5] dit "Elephant Man", un Anglais qui souffrait de sévères déformations congénitales qui participait à des foires aux monstres. Merrick portait lui aussi un sac avec un chapeau pour pouvoir se déplacer sans trop attirer l'attention.[6]
Dans SBR Chapter 13: The Sheriff's Request to Mountain Tim, un Indien dans la foule durant le début de la seconde étape de la Steel Ball Run porte un tatouage de crâne avec des serpents dedans, faisant référence au personnage de Doobie.
Références